For LIVE coverage of the semi final draw of the FA Cup followed by Manchester City v Wigan, join us here.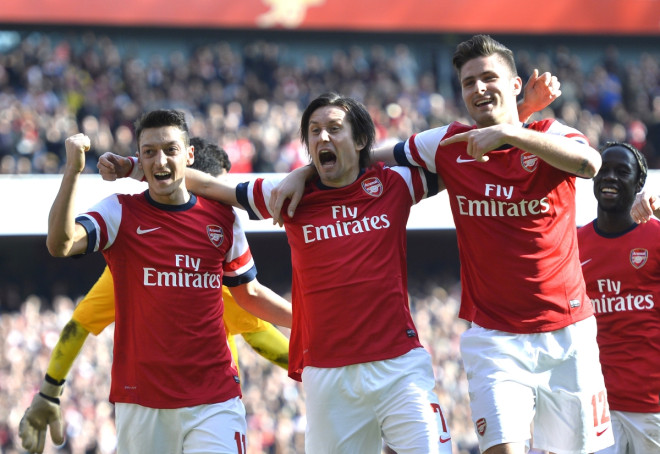 Only four teams will take to the field of the Wembley Stadium for the FA Cup 2014 as they find out who their opponent will be in the semi finals.
Where to Watch Live
The draw will commence at 3:50pm GMT following the completion of the FA Cup quarterfinal clash between Hull City and Sunderland. Follow the draw on the FA's official website.
Overview
Arsenal are the only team who have booked their place in the last four so far after overcoming Everton in the quarterfinal at the Emirates Stadium on Saturday.
Mesut Ozil put the home side in the lead early in the game, but Romelu Lukaku restored parity in the 32nd minute. In the second half, Mikel Arteta converted a penalty to give the Gunners the lead once again after Gareth Barry brought down Alex Oxlade-Chamberlain inside the box. Olivier Giroud added to Roberto Martinez's misery by firing a brace after 82 minutes to complete a 4-1 rout.
Holders Wigan Athletic and three other Premier League teams are still in contention to book their place in the semi-finals.
League One outfit Sheffield United face relegation threatened Championship side Charlton Athletic at the Bramall Lane on Sunday at 12pm GMT.
Two Premier League sides battle it out as Hull City take on Capital One Cup runners up Sunderland at the KC Stadium in the other quarterfinal fixture with the game set to begin at 2:00pm GMT.
In a repeat of last year's FA Cup final, last year's runners up Manchester City face Wigan at the Etihad Stadium with kick-off set for 4:05pm GMT followingthe completion of the semi-final draw.
The Draw Numbers:
Arsenal
Hull City or Sunderland
Sheffield United or Charlton Athletic
Manchester City or Wigan Athletic
The semi-final clashes will take place on 12 and 13 April at the Wembley Stadium.