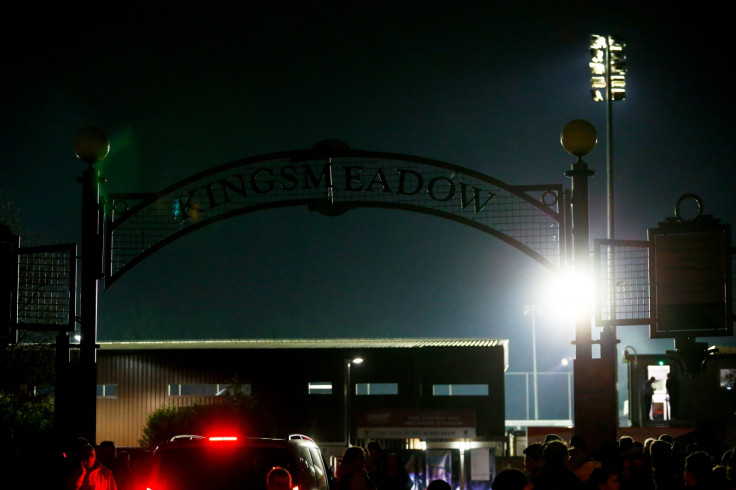 9:47: That's it! A tremendous effort from AFC Wimbledon pushed Liverpool all the way in an evenly-matched contest where the difference was once again Steven Gerrard.
FULL TIME
Wimbledon 1-2 Liverpool
Liverpool to face Bolton Wanderers in FA Cup fourth round.
9:45: Mignolet saves Liverpool! The Belgian makes a tremendous block with his legs to deny Wimbledon a late equaliser and confidently claims the resulting corner to launch a counter. Can leads it down the right and slides in Balotelli who is denied by Shea. Gerrard pounces on the loose ball and tries to sneak one in at the near post but is again denied by a terrific sliding challenge from Goodman.
9:43: Three minutes of time added on.
9:42: Gerrard has the chance for his hat-trick after being played in by Coutinho but instead opts for a pass to Balotelli but he is robbed of the chance thanks to an excellent challenge from Goodman.
9:40: We are into the final few minutes of normal time. Should things stay as they are, Liverpool will progress and will host Bolton Wanderers in the fourth round of the FA Cup.
9:38: Wimbledon load the box for a corner but it comes to nothing and Liverpool break on the counter with three men ahead to Wimbledon's two. The ball comes across to Markovic inside the left of the box but his tame effort is tapped straight into the waiting arms of Shea. Terrible effort.
9:36L Azeez is on a loose ball in the box in a flash ahead of Balotelli but sees his powerful effort deflected wide by Skrtel for a corner.
FULL TIME
Burnley 1-1 Tottenham
9:35: 10 minutes remaining, how much do Wimbledon have left in the tank? Liverpool look the more likely to score the next goal as Coutinho tries to curl one into the bottom corner but Shea makes the save.
9:33: Akinfenwa almost springs the Liverpool defence, flicking a neat ball inside Can for substitute Azeez but Mignolet is out quickly to gather.

9:32: Mario Balotelli has come on for Rickie Lambert.
9:31: It's another tremendous delivery but this time Liverpool are first to the ball, clear and counter. Up the other end Markovic is found on the edge of the box and brilliantly flicks the ball around his man to Henderson who sees his cross blocked.
9:30: Here's a chance for Wimbledon to load the box as Coutinho is penalised - and booked - for a late challenge about 40 yards out from goal.
9:25: Gerrard curls another one over the wall but it bends away from the left post and goes out for a goal kick.
9:23: Coutinho breaks from his own half and brilliantly hooks a ball into the path of Gerrard. The skipper advances but his blocked off the ball by Goodman who is promptly shown a yellow card. Free kick for Liverpool about 35 yards out, guess who's taking it?
9:21: Lambert has a golden chance to make it three on the counter. Gerrard leads the move and has an option ahead of him in Coutinho but instead opts for the former Southampton man to his right. He drives low for the bottom corner but an outstretched leg of Shea makes the save.
9:19: Burnley pull one back as Sam Vokes gets his first goal of the season, drifting in at the near post to tap home from Trippier's cross.
Goal! Burnley 1-1 Tottenham (Sam Vokes)
9:17: Wimbledon respond well with Skrtel down, launching a succession of crosses into the box before it breaks kindly to Bulman, but he lashes the ball over from 10 yards out.
9:15: Gerrard takes responsibility for the free kick and curls one over the wall into the left hand corner of the net.
Goal! Wimbledon 2-1 Liverpool (Steven Gerrard, 61)
9:13: Fuller is now shown a yellow card for a very late challenge on Coutinho who cleverly turned away from the defender. Liverpool have the free kick about 25 yards out, just off to the left.
9:11: Gerrard is screaming for handball after it appeared to bounce off the arm of Barry Fuller. To be fair to the Wimbledon man, his eyes where nowhere near the ball and the appeals are waved away.
9:10: Skrtel does well win another cross lumped into the box and sparks a counter. Lambert flicks the ball wide to the left for Gerrard and continues his run into the box but his captain's cross is woeful.
9:08: Coutinho this time has a great chance after neat work down the inside left channel but opts to fire one across goal from an impossible angle.
9:06: Liverpool have the ball back and eventually work it back across goal for Henderson. He lashes a vicious effort on target but it's blocked by the ankles of his teammate Javi Manquillo who was leaping out of the way.
9:04: Another chance for Wimbledon! From the half way linve, Akinfenwa does well to nick a ball ahead inside Emre Can for Rigg to race onto. Under pressure, the Liverpool man loses out, but Rigg opts to shoot from a terribly difficult angle and fires into the crowd.
9:02: Wimbledon pick up from where they left off and launch ball after ball into the Liverpool six yard area, forcing Gerrard to head off his own line!
9:01: Tottenham have a lead early in the second half! Chadli's cross comes to nothing but Ben Davies picks the ball up out on the left and slides one across goal where the Belgian is well placed to sweep the ball home inside from 10 yards out.
Goal! Burnley 0-1 Tottenham (Nacer Chadli)
9:00: We are also back underway at Turf Moore where there are small signs of improvement after a dire opening 45.
8:58: And we are back underway at Kingsmeadow. Can Wimbledon pull off the upset of the round?
HALF TIME
Wimbledon 1-1 Liverpool
8:42: The 16-stone Akinfenwa evades two challenges with a tidy Marseille turn just inside his own half before offloading to Fuller. He tries a bit of skill aswell but is caught in possession by Henderson.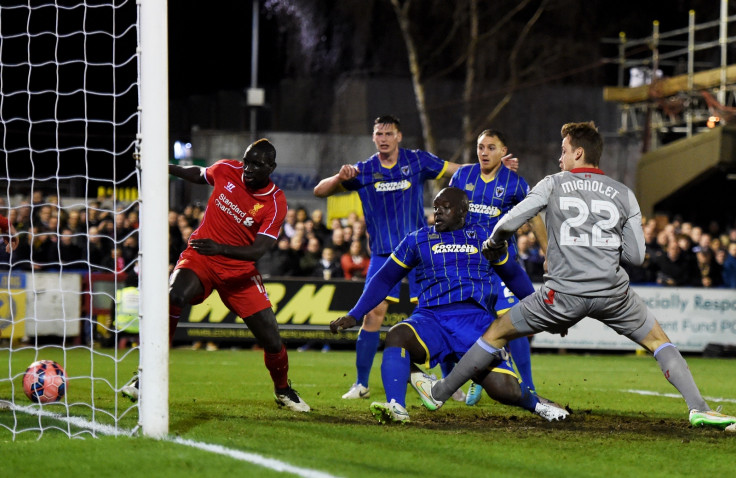 8:40: Lambert looks to connect with cross from Manquillo on the road but is expertly shielded off the ball by Fuller and the home side clear the danger.
8:38: Henderson tries to skate his way across goal, looking for the shot, but has no luck. He instead offloads to Coutinho who tries the same, darting in from the left but his eventual effort is blocked and Wimbledon come forward again.
8:36: Akinfenwa is shown a yellow card for persistent fouling, this time sending Martin Skrtel sprawling to the turf while trying to win the ball.
HALF TIME
Burnley 1-1 Tottenham
8:34: And Wimbledon are level! Francomb whips a terrific ball into the six yard area that Mignolet meekly comes out to claim. He gets nowhere near it as the ball bounces off Sakho onto the bar and eventually into the path of Akenfenwa, who prods the ball home.
Goal! Wimbledon 1-1 Liverpool (Adebayo Akenfenwa, 36)
8:31: Rigg, Wimbledon's most impressive outlet this evening, flies down the left wing and wins another corner for his side.
8:30: What a chance for Wimbledon to equalise! A long punt upfield from goalkeeper Shea is again knocked by Akinfenwa. Rigg bravely gets to it ahead of Lucas and flicks it on over the challenge of Skrtel who has lost Tubbs. The Wimbledon forward tries to hook one towards the bottom corner but watches on in agony as it trickles the wrong side of the post.
8:27: Wimbledon swing another ball into the box that Akinfenwa meets, but he can't keep it down and the ball sails over the bar.
8:26: Mignolet denies Wimbledon! That corner causes havoc in the box and the ball eventually breaks to Rigg who lashes a vicious effort on target. It's straight at Mignolet, but the Belgian reacts brilliantly to palm it over the bar.
8:24: Suddenly Francomb is freed in space down the right flank and drills a cross into the six yard box, looking for Tubbs. Skrtel however is across to divert the ball out for a corner.
8:23: Sakho invites pressure on himself after overhitting a poor pass straight out of play. Wimbledon advance and press Liverpool in the final third.
8:18: It's been a fairly desperate opening half hour between Burnley and Tottenham. The away side have enjoyed the greater share of possession but have failed to trouble the opposition. While Burnley has been well drilled at the back, they haven't contributed much to this game either.
8:16: Lazar Markovic does well to scamper into space down the inside left channel before reaching the byline and slamming a ball across the face of the goal but there is no one on the end of it. It has been a bright start from the young Serbian.
8:14: Liverpool have taken control of this contest since that goal went in. Akinfenwa is, as you would expect, doing his best to dominate Sakho and Skrtel at any opportunity but the Liverpool defenders have coped well so far.
8:11: Meanwhile at Turf Moor Burnley are a bit miffed to see their appeals for a foul turned away after Danny Ings appeared to be hauled down by Ben Davies in the final third. The full back was the last man back and would have been in real trouble had he penalised, but the referee waves away Burnley protests.
8:07: Liverpool take the lead through their captain. Gerrard starts the move, finding a pocket of space in the centre about 30 yards out from goal before spraying a pass wide to Manquillo. The skipper continues his run into the box and connects with the Spaniard's cross with a brave, accurate header into the far corner.
Goal! Wimbledon 0-1 Liverpool (Steven Gerrard, 11)
8:04: Chance for Wimbledon! A throw in just beyond the half way line is nodded on by Akinfenwa into his strike partner Tubbs who flicks the ball wide for the onrushing run of Rigg. The wideman tries his luck from a tight angle and his drive whistles across the face of goal and out for a goal kick.
8:02: Liverpool spend a couple of minutes stroking the ball across their backline, occasionally getting Lucas and Gerrard involved. Wimbledon's rigid 4-4-2 prevents them from getting anywhere, however.
8:00: Lucas steams into the back of the 16-stone Akinfenwa but wins the ball fairly. Liverpool are trying to get the ball down after a bit of a frantic opening.
7:58: Javi Manquillo is down inside a minute after having his trailing ankle caught by the studs of Sean Rigg out on the right.
7:56: And we are underway in Kingston-Upon-Thames as Wimbledon get the ball rolling.
7:52: Burnley and Ashley Barnes have been caught offside three times in quick succession already. Tottenham's backline looks well drilled and organised in these early stages.
7:45: And we are underway at Turf Moore with a fourth round tie against Leicester City awaiting the winner.
7:42: The fourth round draw is finished and the pick of the fixtures sees Cambridge United of League Two welcome Manchester United at the Abbey Stadium. Holders Arsenal face a potentially tricky tie away to Brighton, now managed by former Tottenham man Chris Hughton while there is a potentially tasty London derby in store as Chelsea welcome either Milwall or Bradford City to Stamford Bridge.
AFC Wimbledon and Liverpool kick off in the next ten minutes knowing that the winners will welcome Neil Lennon's Bolton Wanderers to their gaff. Burnley or Tottenham will take on Leicester City.
FA CUP FOURTH ROUND DRAW
Southampton/Ipswich v Crystal Palace
Cambridge United v Manchester United
Blackburn Rovers v Swansea City
Chelsea v Millwall/Bradford City
Derby v Scunthorpe/Chesterfield
Preston v Sheffield United
Birmingham City v West Brom
Aston Villa v AFC Bournemouth
Cardiff v Reading
AFC Wimbledon/Liverpool v Bolton
Burnley/Tottenham v Leicester City
Brighton v Arsenal
Rochdale v Stoke City
Sunderland v Fulham/Wolves
Doncaster/Bristol City v Everton/West Ham
Manchester City v Middlesbrough
LINE UPS
AFC Wimbledon: Shea, Fuller, Kennedy, Moore, Barrett, Goodman, Rigg, Bulman, Akinfenwa, Tubbs, Francomb.
Liverpool: Mignolet, Manquillo, Sakho, Skrtel, Can, Markovic, Lucas, Henderson, Gerrard, Coutinho, Lambert.
7:15: We are also on top of the fourth round draw for the competition. It's expected to get underway at 7:35 and you can follow it live with us right here.
TEAM NEWS - Liverpool: Rickie Lambert leads the line for Brendan Rodgers this evening with Steven Gerrard, Jordan Henderson and Lucas all starting in midfield behind him.
LINE UPS
Burnley: Heaton; Trippier, Keane, Mee, Lafferty; Kightly, Marney (c), Arfield, Boyd; Barnes, Ings
Subs: Heaton; Trippier, Keane, Mee, Lafferty; Kightly, Marney (c), Arfield, Boyd; Barnes, Ings
Tottenham: Vorm, Chiriches, Fazio, Vertonghen (c), Davies; Dembele, Stambouli; Chadli, Eriksen, Paulinho; Soldado
Subs: Vorm, Chiriches, Fazio, Vertonghen (c), Davies; Dembele, Stambouli; Chadli, Eriksen, Paulinho; Soldado
TEAM NEWS
Burnley v Tottenham
Tottenham: Mauricio Pochettino names a fairly strong line up that sees Michel Vorm step into replace Hugo Lloris in goal. Benjamin Stambouli and Moussa Dembele come into midfield where there is also a rare start for Paulinho. Roberto Soldado leads the Spurs attack.
6:50: The draw for the fourth round of the FA Cup dominates this evening's build up and pushes back kick off at Kingsmeadow to the slightly obscure time slot of 7:55. Burnley v Tottenham get started 10 minutes earlier at Turf Moor with the line ups expected to be announced imminently.
6:48: Tonight's game at Kingsmeadow is a repeat of the 1988 Cup final of sorts. On that day the Crazy Gang toppled English football's dominant force in one of the most famous victories this competition has ever seen. In a new incarnation, Neal Ardley's side are looking to inflict a similar misery on Brendan Rodgers in what is their first competitive meeting with a top flight club since their inception in 2002.
6:45: A weekend packed full of FA Cup action saw the biggest upsets come in the form of Sheffield United's emphatic victory over Queens Park Rangers and League One Rochdale humbling the Championship's Nottingham Forest. With three fixtures of the round remaining, there is still plenty of room for one huge giant killing at Kingsmeadow this evening where AFC Wimbledon host Liverpool.
By the time these two sides kick off both will know what will be waiting for them should they prevail this evening with the fourth round draw taking place prior to kick off. Burnley and Tottenham Hotspur will also be keeping an eye on that ahead of their meeting at Turf Moor.