Facebook has announced a major update to its News Feed, giving it an image-centric design, more prominent position on your homepage, and enhanced customisation.

The social network said that half of all posts on News Feed were images and almost 30 percent of posts were from pages and public people so the update has been tailored to put rich content front and centre.
The update, said Facebook founder and CEO Mark Zuckerberg, offers "the best personalised news source that we can".
Rolling out to some users immediately, the update to News Feed makes images much larger and puts the emphasis on Facebook being your one-stop-shop for news - both from newspaper and magazines, but also from friends and family.
Three columns become two
To make space for larger images - and to fit better on smaller computer screens - the News Feed is now two columns instead of three, with a black pop-out bar sitting on the left edge and providing app bookmarks, links to specific friends, the chat and calendar tools, and the live updates ticker.
Where you could previously only select from Most Recent and Top Stories, the new layout lets you pick from these, plus Music, Photos, Games and more, filtering your News Feed into only the stories you want. If you use one feed more often than others, that one will appear by default when you next log in to the site.
The emphasis of the facelift is to "get Facebook out of the way" according to the billion-member network, which said it wants to be seen as a quality newspaper or magazine, offering news and features from across the web, along with photos and activities from your friends in a richer, image-heavy layout.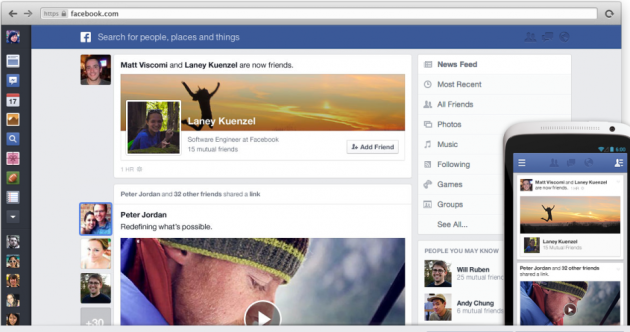 Sharing
When several friends share the same video, news story or website link Facebook only posts it to your News Feed once, along with the profile pictures of friends who have shared it. Previously, News Feeds would become cluttered with the same story posted several times by different friends.
A new 'Upcoming events' post will show some suggestions at the end of each day based on places you have visited and what your friends are doing at that moment. For example, on a Friday evening Facebook will show you a number of bars and pubs that you and your friends often visit.
The News Feed update also includes changes to how pages you have liked are displayed. Say you like an actor or singer, the new News Feed will give you recently trending stories, photos and videos about those people.
Described as "richer, simpler and more beautiful," the updated News Feed will be made available to some users right away.
Facebook will work to improve the new layout based on their feedback before rolling it out more widely. Updates to the various mobile applications will appear "over the next few weeks."