Facebook is to appear in US court later this month to defend its use of "timeline", after a judge ruled web service Timelines Inc can sue on grounds of trademark infringement.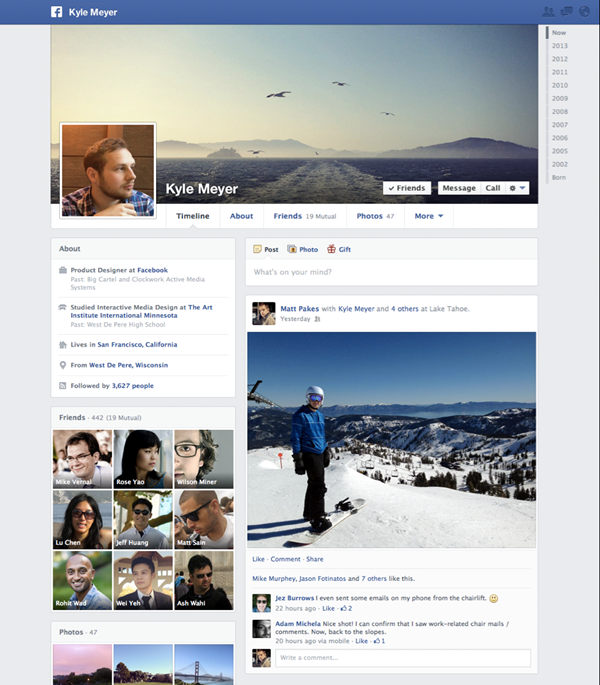 Announced in September 2011, Facebook's timeline feature lets its one billion users create chronological records of their lives, including photos, posts, check-ins and milestones like new jobs and relationships on their profile pages.
Two years previously, Timelines Inc launched a website that lets users create documents tracing historical events like wars, sport and advances in science; popular Timelines include World War 1 and 2, The Beatles, and Nintendo.
Timelines sued Facebook a week after its own timeline feature was announced, prompting the social network to counter sue, claiming Timelines' registered trademarks weren't sufficiently distinctive to warrant protection, and that 'timeline' was a generic term which could be used by both companies.
This week however, US District Judge John W. Darrah ruled in a Chicago court that Facebook "has failed to demonstrate, as a matter of law, that the marks are generic. At this stage in the proceedings, it is not unreasonable to conclude that as to this group of users, 'timeline(s)' has acquired a specific meaning associated with [the] plaintiff."
Investment
Essentially this means that Timeline's millions of dollars of investment and more than one thousand active users means it has established a unique link between the word 'timeline' and the services it offers.
Facebook announced an update to timeline last month, featuring a simplified design and stronger emphasis on users sharing what they have recently read and watched.
Douglas Albritton, an attorney for Chicago-based Timelines, told Bloomberg "we're happy with the ruling" and that his client is seeking damages equivalent to Facebook's advert revenue earned through timeline.
Facebook earned more than $1bn (£658m) in ad revenue in the fourth quarter of 2012, although it does not disclose what proportion of this was generated through adverts on timelines alone, compared to those appearing on users' news feeds.
The two companies will meet before a jury on 22 April, providing an out-of-court settlement isn't reached beforehand.
Facebook declined to comment and we are waiting to hear back from Timelines Inc.