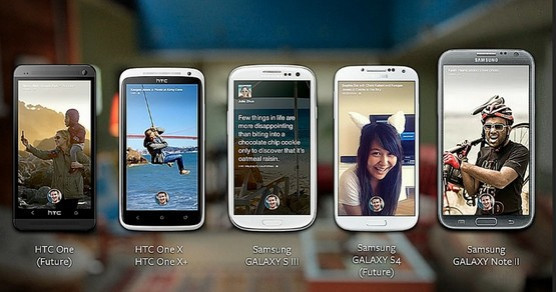 Key Features:
Entirely new lock screen, home screen and app launcher for Android
Merges Facebook chats with SMS conversations
Chatheads appear over any running app
Available free in US from 12 April, rest of world 'soon'
Introduction
After years of rumours and speculation that Facebook was going to make its own smartphone, the social network recently announced Home, a new application launcher and home screen for Android.
Available in the US now and coming to the rest of the world "soon", Home completely replaces your home and lock screens with a Facebook-centric interface showing photos, statuses and comments from your friends.
Taking up the entire screen, Facebook Home shows recent activity from your friends and lets you Like and comment on them without opening up the social network's dedicated app, as well as mixing your chat history with SMS text conversations.
Coverfeed
Install Home, reboot your device and you're greeted with Coverfeed, what Facebook calls its replacement to your old lock and home screens, and complete with image-heavy statuses and updates passing by with 'Ken Burns effect' zooming. Double-tapping will Like an image or post just as it does on Instagram, and there are shortcuts to view and add comments.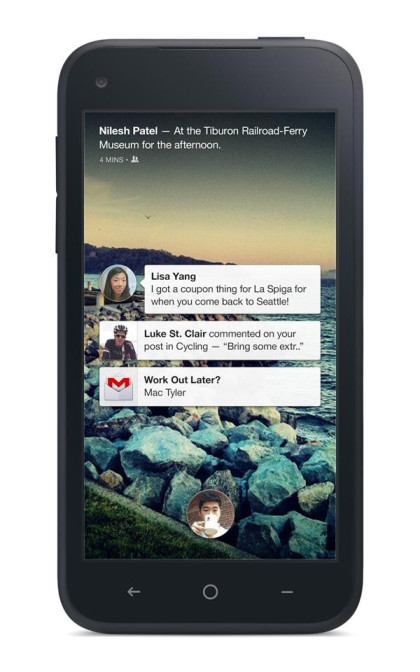 Tap once anywhere on Coverfeed and your profile picture pops up as a small round icon at the bottom of the screen. Press and hold this, and you get links to Apps, Messenger and the last app you had open.
Apps brings up every application installed on your device, which you can delete or drag around into any order you like - essentially this is where your new home screen is, or at least where you'll find your apps.
But that doesn't mean you've escaped Facebook's grasp. Above the application drawer sit shortcuts to write a status, post a photo or check-in. A press of your device's home button takes you back to Coverfeed.
It is worth pointing out that on a Galaxy Note 2 access to Android's multitasking screen and Samsung's S-Voice remained unchanged, and a swipe down from the top of the screen brings up the notification drawer as usual.
Facebook notifications received while your phone is locked appear on the lock screen and double-tapping them opens the relevant part of the Facebook app.
I can't help thinking that Home and Coverfeed were made in the belief that everyone on Facebook has attractive friends who are always posting photos of cool buildings, fancy food and skiing holidays, so splashing those across your home and lock screen will be fine.
But I have friends who are still at university, so I don't really want photos from their student nights every single time I look at my phone; when I do, I head over to their profile pages instead.
Chatheads and Messenger
Back at the home screen (sorry, Coverfeed), press your profile picture and drag it over to the messenger shortcut to see your Facebook chat history.
Much like Apple's iMessage combines iMessages with texts, the messenger side of Facebook Home merges any texts stored on the phone into Facebook chats with those contacts.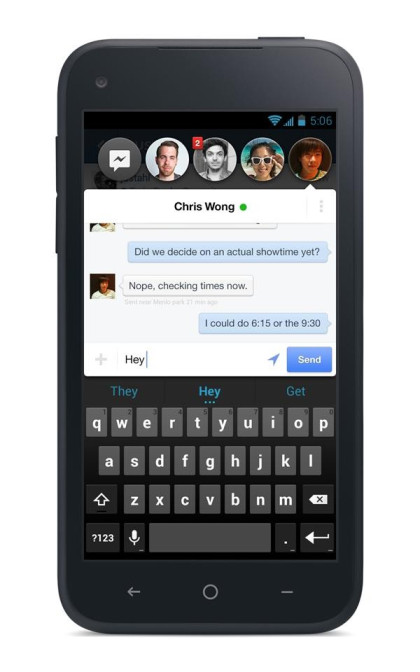 This merge will only work with friends who have a phone number on their Facebook profile page. Not all of my friends do, so Messenger showed their texts and messages as two separate conversations. I'd like to see Facebook Home ask for permission to merge these every time it sees messages and texts from contacts with the same name, but with updates due weekly this might come in the future.
With Home installed, notifications for chat messages received through Facebook no longer appear in Android's pull-down notification drawer. Instead, they are grouped into Chatheads.
Looking much like your circular profile picture on Coverfeed, Chatheads can be positioned anywhere around the edge of the screen or flicked off the bottom of the display to be removed.
Chatheads will appear over the top of every application on your phone, so if you're playing Angry Birds, for example, a Chathead will appear in the corner of the screen; tap it to open the conversation, or move it out of the way to come back to the chat later, as they are small enough to be left on the screen without getting in your way.
For a sense of scale, on a Samsung Galaxy Note 2 each Chathead is about the size of a 5 pence piece. If you have multiple chats going on at once, these Chatheads appear stacked on top of each other, so they won't take up any extra space, no matter how many friends you're talking to at once.
Early verdict
Facebook Home is certainly a confusing experience at first encounter. Not because it is complex - there really isn't much here - but because it's so different to anything we've seen on Android before.
Everyone knows HTC, Samsung and the Nexus devices each do Android differently and each has its positives and negatives, but they all look roughly the same. Everything is in just about the same place.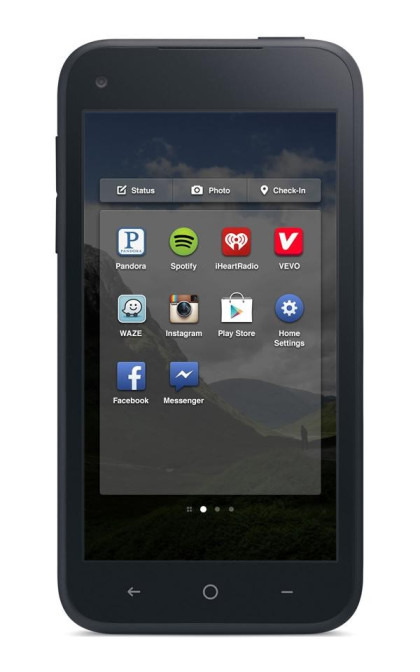 But with Facebook Home nothing is familiar, and it takes a little time to work out what's going on and how best to use it.
It's easy to forget that Android is lurking behind the endless stream of friends' photos and statuses, and that's exactly what Facebook wants. Where before Twitter (or any other app) was one tap away from the home screen, it's now a press-and-hold, a slide and a tap away. It's like there is the 'Facebook' side of your phone, seperate to the 'Android' side, such is the difference in design and functionality.
For now Home feels quite limited in its use, even for Facebook tasks. Viewing a specific friend's profile, checking an event page, visiting a group or accessing settings all require you to open the full app, making Home feel little more than a landing page.
Facebook doesn't yet include adverts in Home (apart from statuses posted by brand pages you have previously Liked), but we've heard that the social network will be monitoring how users engage with Home over the coming weeks, with the aim of integrating adverts effectively at a later date.
Endlessly flicking through Coverfeed is nice enough, and make me realise how much content my friends are uploading every day as there's always something new, and Chatheads is a very good way of accessing messages from anywhere in Android without closing an app, but overall I feel Home gets in the way too much and is pushing content to me that I don't really care about.
Statuses and photos in a news feed are easy to flick through until you find something interesting, but taking a single status update and plastering it across the entire screen isn't what I - and other users too, I suspect - really want.
Availability
Facebook Home is available in the US now for the Samsung Galaxy S3 and Note 2, (Galaxy S4 coming soon) HTC One X and X+ (One coming soon). Home will be coming to the UK Play store in the near future, but Facebook is yet to give an exact date.