A Facebook employee has let slip about the predicted music streaming service, due to be announced this evening, by mentioning the new feature on his Twitter page.
A Facebook employee, Ji Lee, posted on his Twitter account early Thursday morning the following: "The "Listen with your friends" feature in ticker is blowing my mind. Listen to what your friends are listening. LIVE"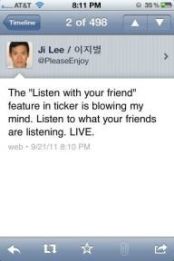 Minutes later Lee deleted this tweet, but a screenshot of the message was captured and has since appeared on countless technology websites around the world. It would appear that Lee is describing a feature intended to be announced by Facebook at its f8 event this evening.
As Facebook yesterday announced the Ticker to be a live feed of everything going on amongst your friends, this is almost certainly where the new music streaming service will be found. TechCrunch has suggested that: "Not only will all music you're listening to appear in the just-launched right-side ticker, there will be a link to "Listen with your friends", that when clicked, will allow you to listen along to the same song at the same time (thanks to the magic of scrobbling and track matching)."
The ability to listen to music with friends is interesting, and suggests that Facebook wants us to spend even more time online, leaving our profiles open in the background to listen to music while we work or browse could be an intended use.
Facebook employee Lee used his account to leave the status: "Ji Lee is listening to Black and Blue by Mike Snow and feeling happy that it's another beautiful sunny day in California."
How long before the amateur DJs amongst us start playing music compilations for our Facebook friends to listen to? This would be similar to the services offered by American site Blip.fm.
All will be revealed publically by Facebook at its f8 developer event this evening at 5:30pm GMT.