Facebook has a user base of 1.35 billion people. That is one in every 5.5 people on the planet having a Facebook account.
It is also making money - lots of it. In it's most recent earnings report, the company revealed that it had generated $1.4 billion (£900 million) in profit from $3.2bn in revenue for the three months to the end of September - figures which were up 90% and 60% respectively.
So suggestions that Facebook is in trouble and needs to look to new markets in order to bolster its business model seems slightly ludicrous.
However, with the number of new young users shrinking in the last three years, it is clear that the decade-old social network is changing and this is the reason that the company is reportedly moving into the enterprise space.
Banned
On Monday the Financial Times reported several companies were testing a Facebook at Work product which is a combination of Yammer, Google Docs and Facebook.
The product is aimed at allowing employees work and communicate online together and while it would still feature the Facebook name, newsfeeds and groups, the product would be a world away from the Facebook which 1.35 billion of us use.
The number of people that use Facebook on a daily basis is huge (864 million in September 2014, up 19% on last year) - but it could potentially be a lot higher.
Last year a report by Easynet Global Services and Ipanema Technologies found that in the US 69% of companies restricted access to Facebook.
That is a significant amount of potential ad revenue which Facebook is losing out on every single day.
Slowing growth
The headline figures may suggest that this is not hurting the company's bottom line much, but look beneath the surface and a more worrying trend becomes clear.
According to figures from eMarketer, Facebook's ad revenue growth is expected to go from over 60% in 2014, to just 27% in 2015 and 22% in 2016.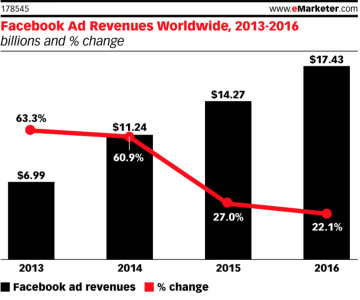 While this is no crisis, it is an indication of slowing growth for Facebook and its work-focused product could be a long-time solution to this trend.
As Facebook's user base grows older, the social network which started life as a way for college friends to connect will mature to reflect its user base and will want to offer services which are relavent to them.
So a Facebook at Work product sounds like an ideal solution.
It will potentially give it access to a huge swathe of the enterprise market where it is currently banned, allowing it to sell a lot more corporate-focused ads.
Will it work?
The problem for Facebook is one of perception.
While LinkedIn is widely seen as a legitimate business tool - Facebook is not. Google Docs is seen as a safe and efficient way of collaborating online - Facebook is not.
Major concerns for businesses using any online tool are privacy and security, an area where Facebook has a lot of work to do - and that's just on the consumer side. Getting businesses to trust it to handle sensitive and valuable corporate information is going to be a major undertaking.
Facebook at Work sounds like a smart move by the social network, but whether or not it will work will entirely depend on how successful Facebook is at convincing companies it can keep their sensitive data safe.