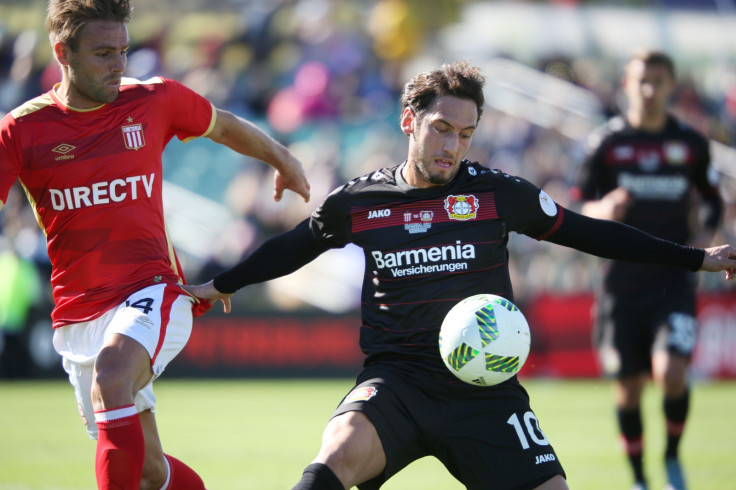 Bayer Leverkusen midfielder Hakan Calhanoglu has channelled his inner Donald Trump after branding an interview, in which he stated his intention to join Chelsea, as fake. The United States president has used the phrase "fake news" to mask over several unfortunate truths of his short tenure at the White House, and now the slogan has bled into professional football.
The 22-year-old was alleged to have told Turkish publication Fanatik that "God willing" he would be moving to the Premier League leaders at the end of the season. The Turkey international has previously been linked with a move to the Blues but the club are yet to make any interest in the player official.
Calhanoglu has previously declared an interest in joining either Barcelona or Manchester United, seemingly in a personal public relations push. He has made 22 appearances this term, scoring seven goals and making seven assists, leading to interest from a clutch of Premier League clubs including Chelsea.
A four-month ban from Fifa for accepting a €100,000 bribe has thrown Calhanoglu's future into major doubt, with the youngster ruled out for the rest of the season and unable to feature in Bayer's Champions League last 16 tie against Atletico Madrid. Calhanoglu addressed both issues during a wide-ranging interview, however he has claimed the quotes attributed in the article as false.
"I said nothing about Chelsea in the press and didn't talk to any Turkish journalist," he wrote on Twitter. "Neither about the court decision nor about my future!" The interview in which he made the comments remains published on the Fanatik website, while the outlet are yet to clarify how they came by the quotes.
Though Calhanoglu has suggested the comments have been faked, his previous comments regarding Barca and United indicate he is willing to speculate about his future. With his season firmly over thanks to his ban he may be looking for a new club, hence the reason for flirting with the idea of a move to Chelsea.