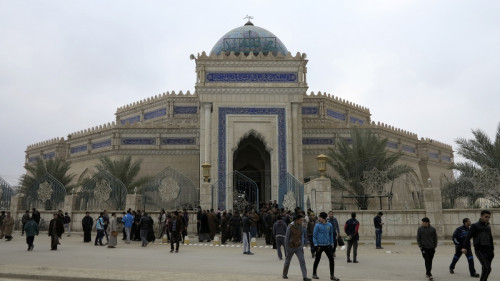 Iraqi Prime Minister Nouri al-Maliki has said al-Qaida-linked Sunni insurgents will be "eliminated" and that there will be no withdrawal until "terrorist groups" are driven out of Anbar.
The Shia-dominated government of Maliki conceded on Saturday it had lost control of Fallujah, the Sunni stronghold in the Anbar province bordering Syria, to troops from the Islamic State of Iraq and the Levant (ISIL).
Speaking on state television on Saturday, Maliki said his government would "not back down until we end all terrorist groups and save our people in Anbar," Al Arabiya reported.
The Iraqi police have launched a counter attack with the support of tribal fighters to regain control of the city, but they admitted that the city centre was completely under the control of the Sunni fighters.
"The walls of the city are in the hands of the police force, but the people of Fallujah are the prisoners of ISIL," said Hadi Razeij, the police chief of Anbar, according to al-Jazeera.
United States, which withdrew its forces from Iraq two years ago, following the decade-long occupation, called the capture of Fallujah "barbaric".
"Their barbarism against civilians of Ramadi and Fallujah and against Iraqi Security Forces is on display for all to see," said Marie Harf, State Department deputy spokeswoman.
The US, which recently revealed it was supplying sophisticated weapons and drones to Iraqi forces, said it was monitoring developments in Anbar province.
The Shia-dominated province was a major turf of the anti-US operations of the Iraqi insurgents during the occupation.
Grim Security Outlook
The province's proximity to Syria, where al-Qaida fighters are increasingly grabbing control of the two-year-long anti-government insurgency, is a matter of concern for Washington.
The State Department spokesperson said the US was closely watching the joint offensive against the al-Qaida elements, launched by the Iraqi forces and the tribal leaders of the province aligned with the government.
At a time when the al-Qaida in the Arabian Peninsula (AQAP) is making headway in Yemen and the Syrian opposition is shaping up as a predominantly al-Qaida bandwagon, the resurgence of Sunni militancy can worsen the security situation in the region, the US fears.
The ISIL's aim is to carve out a Sunni-dominated Muslim state straddling the frontier between Iraq and Syria.