Far Right Groups, Football Hooligans Plan London March To 'Defend' Against Pro-Palestinian Rally
The Remembrance Day events on Saturday and Sunday could lead to tensions between different groups of protesters descending upon London.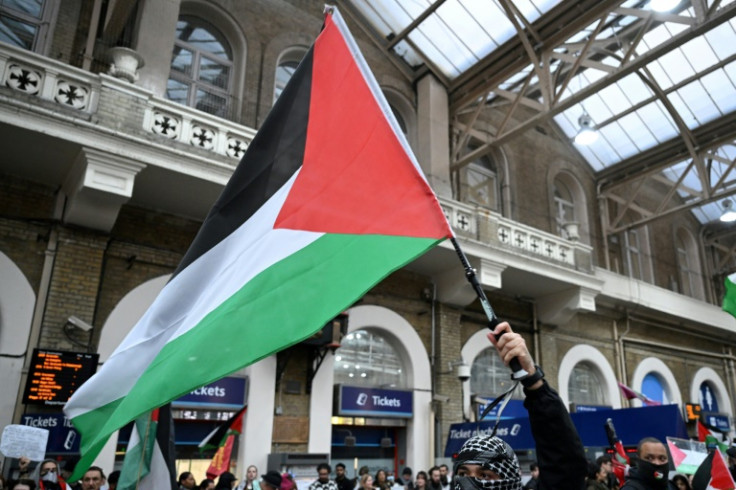 There is mounting tension across London as the weekend approaches. It has been reported that a number of far-right groups and football hooligans are determined to mobilise and head into the capital on Saturday and Sunday. The mass movement is expected to coincide with a pro-Palestinian rally that is also being planned for the weekend.
Armistice Day takes place on Saturday, November 11, and is part of a full weekend of activities that comprise the Remembrance weekend. Incidentally, the Palestinian Solidarity Campaign (PCS), has announced plans to march for the fourth successive weekend to call for a ceasefire in Israel's retaliatory strikes on Gaza.
The PCS will be joined by the Palestine Solidarity Campaign, Stop the War and the Muslim Association of Britain. Contrary to earlier reports, the route for the rally is not expected to go near the Cenotaph on Saturday. However, there are no guarantees that the pro-Palestinian groups won't find themselves in the same places as those who are coming to London for the Remembrance Day celebrations.
The weekend will be packed with events in connection with the event also known as "Poppy Day", and there are concerns that Metropolitan Police may not be able to handle any potential disturbances. Home Secretary Suella Braverman has already come under fire for urging the Met Police to cancel the pro-Palestinian events due to the potential disturbances that may come as a result.
She criticised the Met Police by saying that the officers would "play favourites" when policing protests and claimed they largely ignored "pro-Palestinian mobs" during recent demonstrations against the Israel-Hamas war.
The comments were reportedly made without Prime Minister Rishi Sunak's approval, and he is facing pressure to sack Braverman. She also described the rallies calling for a ceasefire in Gaza as "hate marches" in an opinion piece in The Times.
English Defence League founder Tommy Robinson has echoed Braverman's stance saying: "British men are mobilising for Saturday to be in London" to "show our Government and show our police and show Hamas and everyone sitting around the world saying 'Britain has fallen' that there is a resistance".
Robinson called for people to turn up in London to show there is a "resistance" and that "the silent majority have had enough" on our "sacred day". He added in another post that those heading to London for the weekend must behave with "respect" but should be "prepared to defend if we need to defend".
It was earlier reported that a group of right-wing football fans is planning to mobilise its members to protect the Cenotaph and make sure that the Remembrance Day Parade is not disrupted by the pro-Palestinian rally.
The Democratic Football Lads Alliance shared a post on Facebook saying: "Vets have reached out and asked for our support due to the threat from the far-left and pro-Palestinian supporters to disrupt the Remembrance Day parade.
"We are calling on all football lads up and down the country to join us in standing shoulder to shoulder with our veterans that fought for our freedom."
Needless to say, an influx of people with opposing ideologies is a recipe for disaster. The Met Police is under a lot of pressure to make sure that the capital will remain safe throughout the weekend. Additional officers have reportedly been called in from other parts of the country to reinforce security over the weekend.
The Remembrance service on Sunday will be attended by the prime minister, King Charles III as well as a number of other high profile dignitaries and war veterans. Therefore, security is of the utmost importance. Understandably, the event happening alongside the protests calling for a ceasefire in Gaza is causing a considerable level of concern.
© Copyright IBTimes 2023. All rights reserved.