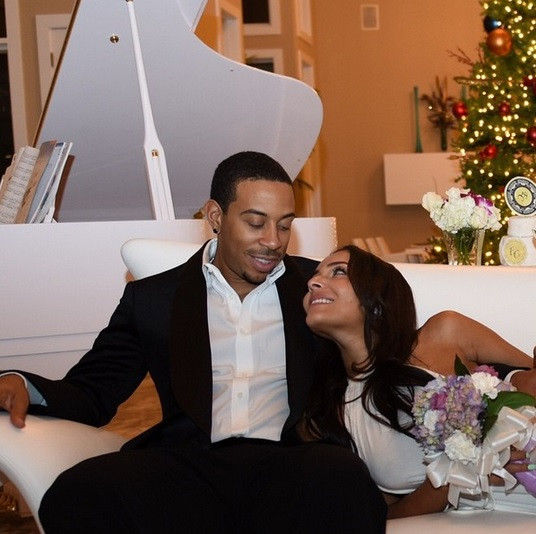 Fast and Furious star Ludacris is officially off the market after tying the knot with long-time girlfriend Eudoxie Mbouguiengue hours after popping the question.
The 37-year-old rapper and actor, who has dated the Gabonese beauty for six years, confirmed the wedding news on his Instagram by sharing a snap of himself with his new wife.
He captioned the image, which shows him gazing lovingly at her, "Why wait? Did the thing before 2015.#mrandmrsrbridges"
According to TMZ, the couple exchanged vows at the Georgia home in the presence of family and a few friends following as 'mile high' proposal.
Ludacris, whose real name is Christopher Brian Bridges asked the medical student to marry him on 26 December during a flight on a private jet by projecting "Eudoxie will you marry me?" from the plane onto grass below.
"When they returned home, a wedding dress was draped over a piece of furniture, "a source told the site," a source told TMZ.
"This was all a surprise to Eudoxie, but she was game so they got married on the spot. A few friends and family members were there to celebrate."
For her big day Mbouguiengue wore a stunning floor-length white halter dress and held a pastel coloured bouquet. The groom opted for a black suit with white shirt and no tie.
After the 'I dos' the newlyweds fly out for a honeymoon in Costa Rica, accompanied by close family and friends, including singer LeToya Luckett.