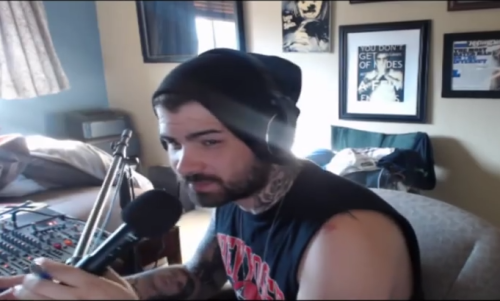 The FBI has arrested Hunter Moore, the man famous for his revenge porn website isanyoneup.com, which earned him the title of "most hated man on the internet."
The 27-year-old is charged with paying Charles "Gary" Evens to hack into the email accounts of hundreds of victims to search for nude and sexually explicit photos which he could post on his notorious website.
The indictment filed in federal court in Los Angeles claims Moore paid more than $200 per week to Evens for images which is knew came from illegally accessing email accounts. In order to hide his identity Moore used PayPal accounts which weren't linked to identity and created fake email accounts to cover his tracks.
In an October 2011 email, the FBI claim Moore wrote to Evens saying "they needed to create new e-mail accounts and delete evidence of the hacking scheme."
Conspiracy
It is unknown when the relationship between Evens and Moore began but the indictment claims it ended in May 2012. Both Moore and Evens are charged with conspiracy, seven counts of unauthorized access to a protected computer, and seven counts of aggravated identity theft
The maximum penalty they face is five years in jail for each of the conspiracy and computer hacking charges.
Evens it seems wasn't a technically skilled hacker, but managed to gain access to victim's email accounts through social engineering. Assistant US attorney Wendy Wu told website Ars Technica:
"Generally, it was by social engineering. It was not exploiting, to our knowledge, any vulnerabilities in any of these online accounts. Basically, he was impersonating these victims' friends and was able to get confidential information that would allow him to access their accounts."
Sexually explicit
Moore started his website in 2009 and at its peak he claimed he was getting 30 million page views a month earning him upwards of $10,000 a month in ad revenue.
The site posted sexually explicit pictures of men and women (though mostly women) without their consent as well as linking the pictures to the victims' Facebook or Twitter accounts. Many of the pictures it was claimed were sent to Moore by former partners of the victims as a way of gaiing revenge over perceived slights.
In April 2012 Moore shut down the website after selling it to an anti-bullying group.
Defamation
Last March Moore had to pay $250,000 to James McGibney after he falsely accused McGibney of being a paedophile. McGibney is the founder of Bullyville.com, a website devoted to putting an end to Moore's online bullying.
Speaking to Time.com, revenge porn activist Charlotte Laws, said: "We're ecstatic, we're super pleased that the FBI have brought this to fruition. I've talked to several of the victims and they are extremely pleased and I know all the victims are going to feel happy and they are going to feel that finally justice is being served."
Laws claims her daughter Kayla was a victim of Moore's hacking.