The FBI has issued a statement which says claims a laptop belonging to one of its agents had been compromised were false.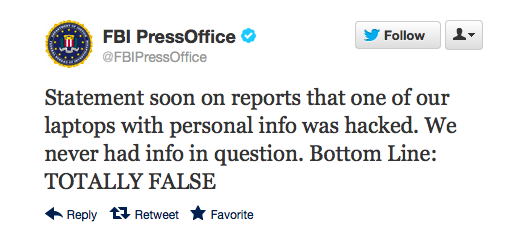 Earlier this week, AntiSec, an offshoot of the Anonymous hacking collective, posted a statement online saying it had hacked into a laptop belonging to an FBI agent back in March. It posted just over one million Apple ID numbers online, but no further evidence that it had carried out the attack.
The FBI has now responded with the following statement:
"The FBI is aware of published reports alleging that an FBI laptop was compromised and private data regarding Apple UDIDs was exposed. At this time, there is no evidence indicating that an FBI laptop was compromised or that the FBI either sought or obtained this data."
While some people had speculated about how the FBI laptop could have been hacked, there was never any concrete evidence that the hack had taken place.
The FBI initially denied any involvement on its official Twitter feed.
The FBI claim puts the ball back in the Anonymous court and on the @AnonymousIRC twitter account, which is one of the accounts used by the hacking collective has responded to the FBI statement, saying:
"You know you're doing something right if @FBIPressOffice throws caps at you on twitter to deny an #Anonymous statement."
It remains to be seen if Anonymous will release any more of the information they claim to be holding or if the FBI will be