FC Barcelona's new Viber chatbot lets fans vote for Man of the Match
'BarçaViber' to offer prizes and crown football club's player of the year.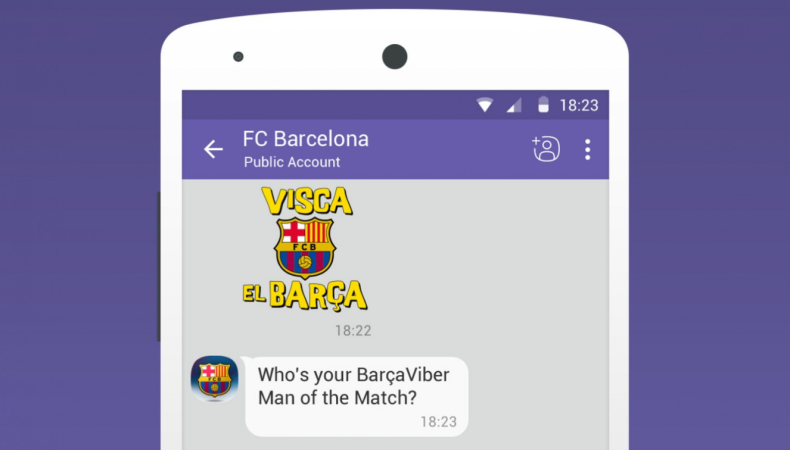 FC Barcelona are about to launch an official chatbot for instant messaging and internet calling app Viber that will let the club's fans vote on their man of the match. The BarçaViber chatbot is set to go live on the Catalan giant's public Viber account on 9 September to coincide with their local derby clash with Espanyol at the Nou Camp.
The headline feature encourages fans to vote for the best player during each game, as well as rating the overall team performance. At the end of the La Liga season, the player with the most Man of the Match votes will be anointed as the "BarçaViber player of the year".
The man of the match candidates will be selected based on data provided by leading sports data company Opta, with only six players up for the award each game. Other bot activities include score predictions and a feature that lets fans "rate their excitement" coming into each match.
By engaging with the official Barcelona chatbot, which the club hopes will become a favourite with its 4.4 million+ Viber followers, fans will also have the chance to be crowned as the "BarçaViber fan of the year".
The title will be awarded to someone who consistently and correctly predicts results and scores, among other criteria. Said winner will win a VIP experience at Camp Nou and get to meet Barcelona players in person.
"Barça's official chatbot on Viber harnesses the power and enthusiasm fans bring with them to every game, whether they're in the stadium or not," said Rakuten Viber CEO, Djamel Agaoua.
"This is precisely what we envisioned while contemplating how to realise our shared values with FC Barcelona: Tech-enabled fan engagement on a global scale, to give football fans around the world a voice, on top of the excited screaming in their own living rooms."
"One of the greatest challenges in sports today is making fans feel included in what goes on on the field. The bot gives our dedicated fans on the Viber platform a way to not only feel included but actually be included, with their votes eventually adding up to a distinguished honor for the winning player," said Russell Stopford, digital director at FC Barcelona. "It's incentivising, engaging and rewarding for all parties involved."