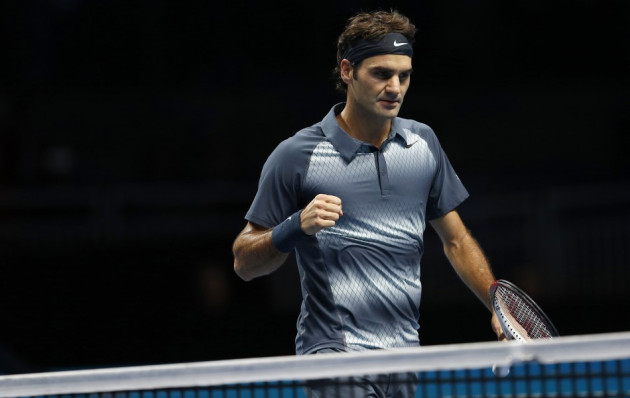 Roger Federer takes on Richard Gasquet before Novak Djokovic and Juan Martin del Potro square off in the evening session
Where to Watch
Roger Federer v Richard Gasquet is live on Sky Sports HD3 and BBC Two HD no later than 2pm GMT. Live commentary is available on BBC Radio 5 live sports extra.
Novak Djokovic v Juan Martin del Potro is live on Sky Sports HD3 no later than 8pm GMT.
Preview
Having suffered opening round robin defeats, Roger Federer and Richard Gasquet face-off in an attempt to keep their world tour finals campaign alive. Both were able to win a set during their respective losses to Novak Djokovic and Juan Martin del Potro but their hopes hang by a thread.
Federer, looking for a seventh title at the season ending tour finals, has won all four of his hard court meetings with Gasquet, including their only clash in 2013 at Indian Wells. The Swiss' record indoors is as imperious, having won all three matches against his French counterpart. A second defeat in succession would all-but end their campaign in London
The evening session sees defending champion Novak Djokovic take on Juan Martin del Potro, with the winner assured of qualifying for the semi-final. Djokovic, who is now unable to end the year as the world No.1 after Rafael Nadal beat Stanislas Wawrinka, is unbeaten since the US Open and the bookmakers favourite to add a second successive tour finals title.
The Serbian has won six of the last seven meetings between the pair, including the last two in London, in the Wimbledon semi-final and at last year's ATP World Tour Finals. Though Del Potro did beat Djokovic in the bronze medal match at the Olympic Games and has defeated the world No.2 in 2013 at Indian Wells.
What they said
Roger Federer: "I think at this point it is very mental, just making sure I don't get too negative on myself because of the loss. I just have to make sure I stay positive right now in my mind and look forward to the next matches."
Richard Gasquet: "I think I took a little confidence after this match. It was important for me to win the first match. Now I need to play two big players again, so it's very difficult. The level is very high, so every match is a final for me."
Novak Djokovic: "All of us players are coming in exhausted after a long season. We have extra motivation to do well here because this is, but some standards and qualify of the tournament, probably the strongest field after the four most important ones."
Juan Martin del Potro: "Hopefully I can beat them [Novak Djokovic and Roger Federer] but it's going to be really tough for me. I don't have anything to lose against them,"
Day 1 review: Wawrinka and Del Potro clinch opening wins
Day 2 review: Nadal thrashes Ferrer as Djokovic Outlasts Federer
Day 3 review: Nadal secures world No.1