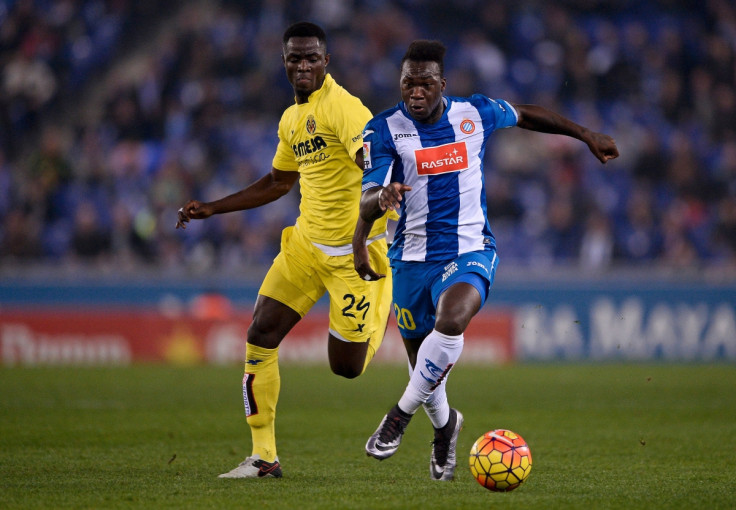 Espanyol striker Felipe Caicedo has claimed that he never thought about leaving the La Liga side during the January transfer window despite receiving offers from the Premier League and China. Newcastle and Everton were reportedly interested bringing the former Manchester City striker back to England but he instead decided to commit his future to the Catalans with a new deal.
Marca broke the interest of the Toffees and the Magpies for the Ecuador international earlier in January amid Roberto Martinez and Steve McClaren's intentions to bolster their attacks, with both eventually signing Oumar Niasse and Seydou Doumbia respectively on deadline day.
Mundo Deportivo later claimed that Everton was set to win the battle by meeting his release clause at Espanyol, while also offering the player a economic proposal "too tempting" to turn down.
But Espanyol revealed on 28 January that following the offers he had received from several unnamed clubs they have decided to buy 100% of the rights to the striker, while increasing the player's release clause to €35m (£26.8m, $39.2m) from the previous one set at just €10m.
Asked in a press conference why he decided to turned down that offers to stay instead at Espanyol, the striker said: "I never considered leaving but it is true that there were offers from China and England. I'm happy to have stayed here. What the want to do in the future is exciting and I wanted to be part of it. I'm happy here and I want to continue here many years. "
"The project is exciting; it did not cost me anything to make the decision to stay here because I had the ideas very clear ideas. My family, my environment wanted me to remain here. It was the body and the heart asked me to do," he said.
Nevertheless, Espanyol new owner, Chen Yansheng, promised in January to lead the team to Champions League football within three years. "Espanyol are the club where I have been more comfortable during my whole career. It is also due to maturity. I'm happy, things are going well for me and I'm happy here at Barcelona. This team have given me what other teams did not: stability and support at all times."