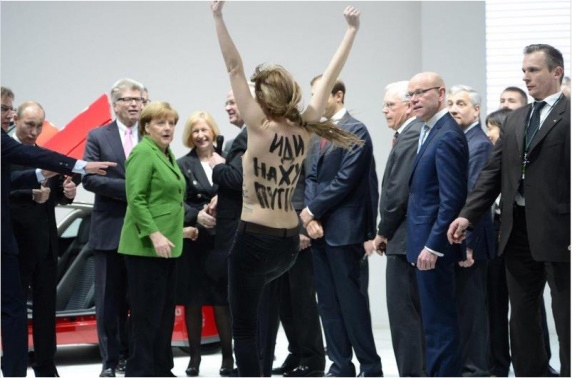 The five Femen activists who stripped off to protest against Russian president Vladimir Putin during his visit to the Hanover Trade Fair face up to five years in prison, according to the Moscow Times.
Police have filed criminal charges against two German nationals, one Russian and two Ukrainians who staged a topless protest and chanted slogans calling Putin a "dictator" before being dragged away by security men.
The members of the radical feminist group face charges of insulting government officials and representatives of foreign states, along with defamation for calling Putin a dictator.
Putin reportedly shrugged off the protest with the comment that he "liked the action".
He joked that the organisers of the Hanover fair should "say thank you to the Ukrainian girls, they helped you promote the trade fair".
"To be honest, I didn't really hear what they were shouting because the security [guards] were very tough," Putin added. "These huge guys fell on the lasses. That seemed not right to me, they could have been handled more gently.
Alexandra Schevchenko, a Femen member who stripped to the waist in front of Putin, told the Daily Telegraph that the Russian president was "really stupid".
"Putin is a bastard. If you're a normal person you have to be against him," she said. "The most important [criticism] for us is human rights, the rights of women, this situation with Pussy Riot. Of course we don't want to say this is all he's done - he has committed a lot of other crimes."