The Ukrainian radical feminist Femen group, which has staged topless protests against sexual and political repression in Putin's Russia and all over Europe, is actually controlled by a man who regards the activists as "weak" and has called them bitches.
This is the core finding of the documentary Ukraine is not a Brothel, directed by Australian film-maker Kitty Green and launched in Venice during the film festival this week.
Victor Svyatski, known as a consultant to the movement and who was beaten up by the Ukrainian secret service because of his links to the group, is actually the founder and mastermind of Femen - and a really tyrannical one, according to the film director.
In an interview with the Independent, Green - who for the documentary embarked on a dangerous trip along with Femen in the landlocked country of Belarus - explains her shock at discovering that a man, Svyatski, was the Godfather of the movement.
"He can be really horrible but he is fiercely intelligent," she told the Independent. "Once I was in the inner circle, you can't not know him. He is Femen."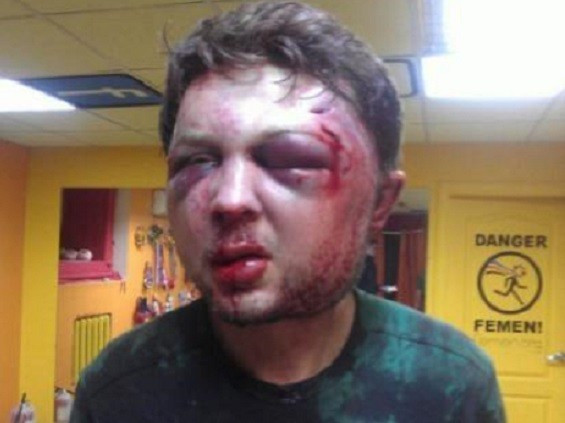 During the Belarus trip, the Femen members were arrested by secret service agents, stripped, humiliated and left stranded in a forest close to the border with Ukraine. The director's footage was stolen by the local KGB - a sinister remnant of Russia's feared secret service - and Green herself was kept in confinement for about eight hours and deported to Lithuania.
Femen were sent there by Svyatski, who can be "quite horrible" with the girls, shouting at them and calling them "bitches" according to Green.
In the film, the patriarch says he is forced to behave like that because "these girls are weak" and "don't have the strength of character".
"They don't even have the desire to be strong. Instead, they show submissiveness, spinelessness, lack of punctuality, and many other factors which prevent them from becoming political activists," he said in the film. "These are qualities which it was essential to teach them."
In the film he even admitted to have started Femen "to get girls" on a subconscious level. He used to pick the prettiest girls who can have more resonance in the media, according to Green.