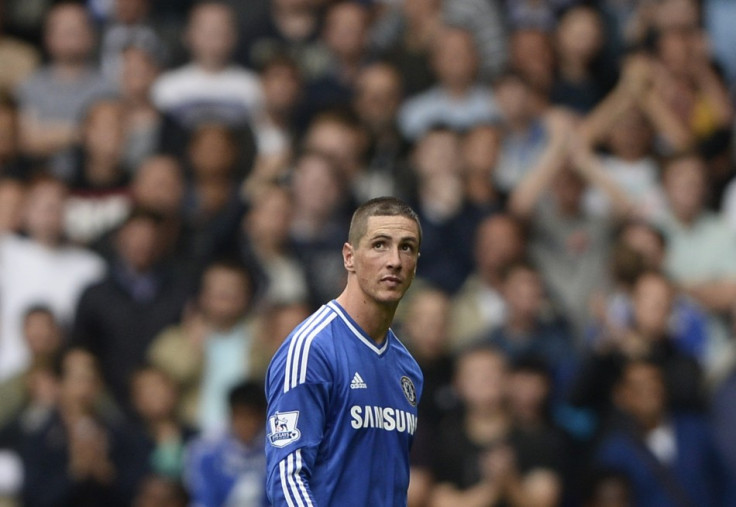 Chelsea striker Fernando Torres is facing a four-match ban after referee Mike Dean appeared to miss his scratch on Tottenham Hotspur's Jan Vertonghen during the 1-1 draw at White Hart Lane.
The Spanish striker was booked after the incident, but seemingly for originally clipping Vertonghen as both players chased the ball in the second half.
Torres was later dismissed for a second yellow card after an aerial challenge with the Belgian which Chelsea are unable to appeal due to Football Association laws.
However, when Dean is asked to explain the reasons for Torres' first yellow card should he admit to missing the later scratch then The FA will pass the incident on to their newly formed independent panel.
From the start of the 2013/14 season, The FA can take retrospective action over incidents when referees are unable to make informed decisions due to their proximity to where the incident occurred, rather than when none of the officials have seen it. Retrospective action can still be taken in exceptional circumstances.
The change to the law comes after Callum McManaman's challenge on Newcastle United defender Massadio Haidara went unpunished last season.
After the second half sending off of Torres, Chelsea boss Jose Mourinho jumped to the defence of his striker and claiming Vertonghen's reaction to the challenge which saw the former Atletico Madrid forward reprimanded contributed to the harsh punishment.
"Football is football and things happen which we don't know why," the Chelsea boss said. "At that time we were much better and stronger, they were in trouble.
"I'm curious to read what you (the media) want to say about it. This is about the game, and especially in this country I learned before I arrived here what the game is and the principles you need to play.
"When I arrived here in 2004 I had players arriving from other countries and I had to educate them because England is England and other countries are other countries. In other countries people say the guy is clever and the guy is intelligent because he pretends it's a penalty or a red card. Not in England, that's not what I learned here.
"That's why I don't think the referee is guilty, he made the wrong decision but he trusts the player. When you see the player with his hand on his face and pretending it was a violent action the natural tendency is to follow and make the decision.
"It was a situation where the player wasn't helping the referee. He's a fantastic player but he's a special guy because three days ago he left the player naked against Aston Villa. It wasn't a penalty or a red card and he shouldn't have played today, he should have been suspended from a red card against Villa. Today he changed the game, I'm not happy."
Torres will miss next weekend's league trip to Norwich City but faces being absent for three further games which include the successive Premier League visits of Cardiff City and Manchester City and the League Cup fourth tround trip to Arsenal.
Samuel Eto'o, who was unused substitute in the weekend's draw, is likely to spearhead Chelsea's attack domestically during Torres' absence. The former Barcelona and Inter Milan forward is yet to score for Chelsea since his summer move to Stamford Bridge and Mourinho has come in for criticism for allowing Romelu Lukaku, who scored 17 goals for West Bromwich Albion last season, to join Everton on a temporary deal.