Howling 100mph gales are set to hammer parts of England and Wales as freakish weather continues to blight Britain.
The Met Office has issued a red warning, its most severe level, advising people to "take action" as it predicts "exceptionally strong" winds could cause structural damage and uproot trees.
The most dangerous weather is expected to hit north-west England and western parts of Wales, where the public are being warned to alter travel arrangements ahead of the storm.
Coastal towns are also braced for huge waves as regions are also warned of potential power blackouts following the lashing.
The Met Office warned: "Coastal areas of west Wales and northwest England are likely to bear the brunt as southwesterly (later westerly) winds widely gust to 80mph and possibly 100mph in the most exposed locations.
"The core of strongest winds will then affect parts of the coast of north Wales and northwest England early evening, with peak gusts of 85mph."
The rest of England can also expect strong winds and heavy rain, adding to the woes of residents along the Thames and in southern counties including Somerset, who have already been forced from their homes as water levels have risen.
Flooded homes along the River Thames have been evacuated and thousands more are at risk as water levels are expected to keep rising for the next 24 hours.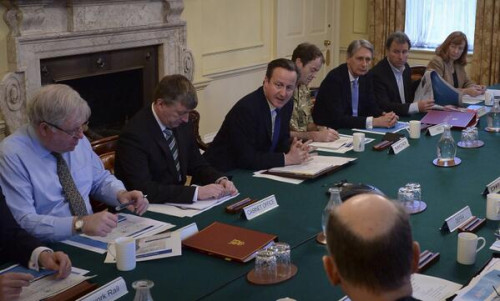 Meanwhile, Prime Minister David Cameron chaired a Cobra meeting to discuss responses to flood hit areas of south-west England after returning from a tour of the areas.