Britain is braced for more heavy rain and gale force winds, as officials have warned the UK may see more areas affected by flooding. On Monday evening, 16 severe weather warnings were in place, of which four were in the Thames Valley.
The South West, in which many villages and towns have been severely affected by extensive flooding, is expecting another 1.1 inches of rain on Tuesday. Some areas on the banks of the River Thames have seen the highest recorded level of water in 30 years, while the Environmental Agency have warned residents in Berkshire and Surrey water levels could continue to rise for at least another 24 hours.
With areas of the UK experiencing the worst flooding in years, attention has been turned to how it can be prevented or alleviated.
Dredging: how does it work?
The process refers to increasing the depth of the river channel by removing silt that builds up over years. It usually takes place using a digger to remove material on the bank, or a barge with a vacuum. The material can be used to replenish sand on beaches where coastal erosion may have taken place.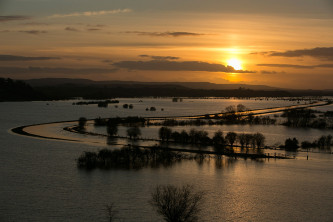 Farmers in Somerset have claimed a lack of river dredging has worsened the impact of the flooding, yet the Environment Agency has said it spent £45m in the previous financial year on improvements which include dredging.
It is disputed as to whether dredging would actually help the situation. Some have argued increasing dredging would not have prevented the Somerset Levels flooding because of the large amount of water. Seen as a short-term solution, the Environment Agency has said it is not the most effective solution because it makes river banks less stable, disturbs wildlife habitats and consumes areas of farmland.
What temporary flood barriers are available?
Two types of barrier are generally used. A sectional barrier, which is normally made from steel or another strong metal, cuts off seepage underground, as well as sealing water overground using a wall and foundations.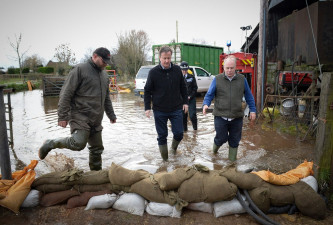 The other option is a frame barrier, which is placed at an angle against the river bank. Held up by a triangular frame, the top of the barrier - which leans away from the river - is weighted for fabric wind resistance. There is a waterproof fabric over the barrier and a long sleeve (an underwater section of barrier which lies on the floor) to provide stability and reduce seepage.
Temporary barriers are relatively inexpensive and can be removed completely when water begin to subside. They provide additional protection to flood-prone areas.
Is sustainable drainage a viable option?
This option is used for towns and cities which are prone to flash flooding. Water is deflected off concrete, tarmac and rooves, which enters and easily overwhelms drainage systems. Under the 2010 Flood Act, builders have to landscape developments so that water seeps into open ground, so the water can permeate and drain away in a process called infiltration.
Detention basins, otherwise known as retarding basins, can be excavated to store water and help protect against flooding. If no permanent pool of water exists, they are called "dry ponds".
What about natural flood management?
This offers a sustainable approach to managing floods, which can be used alongside flood barriers and concrete walls. Although small-scale, the different approaches aim to reduce the speed of water before it reaches larger rivers.
Defences include small barriers in ditches and fields to divert water into open land, where it can drain away. Land can be used to temporarily store flood water away from high risk areas and rivers can be reconnected to their flood plains. Planting trees may help prevent flooding as they catch rainfall, while felled trees can be placed in front of streams to push large amounts of water into woodland.