Ferrari has announced its contender for the 2012 Formula One World Championship, which it hopes will return the team to winning ways.
After the original launch was canceled due to heavy snow at Ferrari's Maranello headquarters, the 2012 car was launched on the team's website instead.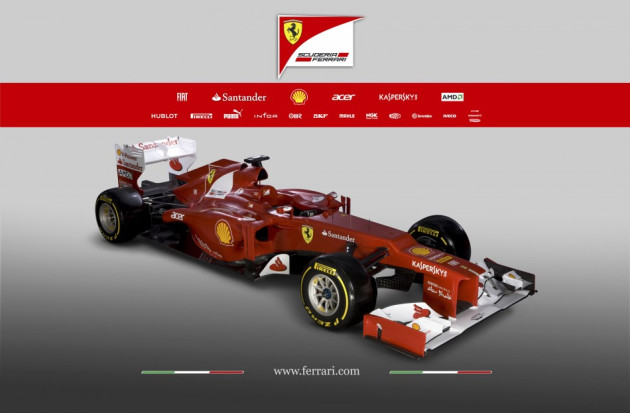 The car features a large step in the nose which is due to a rule change for this season that requires it to reach a certain height.
Ferrari said in a statement: "The nose has a step in it that is not aesthetically pleasing: with the requirement from the regulations to lower the front part, this was a way of raising the bottom part of the chassis as much as possible for aerodynamic reasons."
Ferrari will be hoping that the 2012 car will power drivers Fernando Alonso and Fellipe Massa to the top of the podium after they finished the 2011 season fourth and six respectively, behind Jenson Button's McLaren and the dominating Red Bulls of Mark Webber and World Champion Sebastian Vettel.
The heavy snow fall at Ferrari's base has forced the closure of the team's Fiorano test track, where it was hoping to run a shakedown of the car. Now, it is believed that it will not run until the first test session of the season which begins at Jerez, Spain on 7 February.
Ferrari team boss Stefano Domenicalli said: "I am sure our car will be winning right from the beginning. We have learned many lessons from the past, and taken some difficult decisions. But I am sure all our efforts will be represented with this car."
Domenicalli suggested that the 2012 Ferrari has a few features that are unique to the car, saying that "we have many novelties in terms of mechanics and also the shape of the car."

Speaking about the team's driver lineup, which remains unchanged for the 2012 season, Domenicalli said: "I am sure our team will deliver a great effort. For Fernando i don't have to add anything about his skill. In a difficult team last year he extended his relationship with us for many years, so this shows his responsibility."
Ferrari's number two driver Felipe Massa has had a difficult few years following his accident at the Hungarian GP in 2009, where we was knocked unconscious by a stray component from another car and spent eight months recovering.
Domincalli said of Massa: "Felipe has been here 10 seasons in F1. A great, great talent and I am sure this year after a difficult season he will show his great value for himself and the whole team."