The German Football Association (DFB) has denied reports it "bought" the rights to host the 2006 World Cup at the expense of rivals for the tournament South Africa, which eventually hosted the world's largest sporting tournament in 2010. It is being claimed by Der Spiegel that a former CEO of Adidas and president of Marseilles, Robert Louis-Dreyfus, set up a "slush fund" in which 10.3m Swiss francs (€6.7m) was placed to buy votes.
According to Der Spiegel, Louis-Dreyfus borrowed the money before the controversial vote in 2000 where Germany beat South Africa by a single vote, and lent it to Germany's bidding committee before calling it in before the tournament, which was won by Italy. Spiegel is alleging the money was returned to him via Fifa. "The money had been paid into a Fifa bank account in Geneva," reported the paper (translated by The Guardian). "From there, Fifa allegedly promptly transferred the money to a Zurich account belonging to Louis-Dreyfus."
French-born Robert Louis-Dreyfus died in 2009 aged 63. However, the DSB said in a statement: "The DFB resolutely rejects the completely groundless allegations of the magazine Der Spiegel that there were 'slush funds' in relation to the bid committee of the 2006 World Cup."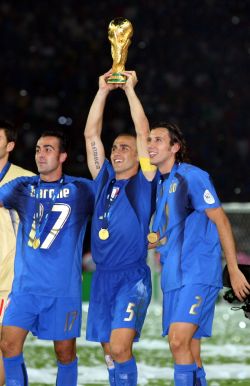 The DSB continued: "It equally vehemently rejects the authors' conclusions drawn without any facts that votes were bought for the World Cup. The DFB clearly repeats that neither the DFB president nor the other members of the organising committee were involved in such actions or knew about them."
Adidas, which has sponsored the DSB for many years, denied all knowledge of the loan. "We know nothing of such a payment from Robert Louis-Dreyfus," said an Adidas official to Reuters. "We can rule out that this is part of Adidas AG business process."
The latest claims of corruption come as Fifa suspended President Sepp Blatter for 90 days along with Uefa President Michel Platini. The Frenchman had hoped to succeed Blatter to the most powerful job in football, but this now seems unlikely as the English FA announced they will no longer support his candidacy.
An FA statement said: "At the Uefa meeting the FA learnt more information relating to the issues at the centre of this case from Mr Platini's lawyers. We have been instructed that the information must be kept confidential and therefore we cannot go into specifics.
"As a result of learning this information, the FA board has this morning concluded that it must suspend its support for Mr Platini's candidature for the Fifa presidency until the legal process has been concluded and the position is clear. A decision can then be taken on who to support in the Presidential election on February 26, 2016."