Fifa president Sepp Blatter and Uefa president Michel Platini have been banned from all footballing activity for 90 days after Swiss authorities opened a criminal investigation into the organisation.
Fifa's ethics committee, chaired by Hans Joachim Eckert, has also banned former vice president Chung Mong-joon for six years and fined him 100,000 Swiss Francs (£67,000). Jerome Valcke, Fifa's general secretary, has been banned for 90 days having already been suspended over allegations he sought to profit personally through the sale of World Cup tickets under his control.
Fifa's ethics committee had been convening in Zurich since 5 October after the Swiss attorney general opened criminal proceedings against Blatter on suspicion of signing a contract "unfavourable to Fifa" and making a "disloyal payment" of 2m Swiss Francs to Platini.
Blatter is also accused of "criminal mismanagement" for allegedly assigning valuable World Cup television rights to the control of disgraced former executive Jack Warner, who was banned for life from football-related activities in September by the ethics committee.
The duration of the bans for Blatter, Platini and Valcke may be extended for an additional period of up to 45 days. All bans come into effect immediately.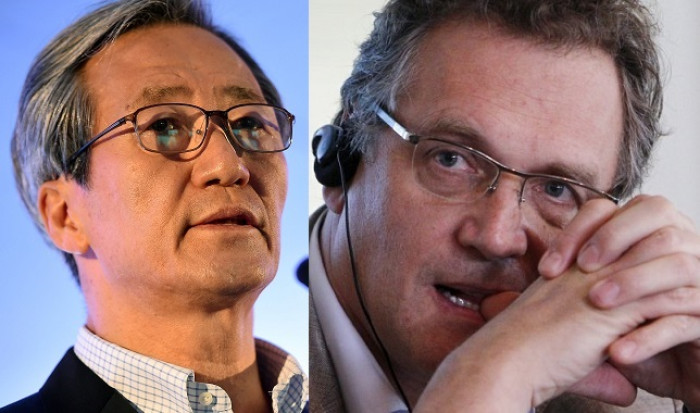 A Fifa spokesperson said: "The grounds for these decisions are the investigations that are being carried out by the investigatory chamber of the ethics committee. The chairman of the chamber is Dr Cornel Borbély. The investigation into Joseph S. Blatter is being carried out by Robert Torres, the investigation into Michel Platini by Vanessa Allard.
"The proceedings against the South Korean football official Chung Mong-joon were opened in January 2015 based on findings in the report on the investigation into the bidding process for the 2018/2022 FIFA World Cups. He has been found guilty of infringing article 13 (General rules of conduct), article 16 (Confidentiality), article 18 (Duty of disclosure, cooperation and reporting), article 41 (Obligation of the parties to collaborate) and article 42 (General obligation to collaborate) of the FIFA Code of Ethics."
Platini, who is hoping to replace Blatter as the next president of Fifa after he steps down, earlier described the leak about his potential suspension as "insidious" and "unacceptable".
He added: "Over the last few weeks, I have stressed my willingness to co-operate fully with the authorities carrying out the various enquiries in compliance with the strictest procedural rules. Fifa, on the other hand, has clearly flouted those rules.
"I have always acted and expressed myself with honesty, courage and candour, as I feel that this is my moral duty. If what is being reported regarding the intentions of the investigatory chamber of the Fifa Ethics Committee is indeed true, I will stop at nothing to ensure that the truth is known. Nobody should be in any doubt as to my determination to achieve that objective."
In May, 14 people were arrested – including seven senior Fifa executives – were arrested by US authorities as part of a corruption and bribery inquiry which was followed by a separate Swiss criminal investigation into the allocation of the 2018 and 2022 World Cups in Russia and Qatar respectively.