FULL TIME

Colombia 2-0 Uruguay

10:50: We are into the final minutes of extra time, Colombia are cruising into the quarter-finals.

10:47: A fantastic pass from Rodriguez finds Armero racing into space up the left as Colomboa catch Uruguay on the break. He has a teammate bursting into the box but the full back's cross is terrible and harmlessly rolls out of danger.

10:43: The ball drops to Cavani just inside the right hand side of the box and he lashes a half volley on goal that Ospina gets down quickly to palm around the post.

10:40: Ramirez and Cavani play a series of neat passes between each other on the edge of the box but can;t find that final pass into space and the move breaks down. Uruguay are running out of time.

10:37: Maxi Pereria gambles on a hopeful ball over the top and gets on the end of it just inside the right hand side of the box. It's a rather scuffed effort in the end however and Ospina, who has made himself big rushing out of goal, makes the block.

10:34: A throw in finds Stuani inside the right hand corner of the box and with his back to goal the Uruguay striker lifts a looping cross/shot towards the back post that has Ospina scrambling to tip over the bar.

10:31: Cavani turns provider this time, swinging in a decent ball for Stuani who directs his header harmlessly wide.

10:27: In Luis Suarez's absence much of the onus has been left with Edinson Cavani to inspire. The PSG striker has had a disappointing evening however with his latest effort - a glancing effort from an inswinging corner, sailing over the bar.

10:21: Cutting in from the inside left channel Cristian Rodriguez pings a peach of a shot on target that Ospina does well to parry to safety.

10:17: The ball gets away from Cavani who then clamps a foot down on James Rodriguez who nicked possession from him. It was a frustrated act by the PSG striker who knew precisely what he was doing, but is unpunished.

10:14: Stuani and Ramirez have come off the bench for Uruguay as they look to claw their way back into this contest.

10:12: Colombia have a free kick 30 yards out from goal after Gutierrez is crudely taken down by Gimenez, who is shown a yellow card. Rodruiguez stands over it thinking of a hat-trick but his low effort is drilled into the wall.

10:09: Rodriguez doubles his and Colombia's tally! After a magnificent individual effort his second is a wonderful team effort as Amero swings in a good cross from the left towards the backpost where Cuadrado adjusts brilliantly in the air to nod the ball across goal for Rodriguez to tap home.

Goal! Colombia 2-0 Uruguay (James Rodriguez, 49)

10:05: It's been a livelt start to the half with Colombia emerging with all the attacking intent with have associated with them during this tournament. Uruguay have found a bit too with Pereira driving down the flank but his cross is collected by Ospina.

10:02: And we are back underway for the second half. As it stands Colombia will meet Brazil the quarter final clash on Friday.
9:51: A stunning goal from James Rodriguez has given Colombia the lead in the first half. Prior to that Uruguay had not shown much interest in attacking but now they must produce something if they want to stay in this competition.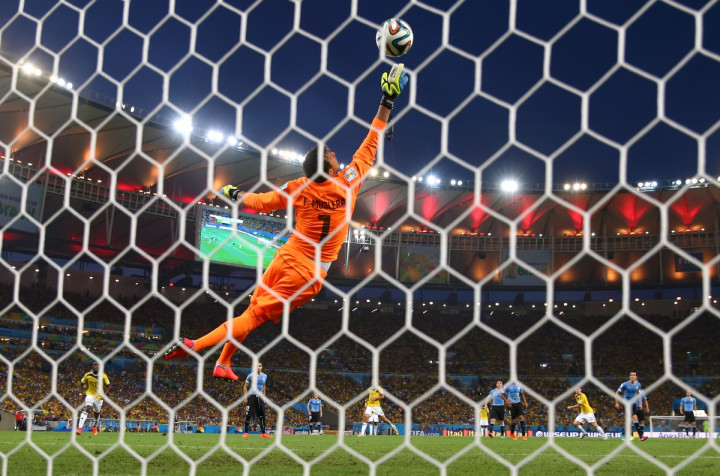 HALF TIME

Colombia 1-0 Uruguay

9:45: Colombia are defending excellently, Zapata the latest to brilliantly intercept Forlan's ball looking to free Cavani. The referee indicates two minutes of added time added on.

9:42: Good save from Ospina! Uruguay work a cross in from the left that finds Cristian Rodriguez coming in from the right. He hits it first time with an excellent volley but the Colombian goalkeeper is equal to it and parries.

9:38: Diego Forlan shows good movement in the box as he tries to get onto the end of a cross in from the left but Yepes steps across the striker to make the block. Forlan isn't pleased and two of the oldest players in this competition square up before the referee calms the situation.

9:35: Uruguay have woken up slightly since that goal. Cristian Rodriguez us felled about 25 yards out from goal after a bursting run through the middle but Cavani's dipping effort from the resulting free kick flies just over the bar.

9:32: Cavani excellently makes space for himself down the inside left channel and places a perfect cross into Cristian Rodriguez at the far post but Aguilar gets there just in time to make the clearance. Urugay have the corner but it comes to nothing.

9:27: What. A. Goal. Arguably the man of the tournament James Rodriguez has just scored an absolutely outrageous volley from 25 yards out, taking the ball on his chest with his back to goal before lashing a left footed effort on goal that comes off the bar en route to hitting the back of the net. Stunning goal!

Goal! Colombia 1-0 Uruguay (James Rodriguez, 27)

9:22: Zuniga tries another effort from long range but it's another fairly poor one that flies over the cross bar.

9:17: This game hasn' been a classic thus far. Godin tries to find Cavani with a long ball from his own half with the striker bursting into space in the box but is unable to pluck the ball out of the air and it's a goal kick.

9:13: Uruguay are struggling to get going in advanced positions so far. Diego Forlan lifts in a free kick from 40 yards out but it fails to beat the first man and Colombia clear. Colombia full back Zuniga then embarks on a powerful run across the length of the pitch but his eventual shot is wayward.

9:10: Cavani dilligently tracks back to close down Jackson Martinez but gives the free kick away from 30 yards out. Cuadrado takes it on anyway and blasts one on goal that takes a nick off Yepes before flying just over the bar.

9:09: There's already been a fair share of crunching challenges in this contest; expect a few bookings as this unfolds.

9:06: James Rodriguez swings in the resulting free kick from the right but it's punched away by Muslera.

9:04: Cuadrado dances past his man as he embarks on a bursting run down the inside right channel but is awarded a free kick following a challenge from Pereira. Replays suggest the Uruguyan was hard done by however as Cuadrado appeared to trip over his own feet.

9:02: James Rodriguez, who was so instrumental against Japan, is found in a central position but has possession taken off him.

9:00: Uruguay get us started at the Maracana.

8:50: The teams are on their way out to the pitch ahead of the national anthems.

8:40: Diego Forlan was the catalyst behind Uruguay's wonderful 2010 campaign. But at 35, the striker's influence is waning and is now very much back up to Luis Suarez and Edinson Cavani. Can he summon any more inspiration?

LINE UPS

Colombia: Ospina, Zapata, Yepes (c), Sanchez, Armero, Aguilar, Gutierrez, Rodriguez, Cuadrado, Zuniga, Martinez
Uruguay: Muslera, Godin (c), Pereira, Rodriguez, Forlan, Gimenez, Pereira, Arevalo, Gonzalez, Cavani, Caceres
TEAM NEWS: After making a raft of changes in their final group game against Japan Colombia are back to full strength against Uruguay. Thier hero from 2010 Diego Forlan steps into the starting XI in the absence of Luis Suarez.

8:20: Luis Suarez begins his nine match ban this evening but he is still in the hearts of Uruguay fans, many of whom are rocking masks of the Liverpool striker.

8:10: What a tremendous contest that was and there is more to come. We are 50 minutes away from kick off between Colombia and Uruguay. We will have your teams news coming up shortly.

8:08: Jubilant scenes as Brazil progress to the quarter finals.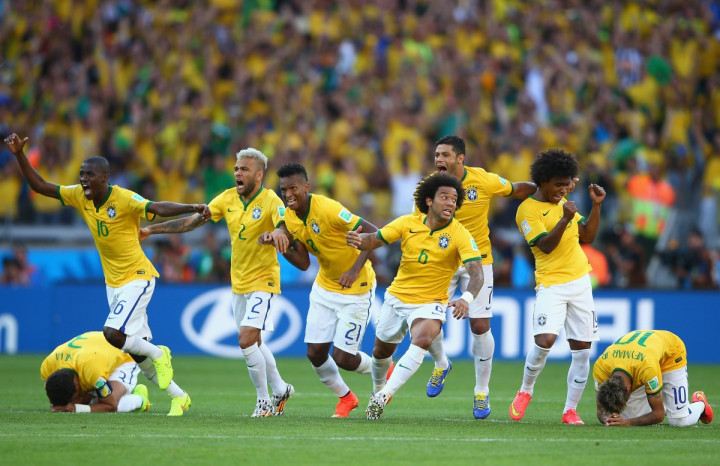 8:04: Chile have been one of the competition's oustanding teams but their World Cup campaign has been brought to an end. It was an utterly riveting game that took so much out of both sets of players who could barely stand in the final moments of extra time. Players and supporters alike are in tears after that gruelling contest.

7:59: What a gripping start to the knock out stages. Chile players are inconsolable but Brazil, after another less than inspiring performance, Brazil are still in the World Cup.

7:57: After being denied by the cross bar in the final minute of extra time, Chile hit the post with their final penalty that sees them exit the World Cup. Brazil advance to the quarter-finals.

BRAZIL WIN 3-2 ON PENALTIES

Chile hit the post! Jara tries to lift one into the right hand corner and gets it past Cesar, but is denied by the woodwork.

Goal! Neymar takes an elaborate run up and fearlessly strokes into the bottom left corner. Chile must score

Goal! Diaz plants one down the middle past Cesar. Brazil 2-2 Chile

Bravo saves Hulk's penalty! Brilliant stop from the Chile goalkeeper. Brazil 2-1 Chile

Goal! Aranguiz hammers one into the top corner. Brazil 2-1 Chile

Goal! Marcelo feints as he approaches the ball and just about gets it over Bravo. 2-0 Brazil.

Julio Cesar brilliantly saves Alexis Sanchez's penalty down to his right! Brazil still lead!

Willian misses Brazil's second! The Chelsea man screws his penalty wide after a very nervous run up.

Cesar saves Pinilla's penalty! Great goalkeeping, Brazil lead 1-0.

Goal! David Luiz scores Brazil's first, slamming home after a long run up

7:45: Brazil will take the first penalty.

7:44: Here we go! Both sets of players are barely able to stand but we are now ready for penalties to decide who will go out of the World Cup.

7:40: And we are going to penalties.

END OF EXTRA TIME

7:39: Brazil respond by mounting a counter attack of their own with Neymar driving forward down the middle. He slips a ball through to Willian but his attempt to get the ball across box is blocked. That will be it.

7:38: Chile hit the bar! Pinilla plays a neat one two on the edge of the Brazil box tand drifts by Thiago Silva and unleashes a vicious effort for the top corner but it comes off the woodwork! Brazil within a few centremeters o going out of the World Cup.

7:36: Hulk does well to step away from his man cutting in from the right but lets fly with an utterly abysmal effort from a good 25 yards out. Ridiculous decision.

7:34: Chile are absolutely drained here as more and more players start to go down with cramp. Brazil have control but are failing to fashion any opening. Two minutes before penalties.

7:31: Bravo and Cesar exchange possession with two aimless goal kicks. This game is drifting towards penalties with about seven minutes of time remaining.

7:28: Isla decides to let the ball roll out of play but Willian is in behind him to nick the ball away. Howard Webb decides the ball has already gone out of play, however.

7:26: Medel, who was virtually being held together by strapping and bandages, is unable to continue. It looks like his thigh is the problem and he can't even walk off the pitch, needing a stretcher to carry him off.

7:24: Neymar gives Isla the slip down the left wing and lifts an inviting ball into the box only for Medel to clear acrobatically. The Cardiff City man has been outstanding today.

7:21: Chelsea midfielder Willian looks like he will be coming on.

HALF TIME IN EXTRA TIME

Brazil 1-1 Chile

7:19: Alexis Sanchez is Ronaldo-esque in his preparation but his shot takes a deflection off the wall and goes out. That brings an end to the first half of extra time.

7:18: Chile win a free kick about 25 yards out from goal with just one minute of added time to be played.

7:16: Hulk tries his luck from 20 yards out that Bravo gets down to palm away and Chile clear.

7:13: Brazil are beginning to assert themselves here. While Neymar continues to be quiet Hulk has stepped into the spotlight and again provide the invention down the right, swinging a great ball into the back post but Oscar's header is straight at Bravo.

7:10: Brazil have been rather sloppy in this opening 10 minutes of extra time. Neymar is the latest to be guilty of giving away possession.

7:07: Jo is fed through the middle but is a bit flat footed and Medel reaches the ball first before neatly skipping past the Brazil forward and bringing the ball out of danger.

7:05: Brazil launch a ball into the box for Jo but Bravo, although looked slow to react, comes out to gather. Jo catches the goalkeeper with a high boot but had genuine intent of bringing the ball down.

7:03: Hulk battles his way towards the edge of the area down the inside left channel and is barged off the ball by Mena. It was a terrific run from the Brazilian but the resulting free kick is cleared by Gutierrez.

7:01: And we are back underway for extra time. Chile looked rather knackered towards the end of the 90 minutes, can they go the distance?

6:54: And the 90 minutes are up. Brazil will feel they should have won after Hulk's second half effort was ruled out for hand ball by Howard Webb but Chile have matched their opponents since then. 30 minutes of extra time are coming up with the possibilty of penalties.

END OF 90 MINUTES

Brazil 1-1 Chile

6:52: The ball is directed into Pinilla who has provided Chile with a bit more height but the cross bypasses everyone. Extra time looms.

6:50: We're in to three minutes of added time and Chile have a corner after Alves makes the clearance.

6:47: Chile launch a ball towards the edge of the box towards Vidal but the Juventus midfielder loses out. That will be his last action of the game as Pinilla comes on. Vidal, who underwent knee surgery just a month ago, has been outstanding again.

6:45: And another great save! Hulk powers his way into the box cutting in from the inside right channel and lashes one on goal, but Bravo is equal to it and palms the ball away.

6:43: A chance for Neymar! Dani ALves clips a brilliant ball into the box from the wing but Neymar's header is straight at Bravo, who reacts well to make the save

6:40: Was this a hand ball? Howard Webb certainly thought so.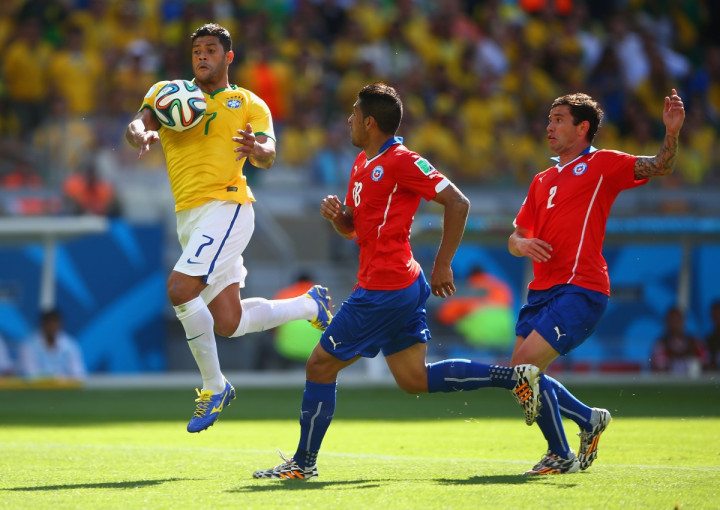 6:38: This half feels like a different game; Brazil still haven't really recovered from that diallowed goal and the contest is now a tense affiar. You feel extra time is inevitable at this point, unless another mistake is made.

6:35: What a chance for Jo! Brazil swing a ball in from the left that finds Jo at the back post but Mena brilliantly swings out a foot and does enough to put Jo off. Chile are awarded the goal kick to boot.

6:32: Ramires comes on for the booked Fernandinho. Just under 20 minutes of the game remaining with extra time looming.

6:30: Brazil are still miffed about Hulk's disallowed goal and Chile have taken control of this contest as a result. Alexis Sanchez is at the heart of everything, finding space between Brazil's midfield and backline. Scolari is considering changes

6:26: What a save from Cesar! Brazil fall asleep as Chile work a neat one two cutting in from the right before the ball is laid off to Aranguiz. From six yards out he blasts one on target but Cesar shows great reflexes to make the block. Chile have the corner but fail to work anything from it.

6:24: Former Manchester City and Everton striker Jo is on for Fred.

6:23: Neymar has had a very quiet second half. He appears to be moving freely after that slight injury worry in the first half but hasn't been able to get involed thus far.

6:21: Scolari is now kicking off at every decision that goes against his side. He's not best pleased when Luiz Gustavo is shown a yellow card that rules him out of the quarter-finals, should his side get there.

6:18: After many replays, it looks like Webb made the right decision as the ball brushed the inside of Hulk's arm. It may have been unintentional but the touch edged the ball into his path before he hit the target

6:15: That's a huge call from Howard Webb! Brazil lift a ball into the penalty area for Hulk who takes touch before kneeing it into the bottom left corner. The Zenit striker striker tears off to celebrate but after consulting his man on the sidelines, Webb rules it out for handball!

DISALLOWED GOAL - Hulk (Brazil)

6:10: It's been a fairly quiet start to the second half after that breathless first. Brazil have made a few attempts to work the ball into the box but each tme Fred's first touch has let him down.

6:05: And we are back underway for the second half.

HALF TIME

Brazil 1-1 Chile

5:49: More poor defending from Brazil as Sanches slips the ball into the box for Aranguiz but he can't get on the end of it.

5:47: Diaz gives the ball away allowing Neymar to race into space down the right flank. He swings the ball into the box but Hulk and Fred get in each other's way and the chance is gone.

5:45: What an effort from Alves! The full back unleashes a dipping effort from 25 yards that veers just wide of the left hand post post.

5:43: Francisco Silva is booked by Howard Webb after a late challenge on Neymar.

5:41: Oscar finds Neymar in the box with a brilliant sweeping pass from right to left. Cutting in, the forward jinks past his man but doesn't take the shot, holding onto the ball before opting to slide the ball across to Fred who has emerged in the box but the chance is gone.

5:37: Claudio Bravo comes out to claim a corner but misses and instead chases the ball all the way to the edge of the penalty area. He just about gets away from it as his defender makes the interception and passes to clear the danger.

5:34: Chile are level! Terrible defending from Brazil as Marcelo's weak throw in to Hulk is intercepted and slid across to Sanchez who has found space just inside the right of the box. The Barcelona man shakes of his man and brilliantly finishes, slotting the ball past Cesar into the bottom left corner.
Goal! Brazil 1-1 Chile (Alexis Sanchez, 31)

5:29: Neymar launches himself in the air following a late challenge from Vidal who lifted his knee across the path of the Brazilian. Vidal earns the wrath of Scolari on the sidlines who is bellowing for a yellow card.

5:25: Neymar narrowly avoids a booking after a rather late challenge from Neymar on Medel. The Brazilian gets a ticking off from Webb.

5:22: Replays suggest the final touch for Brazil's goal may have come off Gonzalo Jara, who was marking Luiz.

5:20: Brazil take the lead! Their telling height advantage from set pieces is the decisive factor as Thaigo Silva gets on the end of Neymar's corner, nodding the ball across goal to the back post where Luiz finds space to knee it into the back of the net.

Goal! Brazil 1-0 Chile (David Luiz, 18)

5:18: Brazil win a free kick on the edge out of the box out on the left hand side but Neymar's delivery isn't great and Bravo collects.

PENALTY APPEAL - Brazil

5:15: Brazil appeal for a penalty as Neymar plays a neat one two with Hulk before continuing his run into the box, before being shoved over by Isla. It's a relatively similar incident to the one in involving Vargas moments ago and again Webb isn't interested

5:13: Alexis Sanchez finds space just inside the box after cutting in from thre right and slides an inviting ball across the box. Eduardo Vargas goes down following a collision with David Luiz but Howard Webb waves away appeals,

5:11: Neymar is moving a bit more freely now. The spray would seem to have done the job.

5:08: Worrying scenes for Brazil as Neymar who appears to be struggling with a knock. He retreats to the sidelines for some spray on his suspected sore knee but he doesn't look comfortable at all as he chases down a loose ball moments later.

5:06: Brazil win a corner where they will be looking to take advantage of their height advantage. Fred takes it and it falls to Marcelo on the edge of the D who neatly turns his man and shoots on goal, but it veers just wide.
5:04: Fernandinho comes crashing into Aranguiz late and referee Howard Webb has a good old think in deciding whether to book the Man City midfielder. He gets away with it.

5:01: And Chile get us underway.
4:55: Chile's powerful anthem is almost drowned out by boos echoing around the stadium in Belo Horizonte.

4:50: Both teams make their way out onto the pitch for the national anthems.

4:45: 22-year-old Neymar has four goals to his name so far in Brazil and is fully matching the expectation that followed him into this tournament. He comes up against Barcelona teammate Alexis Sanchez who himself has been instrumental to Chile's progress.

4:35: Chile goalkeeper Claudio Bravo signed a four year contract with Barcelona earlier this week from Real Sociedad. He is expected to act as understudy for Marc-Andre ter Stegen but if he maintains the level of performance we saw last season in La Liga and in Brazil he may give the young German something to think about.

4:25: Chile have been one of the most impressive sides in this World Cup but Brazil are feeling rather confident ahead of kick off. One Brazilian newspaper has gone as far as printing the return flights back to Chile for Jorge Sampaoli's side.

LINE UPS

Brazil: Julio Cesar, Alves, Silva, Luiz, Fernandinho, Marcelo, Hulk, Fred, Neymar, Oscar, Gustavo
Chile: Bravo, Mena, Isla, Silva, Sanchez, Vidal, Vargas, Medel, Jara, Aranguiz, Dias
TEAM NEWS: Manchester City midfielder Fernandinho is given a start ahead of Tottenham's Paulinho while David Luiz has recovered from a slight knock and starts. Arturo Vidal, after being rested against Netherlands, returns to the starting XI.
4:10: Chile sauntered their group following a 2-1 win over Australia and a statement-making 2-0 victory over holders Spain. Brazil's route to this stage was marred performances that failed to inspire but a 3-1 win over Croatia, a draw with Mexico and a 4-1 win over Cameroon was enough to ensure them top top.
4:00: Thanks group stages, it was a blast. But now we move onto the serious business of the knock out stages of the World Cup. Despite Brazil's rather average opening to this tournament a nation still expects, but they face their sternest test yet in Jorge Sampaoli's electric Chile side.