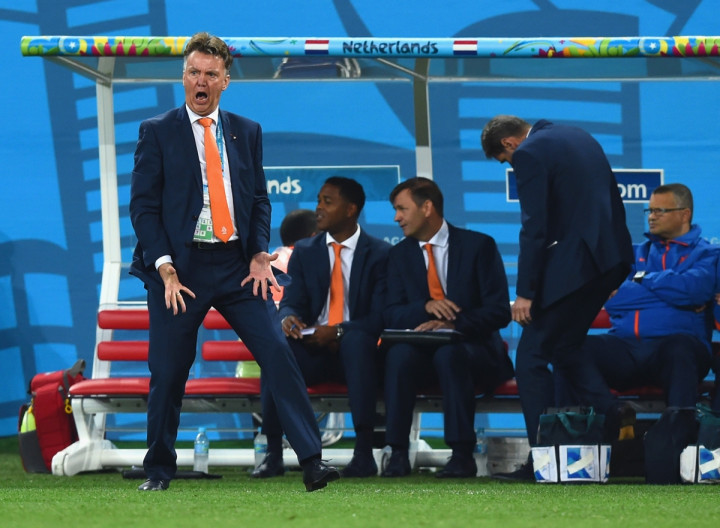 Brazil 0-3 Netherlands FT
Robin van Persie converts penalty after Arjen Robben brought down by Thiago Silva in the box
Daley Blind scores second goal for Netherlands after defending blunder by David Luiz
Georgino Wijnadum seals victory in stoppage time for the Netherlands
11:00pm: Thanks for joining us tonight, make sure you come back tomorrow for the final as Germany take on Argentina.
10:55pm: And that's a wrap! Boos resound around the ground as the Netherlands players walk around the pitch with smiles on their faces.
10:55pm: Seconds left now and Brazil fans are holding back those tears as the camera pans over them...
10:53pm: Cillessen is off for Michel Vorm as Louis Van Gaal looks to give all of his players a run.
10:51pm: GOAL! Netherlands well and truly seal their victory thanks to a goal from Wijnaldum.
10:49pm: It's all about the stretchers at the moment for Netherlands, with Jordy Clasie coming off for the side.
10:39pm: 9 shots to 6 for Brazil at the moment, but only two of those have been on target. Hulk is trying to get in on the action and the Zenit forward is looking their best threat alongside Oscar at the moment.
10:32pm: Ramires is off for Hulk. Can the superhero striker make an impact?
10:29pm: And Oscar is handed a yellow card for diving as Daley Blind goes down. The goal scorer is taken off on a stretcher - but the replays hardly show any contact. Daryl Janmaat is on in his place.
10:23pm: Another free kick from David Luiz and this one is a lot more convincing than his last, but Cillessen is straight on it. Brazil currently hold 59% possession but they haven't worked the keeper too hard.
10:17pm: Hernanes is all over Robben with a studs up tackle. There's surely a red card coming in all these tackles which should have been a red card in the first place...
10:16pm: Paulinho, who has struggled to have an impact for Brazil tonight, is off for Hernanes. Still not much to be excited about from Brazil at the moment.
10:14pm: Fernandinho has been in the thick of it for Brazil since coming onto the pitch but he receives a yellow for colliding with Robin van Persie.
10:08pm: Brazil start strong, the side are in with a chance early but as the ball heads towards Paulinho the referee rules offside.
10:06pm: Let the second half begin! Fernandinho is on for Luis Gustavo.
10:04pm: The players are taking to the pitch and a number of Brazil fans are already looking to tomorrow's game, raising flags in support of Germany against arch rivals Argentina.
9:49pm: And we have half time. A brilliant first half performance from Netherlands and Brazil look to still be broken from their loss to Germany. Can they come back in the second half?
9:46pm: Ramires looks to be in a lot of pain after colliding with Vlaar and Brazil have a free kick. David Luiz takes it and it comes to nothing, despite Oscar also having a crack at it. Oscar has been by far the best player for Brazil so far.
9:43pm: Van Persie in with another shot, putting Cesar to work. This Netherlands side look very dangerous on the counter - it's this tactic that is one of Germany's strengths and Brazil certainly look one of the most vulnerable sides when they lose the ball.
9:41pm: Dirk Kuyt is down with a head injury but looks to be ok as medical staff clear the blood.
9:35pm: Brazil appear to have learnt from their loss to Germany - remember Mueller commented that they knew the game was over at 2-0 when Brazil looked so unorganised - and have tightened up to make a game out of this. They currently hold 55% of possession and are on the attack.
9:32pm: Here's a staggering statistic from Opta Joe:
Brazil have not lost consecutive matches on home soil since 1940; 0-3 v Argentina in Feb '40 and 3-4 v Uruguay in March '40. Nuts.
9:26pm: It's been a pretty open game though things are slowing down a little now. Brazil have control of possession but Oscar has been the only one to put the opposition keeper to work.
9:23pm: Great chance from Oscar, who puts the Netherlands' keeper Cilessen to work with his shot from outside the box.
9:22pm: David Luiz, the man who is currently the most expensive defender in the world, has had a shocking last few World Cup games. Yet more crying from the Brazil fans as they eye another tough run to get back into the game - hopefully they can hold on for another 10 minutes without letting in another three!
9:18pm: GOAL! David Luiz tried to clear the ball but Daley Blind is right there in the centre of the box to take the ball. This is not looking good for Brazil now.
9:10pm: Arjen Robben is handed a yellow card for a rough tackle.
9:08pm: Not a great start for Brazil, who are already down with just minutes gone. The side are straight on the attack and are certainly still in the game but Thiago Silva causing that penalty will have been a huge setback for them, with the side relying on his return to stabalise them.
9:04pm: GOAL! Robin van Persie converts the kick and Netherlands go up 1-0!
9:04pm: And drama already as Netherlands are awarded a penalty! Thiago Silva pulls down Arjen Robben and while the Brazilian argues, the referee will have none of it. Silva receives a yellow card and it could have been stronger than that.
9:00pm: And we have kick-off!
8:55pm: The national anthems are now blasting and Brazil are singing as loud and with as much intent as ever.
8:45pm: Big team news for Netherlands as Wesley Sneijder isn't included in the starting line-up. Without him, Van Gaal turns to Swansea's Jonathan De Guzman. After going out to Argentina on penalties, Van Gaal has spoken of his frustrations with having to play again, and the manager will no doubt have one eye on the job ahead at Manchester United which officially starts after tonight.
8:40pm: While third-place play-offs in the past have been looked on without much interest, in this case it will be a chance for Brazil to save some of their dignity after suffering a shocking 7-1 loss at the hands of Germany during the week. Players from the side have spoken since of how the nightmare game will live with them forever but this is a chance for the side to get back in the good books with their fans, and take an official standing from the tournament they've hosted.
8:35pm: The line-ups are as follows:
Brazil starting XI: Julio Cesar, Thiago Silva (c), David Luiz, Paulinho, Oscar, Maxwell, Ramires, Luis Gustavo, Willian, Jo, Maicon.
Netherlands starting XI: Cillessen, Vlaar, De Vrij, Martins Indi, Blind, Van Persie (c), Sneijder, Robben, Kuyt, Clasie, Wijnaldum.
8:30pm: Hello and welcome to IBTimes UK's coverage of the play-off for third place as Brazil and Netherlands face off in the fight for the best of the rest. Both failed to secure a spot in the final during the week and it's now about fixing Brazil's pride or letting Louis Van Gaal come away with a final victory with his side.