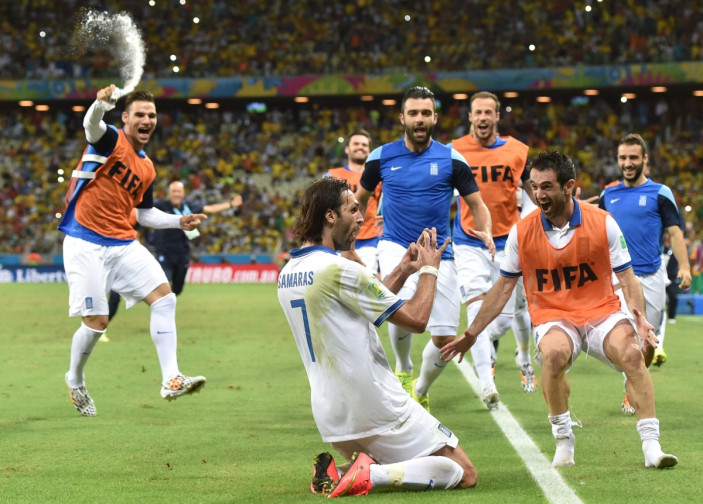 Summary:
Costa Rica, Uruguay, Colombia and Greece qualify for the knock-out stages of the competition
Luis Suarez accused of biting Giorgio Chiellini as Italy are eliminated
England end their World Cup campaign with 0-0 stalemate
Last minute Samaras penalty sees Greece qualify at the expense of Ivory Coast
11:00: What drama! Greece have sealed their spot in the last 16 with what was virtually the last kick of the game! A point would have been enough for Ivory Coast but Samaras' last minute penalty sees them through, having scored their only two goals of the campaign tonight.
Colombia meanwhile sealed their spot at the summit of Group C in style and will meet Uruguay while Greece will meet Costa Rica.
FULL TIME
Greece 2-1 Ivory Coast
Japan 1-4 Colombia
Colombia and Greece advance to the knock out stages
10:53: Samaras lifts the penalty into the right hand corner to score the goal that will see his side qualify for the knock out stages of the World Cup!
Goal! Greece 2-1 Ivory Coast (Samaras)
10:51: Greece have a penalty in the final minutes of added time as Sio clips Samaras!
PENALTY - Greece
10:50: What a fantastic finish from Rodriguez. He has been the inspiration behind a wonderful Colombia performance and has sealed an empathic win, finding space down the left before jinking past Maya Yoshida before elegantly clipping the ball over the goalkeeper.
Goal! Japan 1-4 Colombia (James Rodriguez, 90)
10:48: Salpingidis gets behind his marker down the right flank and drives an excellent ball across the face of goal. None of his teammates have caught up to tap it in but a couple of Ivory Coast players, including Aurier, have to fling themselves out of the way to avoid diverting it past his own man.
10:45: With that goal, Colombia bring off goalkeeper Ospina and replace him with Faryd Mondragon. The 43-year-old becomes the oldest ever player to appear a World Cup, beating Roger Milla's record.
10:41: Martinez seals it for Colombia! The Porto striker chases a another wonderful pass from Rodriguez into the box, takes a touch that deceives his marker and curls a perfect left footed effort into the corner of the net. Colombia will certainly top this group now with Japan surely going home.
Goal! Japan 1-3 Colombia (Jackson Martinez, 81)
10:38: Greece hit the woodwork again! This time it's Torosidis who whips a venemous cross in from the right that nearly catches Barry out at his nearpost.

10:36: Immediately after that goal Karagounis is off for Gekas. Moments later Didier Drogba trudges of to a standing ovation, despite a fairly average performance, to be replaced by Diomande.
10:34: Ivory Coast are level! Kalou does brilliantly to side step a challenge in the middle and slide a ball into the path of Gervinho positioned on the inside left channel. The Roma man's first touch is perfect and his second tees up Wilfried Bony who's near the penalty spot to slam home a simple finish. That goal moves Ivory Coast back up to second!
Goal! Greece 1-1 Ivory Coast (Bony, 73)
10:31: Serey Die is shown a yellow card and gives Karagounis another chance to test Barry from range. It's Lazaros who takes the free kick though and fires a dipping effort on goal that sails just over the bar.

10:28: Ooof, Karagounis whacks the cross bar with a stunning effort! Again, Ivory Coast are wide open on the counter, allowing the Greek skipper to drive upfield. Instead of looking for the pass he unleashes a dipping effort from 25 yards that bounces off the woodwork. Greece look like scoring every time they venture forward on the counter. Now there is a rare sentence.
10:26: Kalou does brilliantly to skip in between to Greek shirts and cut in from the left before bending a wicked effort towards the top right corner. Glykos watches on thankfully as it sails wide.
10:24: Kagawa wins a free kick nearly 30 yards out from goal that Honda is standing over. The Milan midfielder hammers it towards goal, forcing Ospina to bat it away to safety.
10:20: Ivory Coast pushing for the equaliser, as you would expect, but it is leaving them dangerously open at the back. Torosidis leads the latest counter and cleverly cuts inside past his man, but is clipped in the process. Greece get the free kick but the Ivorian wall stands strong and blocks.
10:18: Kalou plays a neat one two with Drogba but just before the Lille forward is about to let fly with a shot Manolas makes a crucial tackle. Ivory Coast get the corner but can't work anything with it.
10:15: Colombia restore their lead! James Rodriguez has enjoyed a scintillating start to this half and it's him who has made the difference, jinking his way into the box before sliding the ball through to Martinez on his left to sweep home.
Goal! Japan 1-2 Colombia (Jackson Martinez, 54)
10:11: Greece nearly make it two! Great work from Lazaros who feints to the left before skipping past his man and hitting an arrowed effort without the outside of his boot, but it veers just wide of goal. Moments later the same man is tracking back to dilligently close down an Ivory Coast counter.
10:08: James Rodriguez looks very lively in the earlt stages, skipping past his marker to earn a free kick before repeating the trick moments later only to see his shot cannon off a defender and go out of play.
10:06: Serge Aurier surges down the right flank and whips an excellent cross in from the byline, searching for Drogba in the middle. The Chelsea hero leaps to reach it but crashes into the Greek goalkeeper in the process. Free kick,
10:03: A poor pass out from the back allows Lazaros to take a shot on from 25 yards out, it takes a deflection and fizzes wide of Barry's goal. Nothing comes from the corner.
10:02: And we ready to get back underway in both games, no changes to speak of yet.
9:50: Half time in both games and things certainly livened up in those final five minutes. Greece scored their first goal of the competition that at the moment is enough to lift them up to second and qualify for the knock out stages. Japan need a win to have any chance of lifting themselves back into contention back have given themselves a good chance of doing just that thanks to Okazaki's equaliser.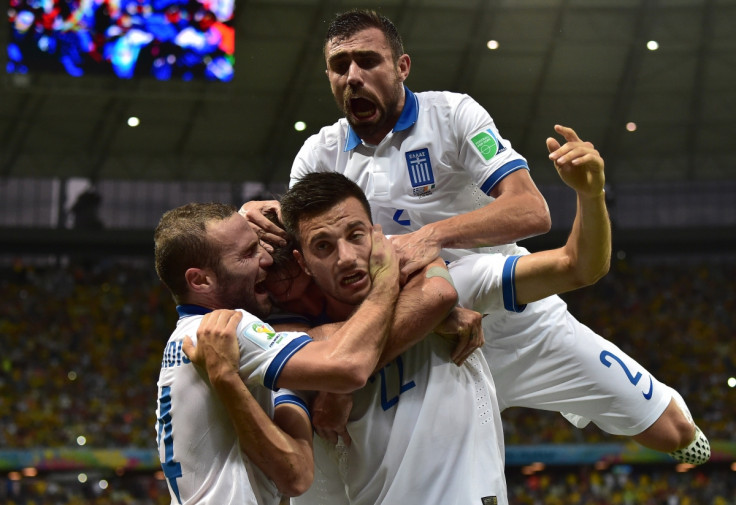 HALF TIME
Japan 1-1 Colombia
Greece 1-0 Ivory Coast
9:45: Japan equalise right on the whistle! From a corner Okazaki peels off his man at the near post and heads into the corner, despite Ospina get a hand to it.
Goal! Japan 1-1 Colombia (Okazaki)
9:41: Greece take the lead! Just as the first half was drawing to an uneventful conclusion a horrible attempt to control the ball from Chieck Tiote allows Samaris through to play a neat one two before lifting the ball over Barry to give his side the lead. It's Greece's first goal of the competition and as things stand, it will be enough to earn them qualification to the knock out stages!
Goal! Greece 1-0 Ivory Coast (Andreas Samaris, 41)
9:35: The Greek free kick is on target, but it's driven straight into the grateful arms of Barry.
9:33: Greece nearly catch Ivory Coast on the counter attack! Uncharacteristically, the Greeks attack at pace with Samaras leading the charge before slipping the ball into the path of Cholevas who has crept up to his right. Cholevas hits a first time effort that beats Barry and cracks off the bar! The referee has pulled play back for a foul on Samaras, who was clipped just after releasing his teammate.
9:30: Japan enjoying a nice spell of possession in the final third but cannot breach the Colombian defence, who are resolutely throwing their heads at any balls floated into the box.
9:26: Kagawa denied an equaliser! The Manchester United playmaker danced his way past Mejia on the edge of the area before unleashing a low drive towards the bottom left corner, but Ospina is down quickly to make an important save.
9:25: Yaya Toure takes a poor touch in front of the Greek goal but powers his way past his marker anyway to the edge of the box but with the shot seemingly on decides to slip the ball into Drogba who is running into space to the midfielder's left. There is too much pace on the ball however and the chance is gone.
9:23: Karnezis' on-pitch chiropractic session hasn't done the trick, it seems. The Greek no. 1 is off and is replaced by Glykos.
9:21: Japan will a free kick off to the right of goal about 25 yards out. Honda stands over it but drives it straight into the Colombian wall.
9:20: Greece goalkeeper Karnezis is down receiving treatment for a back injury. He looks okay to continue for now but his understudy has begun warming up on the bench incase.
9:17: Konno concedes the penalty as Ramos skips away from him and draws the foul inside the area. Fiorentina star Cuadrado steps up and hammers it home to send his side ever-closer to clinching top spot.
Goal! Japan 0-1 Colombia (Cuadrado, 17)
PENALTY - Colombia
9:15: Hasebe tries his luck with a powerful effort from a good 25 yards out but Ospina comfortably collects. Japan are growing into this game, however.
9:12: Kagawa just reminded us all he;s here with a wonderful piece of control off his chest before pinging a perfect pass into the feet of Okpubo, who plays a deft one two with Okazaki but cannot get
his shot off.
9:10: A neat counter attack from Ivory Coast sees Gervinho and Drogba combine down the inside right channel. The Roma forward is played through into the box but Manolas diligently tracks him and makes a timely interception.
9:06: Japan are yet to really impose themselves on this game with Quintero of Colombia enjoying an impressive start on the left of a midfield three.
9:05: Drogba brings the ball upfield and feeds Gervinho. The former Arsenal man lingers on the inside right channel before trying to burst past his marker but forgets to bring the ball with him and the move breaks down.
9:02: Ivory Coast fashion their first opening of the contest as Tiote wins the ball in midfield before finding Kalou. The Lille forward cuts in from the left before finding the Newcastle midfielder who has continued his run, but his delivery into the box bypasses his teammates.
9:00: And we are underway in both final games in Group C.
8:50: Kick is ten minutes away here. With Colombia already qualified, Ivory Coast are the only team with their fate in their own hands and a win against Greece will be enough to see them qualify for the knock out stages.
LINE UPS
8:32: Colombia have already sealed their spot in the last 16 for the first time in 24 years where they await a meeting with Uruguay if they can top Group C. A draw or a win against Japan will ensure that.
Ivory Coast can join them in they beat Greece, although a draw between those two sides would see Japan claim second place for themselves if they beat Colombia.
For Japan, it is simple; they must take all three points to have any chance of progressing. Greece can sneak into the final 16 if they can beat Ivory Coast and if Japan fail to win.
If both Japan and Greece win however (both on four points) then the former will progress by virtue of their superior goal difference.
8:22: Fifa have since announced they will investigate Luis Suarez's alleged biting incident. "We are awaiting the official match reports and will gather all the necessary elements in order to evaluate the matter," A Fifa spokesman said.
For their record, the longest ever ban football's governing body have ever dished out was an eight match ban for Mauro Tassotti of Italy after he broke Spain's Luis Enrique's nose in 1994 with an elbow.
8:16: As a result of Italy's elimination, Cesare Prandelli has resigned as manager.
8:14: Here's what Giorgio Chiellini said of the bite and the decision that saw Claudio Marchisio send off.
The disparity in judgement has been evident.
Claudio Marchisio's sending off was ridiculous but more so the fact that Luis Suarez wasn't sent off. There's the will to protect champions but the referee should have shown him a red card.
There's a clear simulation after, a clear sign that he had done something that he wasn't supposed to.
The gesture is clear. Referees document themselves on players and Suarez has a very clear history. The referee has given a clear address, he hasn't spoken throughout the game.
We are not happy with how things have gone but we were the only ones to deserve to progress to the next round." [via Gazzetta dello Sport]
8:10: Uruguay have qualified from Group D at the expense of Italy following their 1-0 win over the Azzurri but the story dominating this evening centres on Luis Suarez, who finds himself embroiled in another biting controversy after appearing to sink his teeth into the shoulder of Giorgio Chiellini.
For the full story on the Suarez incident click here.
8:05: We are back for the second half of tonight's coverage and what an evening it has been so far.
7:02: In amongst that madness, England concluded their World Cup campaign in uninspiring fashion with a 0-0 stalemate with Costa Rica. But the talking points undoubtedly came from the other game where Luis Suarez is once again at the centre of attention after allegedly biting an opponent for a third time.
6:56:It's all over, Italy are out of the World Cup and Uruguay have joined Costa Rica in qualifying from Group D. It was a controversy-ridden conclusion to the game at the Estadio das Dunas as Claudio Marchisio was shown a straight red card. Then it got interesting. Luis Suarez clashed with Giorgio Chiellini inside the Uruguay box with the Italy defender frantically indicating to the referee that he had been bitten.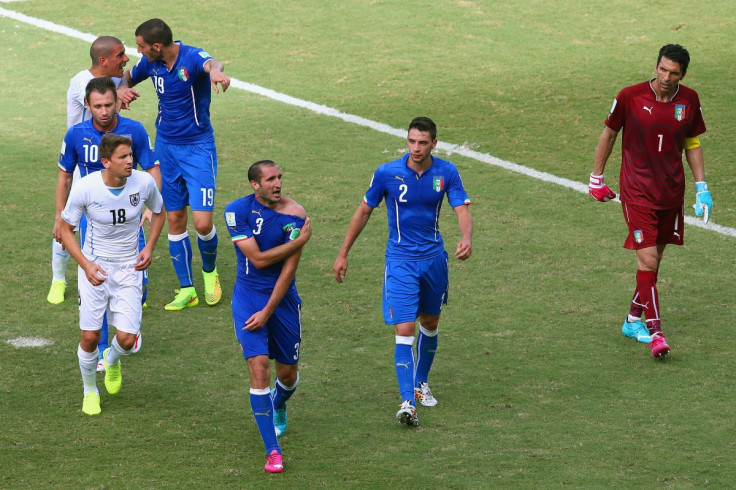 Pulling down his shirt, the Juventus defender was adamant teeth marks had been left in his shoulder. Moments later ,Diego Godin, who scored so many important goals for Atletico Madrid last season back-headed past Gianluigi Buffon. Italy pressed relentlessly looking for an equaliser with Buffon joining his teammates in the opponent's box for the final assaults on goal but to no avail.
FULL TIME
Italy 0-1 Uruguay
6:54: It's overhit and flies over the head of the Juventus goalkeeper. Uruguay retrieve the ball and win the throw in. Ther whistle should blow after this.
6:52: Italy have a free kick as Motta is caught. Last chance, Buffon is up!
FULL TIME
Costa Rica 0-0 England
6:50: What a conclusion to this game; Luis Suarez appeared to BITE Chiellini when the two clashed in the box before Diego Godin headed in moments later to give his side the goal that may ensure his side qualify for the knock out stages at Italy's expense.
6:48: Uruguay sitting dangerously deep inviting Italy forward, five minutes of extra time added on.
6:46: Suarez leads a counter and it's two on one in Uruguay's favour! His pass across goal is brilliantly intercepted but the Liverpool man has the ball back, but with Edinson Cavani bellowing for the pass across goal that would leave him free, he tries to skip past his man! Chiellini makes the tackle and clears the danger. Cavani is livid.
6:45: Italy are frantically attacking here. A neat move ends as Cassano's pass across the box is just too long for the overlapping De Sciglio.
6:44: Pirlo fires one on goal that takes a deflection. Italy have a corner but fail to work anything with and suddenly Uruguay are on the counter! Only a brilliant sliding challenge from De Sciglio can can save them.
6:43: Italy have a free kick 35 yards from goal with Pirlo standing over it. Someone on the Italian bench is not happy.
6:41: Uruguay lead! Godin rises above the Italian defence and heads the ball into the back of the net! Italy will be going out unless they score in the final eigh minutes.
Goal! Italy 0-1 Uruguay (Diego Godin, 81)
6:39: Chiellini thinks he has been bitten by Suarez! The Italy defender has pulled his shirt down to show the ref teeth marks on his shoulder!
6:37: Luis Suarez and Chiellini could both be in trouble here. Replays show the Liverpool man threw his head at the defender as he blocked his run in the box, before Chiellini threw an elbow in his direction.
6:35: Two changes for England in the past few minutes, Jack Wilshere off for Sreven Gerrrard as Wayne Rooney comes on for James Milner.
6:33: Another injury concern for Cesare Prandelli, Marco Verratti is off for what originally looked like a cramp, the the midfielder's reaction said otherwise. Thiago Motta replaces him.
PICTURE: Claudio Marchisio was a bit surprised to see a red card shown.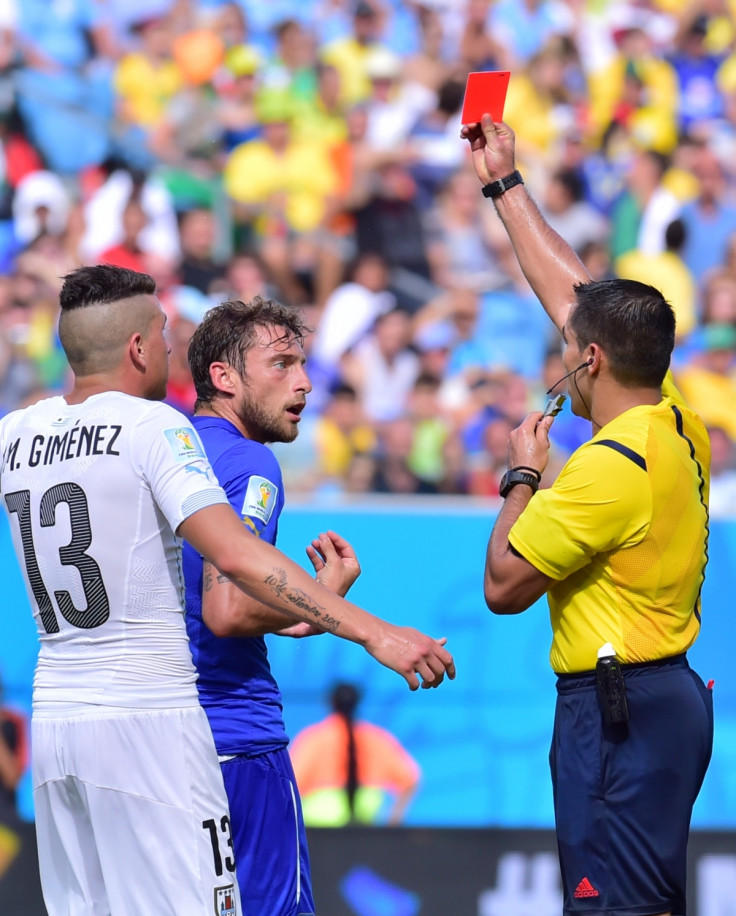 6:30: Change for Italy, the hard-working Immobile, who has been struggling with a knock, is off for Antonio Cassano.
6:29: Sterling gives the ball away in a silly position, allowing Cristian Gamboa to pounce on it down the right flank before being cut down by a poor challenge from the Liverpool starlet. Costa Rica swing the ball in but are penalised for a challenge on Ben Foster.
6:26: Brilliant save from Buffon! Cavani is barged off the ball from 15 yards out but Suarez is on it in flash, poking a clever effort towards the bottom corner only for the skipper to read it brilliantly and tip it around the post.
6:24: What a chance for Sturridge! Cutting in from the from the right he plays a neat one two with Jack Wilshere and attempts to curl one around Navas on the return, but bends it wide of the left hand post. Big miss.
6:23: Uruguay make the first change after Italy's red card and shockingly, it's an attacking one as A Pereira comes off for Stuani.
6:21: Raheem Sterling on for Adam Lallana.
6:20: Marchisio is utterly shocked to see the referee holding a red card aloft! The Juventus midfielder did make contact with Gimenez during a tussle for ball and did have his studs up but there was very little force, or intent in the challenge. Seems a harsh decision, but Italy are down to 10 men.
RED CARD - Claudio Marchisio (Italy)
6:18: What a chance for Uruguay! Suarez beautifully clips a ball into the path of Rodriguez who has made a great run into the box but his effort on goal, albeit from a tight angle, is a poor one.
6:16: Navas does brilliantly in the Costa Rican goal again! This time Lallana is bursting down the left flank before sliding the ball across goal where Sturridge is lurking. The Costa Rican shot stopper however reads it excellently and comes out to claim.
6:15: Adam Lallana joins him in the book for a very rash challenge from behind on Bryan Ruiz. England are getting frustrated.
6:12: Ross Barkley is shown a yellow card for pulling on the shirt of Diaz , who is too quick for the Everton man as he scampers down the right flank.
6:08: Cavani is down in the box and wants a penalty. Replays suggest he was jostling with Bonucci but there was not enough contact to justify the penalty claims, or the PSG striker's reaction.
6:06: Navas in the Costa Rican goal makes a very brave challenge to deny Sturridge! Shaw has a shot that defects into the path of the Liverpool man, who miscontrols it before lunging to nick it past the onrushing goalkeeper. Sturridge is entitled to got for the ball but isn't quite quick enough and plants his studs into the thigh of the Costa Rican goalkeeper.
6:03: Arevalo Rio looks a bit miffed as he is shown a yellow card 40 seconds into the half.
6:02: We are back underway and a couple of changes to bring to you. Mario Balotelli has come off and replaced by Roma midfielder Marco Parolo while Oscar Tabarez has introduced Maxi Pereira for the ineffective Lodeiro,
5:48: Both games have failed to spark into life as of yet. England will feel they should have had a penalty after Daniel Sturridge was felled in the box following neat build up play from Adam Lallana and Ross Barkley, but the Liverpool man was also guilty of missing his side's best chance; nodding over unmarked in the box from four yards out.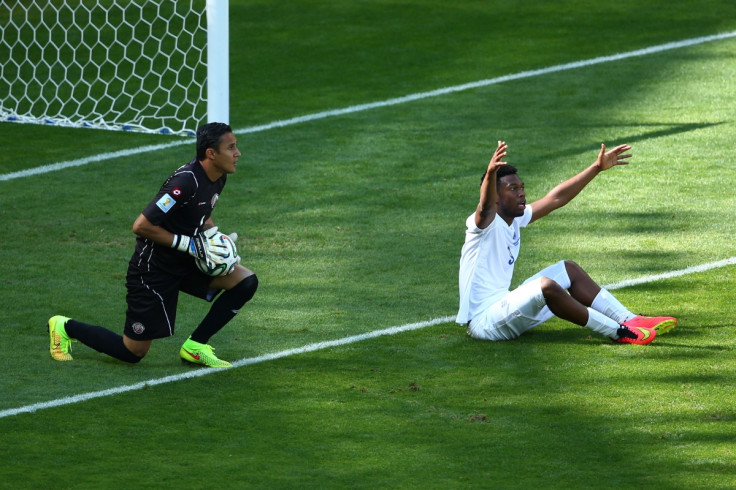 This very much looks like a game being contested by two sides who already know their fate. While lifeless may be a slightly harsh way of describing the contest, it does have the feel of a friendly.
Italy meanwhile have largely controlled their contest with Uruguay without threatening too much, an understandable approach given Cesare Prandelli's side need just a point to reach the knock out stages. Mario Balotelli will miss their first game of that phase providing they get there after being shown a yellow card.
Luis Suarez has looked exasperated at time so far as his teammates struggle to unlock the Azzurri. They will need to find something in the second half or they will be going home.
HALF TIME
Costa Rica 0-0 England
Italy 0-0 Uruguay
5:45: Both Frank Lampard and Luis Suarez have good opportunities to deliver a dangerous ball into the penalty area in their games. Lampard's effort is fairly useless, Suarez is a dangerous one that needs Buffon to palm it over.
5:41: Ross Barkley is determined to make something happy this evening. Sturridge finds the 20-year-old who powers his way to the edge of the box from right to left, drags the ball back onto his left foot in an effort to find space but horribly shanks his shot well wide of goal.
5:40: Italy move on the break and a wonderful exchange from Pirlo and Verrati finds Balotelli, who sweeps a first time pass out to the right where his striker partner is cutting inside. However Godin reads it excellently and makes the interception.
5:38: Caceres tries his luck from 70 yards out with Buffon off his line. Unsurprisingly, the left back cannot get the better of his Juventus teammate.
5:35: Sturridge passes up England's best chance of the game! After a succession of corners Jack Wilshere sends it to the back post where Phil Jones is placed to nod across goal. Sturridge is unmarked yards from goal but gets underneath the ball and powers his header over the bar.
5:33: Buffon thwarts Uruguay! Suarez is involved in a neat one two on the edge of the box but the Italy no. 1 is swiftly off his line to palm the cut back away. His teammates fail to get the ball clear and Cavani is there with the follow up effort, but the Juventus star is there again to beat it away.
5:31: Replays suggest Daniel Sturridge and England have the right to feel aggrieved. The Liverpool striker appeared to bring the ball under control before being caught in a tangle with his marker.
5:29: Immobile has just passed up possibly Italy's best chance of the half. De Sciglio lifts an inviting ball in from the left after neat build up play but the Dortmund striker skies his effort.
5:27: Mario Balotelli drags a shot wide from about 25 yards out. Immobile cut across his marker to give his strike partner an option to his left but the Milan man ignored him/didn't see him and went for goal.
5:26: Barkley does well to skip past a couple of chances on the edge of the box before clipping the ball to Lallana, who lifts the ball in from the left where the Everton man is well placed to nod into the path of Sturridge. There is definitely a collision between him and his marker but the referee isn't interested.
PENALTY APPEAL - England
5:23: Costa Rica denied! Campbell wins a free kick 30 yards from goal that Celso Borges bends over the wall towards the top corner! Only a good save from Ben Foster denies him.
5:22: Mario Balotelli has worked hard in this game so far but he has been shown a yellow card for a dangerous challenge while leaping to win the ball. Both the striker's knees where at about the level of his opponent's head, so that's fair enough, really. He will miss Italy's next game in the knock out stages, providing they make it there, mind.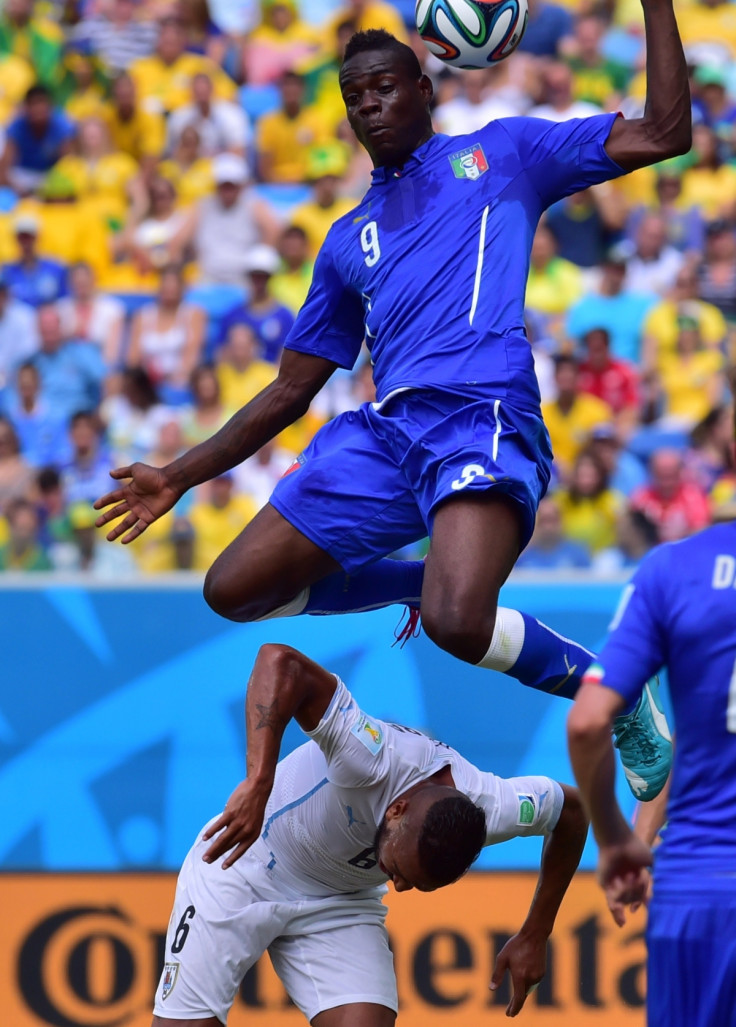 5:20: Italy have been largely dominant in possession but Uruguay suddenly catch a break through Pereira, who gallops into space down the left flank. He looks for the near post where Cavani is bursting into space, but unfortunately he's surrounded by a cluster of blue shirts and is unable to flick his shot goal bound.
5:18: Sturridge's eyes light up as the ball falls invitingly 25 yards out from goal and on the half volley he lashes one towards goal. In real time, it looked a half decent effort. Replays suggest otherwise as the bending effort flies well wide of the post, never troubling the Costa Rican goalkeeper.
5:16: Daniel Sturridge attempts to launch a counter on the half way line as he wriggles his way past two Costa Rica players before he is rather cynically hacked down. England free kick.
5:14: Pirlo has a free kick 30 yards out from goal and lets fly with a similarly audacious effort that almost fooled Joe Hart last week. Muslera follows it all the way and doesn't dare try to catch it, instead opting for a punch over his bar. Italy cannot work anything from the resulting corner.
5:12: Close from Strurridge! Wilshere drives upfield and finds the Liverpool striker positioned on the edge of the D. He swings a first time effort that is curling away from goal and creeps just wide of left hand post.
5:11: Costa Rica's Randall Brene is played into the England box after a neat passing triangle on the edge of the area but the fourth official immediately raises his flag.
5:10: Buffon has also looked rather shaky in these early moments; he hasn't been his commanding self when dealing with Uruguay's balls into the box.
5:09: Chiellini is down in his own area after a tangle with Gonzalez and you don't need to be an expert in body language to see what they are remonstrating about. They want a card shown for a perceived elbow on their centre half but the referee dismisses their claims. Replays suggest there was a clash between the two as Uruguay lumped a ball into the box but there was very little to suggest there was any intention.
5:07: Phil Jones is penalised for a high boot on Diaz out on the right flank which brings a premature end to his burst down the flank. The free kick is taken by the felled Costa Rican but Foster comfortably collected.
5:04: It's been a rather scrappy start between Italy and Uruguay. Mario Balotelli appeared to jar his knee slightly in the openign stages but is moving freely now. Meanwhile England are enjoying the greater share of possession in the opening stages.
5:02: Close from Joel Campbell! The Arsenal man receives the ball on the edge odd the box and curls a shot towards the near post that takes a wicked deflection off Gary Cahill, sending it just wide of Ben Foster's far post. Not the start England could have done with.

5:00: Costa Rica get underway against England while Italy get the ball rolling against an unchanged Uruguay.
4:55: The anthems are underway, we are moments away from kick off.
4:50: Italy and Uruguay met in the Confederations Cup last summer and we needed a penalty shoot out to separate the two sides. Can Oscar Tabarez's side replicate Costa Rica's relentless pressure that nullified the threat of Marco Verratti and Andrea Pirlo last Thursday? In Ciro Immobile, Mario Balotelli, Luis Suarez and Edinson Cavani, this fixture is blessed with some of the most potent forwards in Serie A, Ligue 1 and the Premier League. Goals, please.
4:40: We are about 20 minutes from kick off, any predictions? Let us know at @IBTimesUKSport
4:25: Shaw will in fact become the youngest player to appear in this World Cup when he takes to the pitch at the Estadio Mineirão shortly and England's second youngest at the tournament in history after Michael Owen.
4:22: Luke Shaw will start for England tonight just four years on from the first World Cup he can remember. Feeling old yet? The 18-year-old recently recalled:
Frank Lampard took that shot and it went over the line and it didn't count. That was the only one I can remember."
TEAM NEWS: Ciro Immobile comes into the Italian attack this evening. The 24-year-old was Serie A's top scorer last season, form which saw Borussia Dortmund swoop to make him the man charged with filling the void left by Bayern Munich bound Robert Lewandowski.
LINE UPS
Italy: Buffon, De Sciglio, Chiellini, Darmian, Barzagli, Bonucci, Marchisio, Pirlo, Verratti, Immobile, Balotelli
Uruguay: Muslera, Godin, Pereira, Rodriguez, Gimenez, Lodeiro, Arevalo, Gonzalez, Cavani, Caceres, Suarez
4:10: In Italy and Uruguay, we have what will be perhaps the most compelling straight shoot out for qualification fto the knock out stages. Italy's slender advantage over the South Americans comes in the shape of their goal difference which is currently 0 to Uruguay's -1. We have seen both sides of these teams so far in this competition but Uruguay's improvement since the return of their catalyst Luis Suarez is pivotal to their chances of toppling the Azzurri.
4:05: Roy Hodgson made the unusual move of naming his starting in XI on Monday night, just shy of 24 hours ahead of kick off. Given his promises to utilise his entire squad, it comes as no surprise to see nine changes made from the XI that lost to Uruguay last Thursday.
Costa Rica have all but topped Group D with their +3 goal difference likely to put them out of the reach of Italy or Uruguay. Despite that, Jorge Luis Pinto has opted to make just two changes to the XI that beat Italy.
LINE UPS
Costa Rica: Navas, Gonzalez, Borges, Duarte, Campbell, Ruiz (c), Brenes, Diaz, Gamboa, Tejeda, Miller
England: Foster, Cahill, Wilshere, Lampard (c), Sturridge, Smalling, Jones, Milner, Lallana, Barkley, Shaw
4:00: Many expected it. Many feared it. But for some, England failing to qualify for the knock out stages of the 2014 World Cup has still been met with surprise and frustration in equal measure. The latter of those feelings is unlikely to subside should Roy Hodgson's side fail to end their campaign with a win against Costa Rica, Group D's and the competition's definitive surprise package. There are a few compelling subplots to England's last action in Brazil, namely to omission of Wayne Rooney and Steven Gerrard and the inclusion of Luke Shaw and Ross Barkley in the starting XI, but this evening's game ultimately remains the exercise in futility many were hoping would remain merely a worst case scenario.
For those reasons, much of the focus this afternoon will be on Italy and Uruguay's clash at Estadio das Duna. Only one side will join Costa Rica in the knock out stages of the competition; a draw will be enough for the Azzurri. Luis Suarez lit up the competition days ago, was that to be his World Cup moment this year?
Giorgio Chiellini