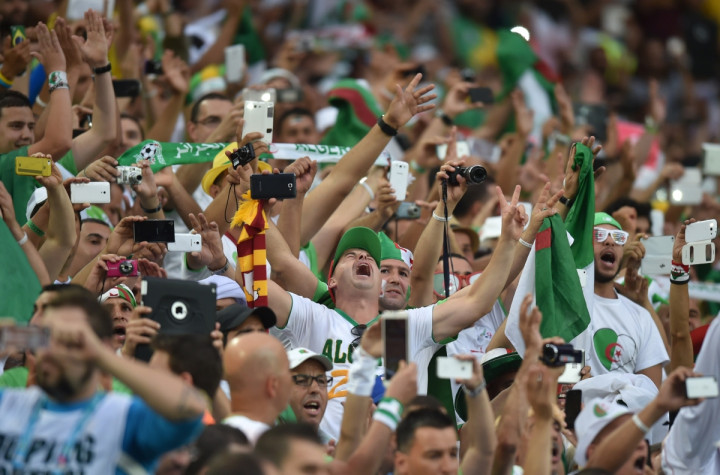 Summary
USA lose to Germany but qualify for knock out stages as runners up in Group G

Portugal beat Ghana but are eliminated at group stages

Algeria qualify for knock out stages for their first time in their history

2018 hosts Russia are eliminated after failing to beat Algeria

Luis Suarez handed four month ban from football for biting Giorgio Chiellini
10:57: Thanks, group stages. It's been an absolute blast. But now we await the knock out phase of the World Cup which commences on Saturday. The fixtures are:
Brazil v Chile
Colombia v Uruguay
Netherlands v Mexico
Costa Rica v Greece
France v Nigeria
Argentina v Switzerland
Belgium v USA
Germany v Algeria
10:52: That's it! Jubilant scenes as Algeria celebrate reaching the knock out stages of the World Cup for the first time in their history! The 2018 hosts are out at the group stage yet again.
FULL TIME
Algeria 1-1 Russia
South Korea 0-1 Belgium
10:49: Four minutes of time added on in both games.
10:47: Kozlov nods just wide for Russia! From a corner the full back does brilliantly to manoeuvre himself under the ball and get the power on the header, but he can't quite get the direction and it goes the wrong side of the post.
10:44: South Korea are still rushing forward but their choice of final ball has been woeful. Meanwhile in our other game Algeria are, as you would expect, holding back and holding their shape, preventing Russia from picking their way through. Capello's side have two minutes plus added time to find a goal.
10:39: Belgium have now effectively sealed their top spot, now it is up to Algeria and Russia to battle it out for the right to join them. The Africans sit in second place at the moment.
10:35: Belgium have their lead! South Korea are caught out after throwing everyone forward and Fellaini skips past his man on the half way line to lead the charge. He has options left, right and ahead of him but takes too long to make up his mind and instead plays a short ball into Origi. The youngster swivels and drives one towards the goal that Kim can only parry to Vertonghen, who slams it into the corner on the rebound having made a great run up the left.
Goal! South Korea 0-1 Belgium (Jan Vertonghen, 77)
10:31: Real end to end stuff between South Korea and Belgium now.
10:29: Kerzhakov again burst into space down the right before cutting inside and firing a powerful effort across goal but M'Bolhi reacts well and gets down quickly to make the save.
10:25: Russia's Akinfeev, who was so badly at fault earlier in this competition will be blamed for Algeria's equaliser, but was he hindered by someone in the crowd?
10:22: Two good saves from Algeria's M'Bolhi keep it at 1-1! Fayzulin cuts in from the right and fizzes one towards the bottom corner that the goalkeeper gets to, and he is up quickly to smother the ball with Kerzhakov about to pounce.
10:20: Divock Origi and Nacer Chadli and come on for Januzaj and Mertens for Belgium.
10:18: Algeria equalise! From a free kick out on the left Djabou's delivery deceives Akinfeev who flaps at the cross, allowing Simani to power a header into the back of the empty net! A draw will be enough for Algeria to qualify.
Goal! Algeria 1-1 Russia (Islam Slimani, 59)
10:16: South Korea lose possession allowing Mirallas to drive forward before slipping the ball into Mertens. The Napoli man fires a low drive on goal drawing a decent save out of Kim. Immediately on the counter Son races down the right before floating a cross into box that bounces off the crossbar!
10:14: Januzaj is found in space down the right and the 19-year-old slips a neat ball into the path of Fellaini who takes a touch on the ball before Kim Young-gwon clips him. The United midfielder wants a penalty, but the referee isn't interested. Replays suggest there was contact, but looked to have taken place just outside the box, anyway.
10:11: South Korea have started this half with real intent. Lee Chung-yong does well out wide to swing an inviting ball into the box. The diminutive Lee Keun-ho is unmarked in the area as the ball comes in but Fellaini races over to him just in time to put enough pressure on the Korean who heads over.
10:09: Russia's Kerzhakov dances his way in from the right and unleashes a powerful effort on goal that takes a deflection and goes out for a corner. It nearly falls from Kokorin just inside the area but he can't quite get his shot away in time and Algeria clear.
10:06: Algeria pounce down the flank through Brahimi but he is cynically clipped by Denisov who earns himself a yellow card. The ball is pumped into the box and flies past a number of white shirts but is Akinfeev punches to safety.
10:05: Hong Jeong-ho leaps through the air to bring the ball under control in pretty impressive fashion, but looks to have pulled his hamstring. He continues for now.
10:02: And we are back underway in both games. As it stands Belgium will meet USA in the last 16 and Russia will take on Germany.
9:50: It's half time in both our games and as is stands Belgium will qualify as group winners with Russia. Fabip Capello's side have taken control of their clash with Algeria following Kokorin's early opener and will qualify as runners up at the expense of the Africans.
Should Algeria fight their way back into their game and take the lead Belgium will need a point to seal their top spot. That task will have been made slightly more difficult after Steven Defour was shown a straight red card in the final minutes of the first half.
HALF TIME
South Korea 0-0 Belgium
Algeria 0-1 Russia
9:43: Just as that first half was meandering to an uneventful conclusion, Belgium have been reduced to 10 men! Replays suggest it was a justified one as Defour jumped in on his opponent with two feet and with his studs up. He wasn't travelling at any great pace and there didn't appear to be any real malice but it was horribly mistimed and is probably a deserved red for the Porto midfielder.
RED CARD - Steven Defour (Belgium)
9:37: Januzaj runs into trouble just outside the Korean penalty area but Ki helpfully bundles him over to gift Belgium a free kick. Vertonghen again wins the argument to take it but its charged down by the first man in the wall. The Tottenham centre half must be doing something pretty special in training to justify a place at the top of the free kick takers list.
9:34: Now it's Belgium's turn to attack as Dries Mertens drives down the left flank. Mirallas gives him the option of a one two which he takes but cutting into the box from the left the Napoli man can't direct his shot on target.
9:31: Off the line! South Korea's corner is flicked on at the near post that Courtois and Vanden Borre hack of the line between them. They win another corner that is whipped in magnificently but no one can get on the end of it.
9:29: South Korea come alive on the counter attack as the ball is played back by Ki who advances on goal before unleashing a low drive that Thibaut Courtois has to get down quickly to palm around the post. Corner kick.
9:26: Shatov, who provided his side's goal with a beautiful cross, sets off on a powerful run across field from right to left before unleashing a swerving effort from the Algerian box on goal that flies just wide of the top right corner.
9:23: What a miss from Mertens! Belgium launch a throw into the box that falls to Mirallas, whose effort is half blocked by Kim Young-gwon. The ball breaks to Mertens a few yards out from goal and the Napoli forward lifts it over the cross bar.
9:20: Fellaini receives the ball just inside his own half and plays a neat through ball between the two centre halves that Mirallas runs onto. The Everton forward set off too early however and is rightfully ruled offside.
9:18: Belgium have a free kick a good 35 yards out from goal. Vertonghen wins the argument to take it somehow and proceeds to blast it well over the bar.
9:16: Januzaj brings the ball to the byline but is hustled off the ball by a South Korean defender. Anthony Vanden Borre, the bulky right back supporting Januzaj takes over and battles his way into the box before Kim Young-gwon launches himself across the full back head first in an effort to block his run. He does that, but how that isn't a penalty, I'm not sure. There was zero intention of playing the ball and Vanden Borre looks fairly gobsmacked not to see a decision go in his favour.
9:14: As expected, Feghouli looks like the man most likely to make something happen for Algeria but is struggling to pick his way through at the moment. Russia still look very comfortable and have yet to be really tested.
9:12: Soutk Korea launch a corner in the box that somehow finds its way to Kim Young-gwon who is placed near the far post but the centre half gets a little excited and lashes a wild effort hopelessly over the bar.
9:10: As you may expect, Russia are firmly in the driving seat following their goal. Capellos side are holding a firm shape and are commanding in possession when they have it. Algeria look devoid of ideas at the minute.
9:06: Russia take the lead inside six minutes! It;s an excellent goal as they work the ball out to the left flank to Shatov who whips in an excellent cross into the danger zone. Kokorin bursts into the box and with a tremendous leap thumps a header into the top left corner from 12 yards out!
Goal! Algeria 0-1 Russia (Kokorin, 6)
9:03: Dries Mertens is played into space on the inside left channel and slips the ball back to his full back, who is positioned about 10 meters behind him having failed to make an overlapping run.
9:00: And we are off and underway in both our games.
8:55: No starting role for Romelu Lukaku for Beligum either tonight. The 21-year-old has failed to complete a game during his disappointing campaign in Brazil and has made way for Kevin Mirallas, who takes up a central role in attack. Vincent Kompany has been left out amid a slight injury concern while Eden Hazard been rested.
8:50: Both teams are now out on the pitch as the national anthems begin to ring out.
LINE UPS
Algeria: Mbolhi, Belkalem, Halliche, Mesbah, Feghouli, Brahimi, Medjani, Slimani, Bentaleb, Djabou, Mandi
Russia: Akinfeev, Kozlov, Ignashevich, Glushakov, Kokorin, Kerzhakov, Berezutskiy, Shatov, Samedov, Fayzulin, Kombarov
South Korea: S G Kim, S Y Yun, Y G Kim, H M Son, Y Lee, J C Koo, K Y Han, S Y Ki, C Y Lee, S W Kim, J H Hong
Belgium: Courtois, Vertonghen, Fellaini, Mirallas, Mertens, Van Buyten, Defour, Lombaerts, Dembele, Januzaj, Vanden Borre

8:30: Fabio Capello faces the thankless task of ensuring Russia escape their group. Should the hosts of the next World Cup fail to escape a group they were largely expected to qualify from the former England boss could suddenly be walking on thin ice. He signed a new lucrative contract in January of this year but an embarrassing exit at the group stage could undermine that.
TEAM NEWS: Manchester United teenager makes his competitive debut for his country in a much changed side from Belgium boss Marc Wilmots.
8:15: And we are back ahead of the final two games of the group stages of the World Cup. Belgium have already sealed their place in the knock out phase of the competition and a point against South Korea tonight will be enough to ensure them top spot and a meeting with USA. Algeria, who sit in second place, can join them for the first time in their history if they can beat Russia. A point should be enough to given the unlikely odds of Korea hammering Belgium
Russia also still harbour desire of escaping the group and could do that by beating Algeria and South Korea fail to beat Belgium.
6:57: United States have toiled against Germany but have walked away from their final group game empty handed. However, their inspired performances against Ghana and Portugal are enough to ensure them passage to the knock out stages due to their superior goal difference. Portugal's campaign has been riddled by a string of injuries and while it has not been their complete undoing, it certainly hasn't helped Paulo Bento's planning. That hammering they took from Germany ensured they finished the group with a goal difference of -3, which has undoubtedly played a part in their failure to qualify.
Group winners Germany will take on the runners up of Group H with Algeria currently taking that spot. A clash witrh Russia will decide who goes through to face Joachim Low's side although South Korea could yet force themselves into the equation if they can surprise group leaders Belgium.
Will President Obama be satisfied a probable meeting with Marc Wilmots' burgeoning bunch?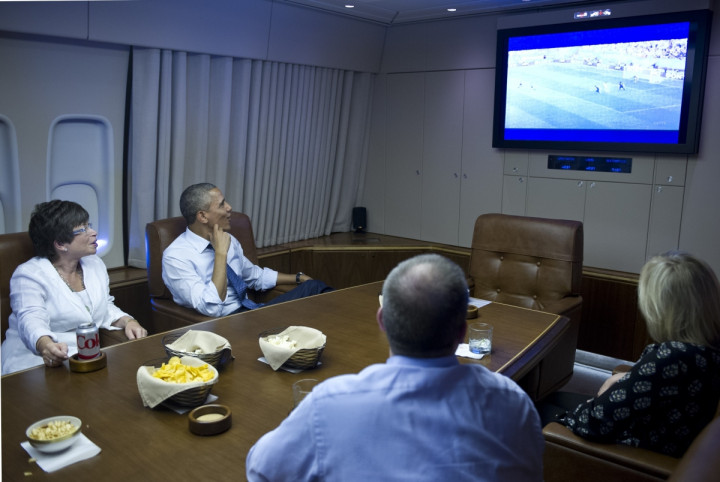 Germany and United States advance from Group G.
FULL TIME
Portugal 2-1 Ghana
USA 0-1 Germany
6:52: USA have two great chances to equalise! A brilliant sweeping move involving Dempsey and Jones down the right frees Bedoya creeping in on the left. The striker shapes to slot one home but a wonderful sliding challenge from Lahm intercepts the ball. From the resulting corner Demsey heads over at the far post.
6:50: A big miss from Ronaldo! Desperatelt searching for a goal, Nani swings an excellent ball in from the right wing that finds his former Manchester United teammate in space yards out from goal. He tries to guide it into the far top corner with his knee but lifts it over the ne! That should be that.
6:47: Four minutes of time added on in both games.
6:45: USA are close to running on empty here but are still searching for an opening. Ronaldo has given his side the lead against Ghana but he will have to produce two more within the final few minutes if Portual want to escape this group.
6:41: That goal should ensure that, providing their isn't a late goal glut from Portugal, USA join Germany in qualifying.
6:39: Portugal have their lead back! A cross from the left is headed into the air by Mensah that Duada should come out to claim. He hesitates however and can only bat it into the path of Ronaldo, who lashes it into the bottom corner from six yards out.
Goal! Portugal 2-1 Ghana (Cristiano Ronaldo, 80)
6:37: Should Ghana score another against Portugal and Germany maintain their lead over the USA, the Africans will progress to the knock out stages at the expense of Jurgen Klinsmann's side
6:35: Both players come off the field for treatment with Jones, who caught the full force of Bedoya;s shoulder square in his face, looking the worse of the two. Meanwhile Mario Gotze has come on for Schweinsteiger
6:32: Ooof! USA press and win the ball back from Germany who were passing the ball about a little too much in front of goal. The move breaks down however as the ball is moved out to the right and play is stopped following a thunderous collision between Jermain Jones and Bedoya.
6:30: Germany attempted to spring a counter attack off that failed USA corner but Schweinsteiger;s clever slide rule pass intended for Klose is just about hacked away.
6:29: Vieirinha comes for for Eder for Portugal before Ronaldo is freed down the left, but his cross bypasses all of his teammates.
6:28: USA win a corner and everyone piles into the box but Zusi's delivery fails to beat the first man as Germany clear.
6:25: Ghana want a penalty! Gyan breaks down the right and slides the ball into the path of Waris who goes down following a challenge from Pepe. The referee ignores it and replays suggest it was the correct call after a fair challenge from Pepe.
6:23: Bradley lifts another ball over the top for Jones to race onto but Neuer is off his line in a flash and nonchalantly slips the ball into the path of Mertesacker.
6:20: Schweinsteiger is clattered into by Beckerman and the American picks up a yellow after a string of poor challenges.
6:18: What a chance for Gyan! Ayew drives forward before slipping the ball through to Asamoah who has taken up the exact same position his side's goal came from moments ago. His cross is equally as good but this time Gyan arrows his header wide! That goal would have put Ghana within reach of leapfrogging USA and qualifying.
6:16: Ghana's qualification hopes are still alive! Asamoah capitalises on a mistake from Portugal and bursts down the left flank before lifting a peach of a cross with the outside of his boot over to Gyan in the box, who thumps a downwards header past Beto.
Goal! Portugal 1-1 Ghana (Gyan, 57)
6:13: Muller scores again! A short corner routine eventually finds Schweinsteiger whose glancing header is well saved by Howard who palms to the ball to safety. Or so he thinks, the ball falls to Muller on the left hand edge of the area and guides and a wonderfully precise shot into the right hand corner.
Goal! USA 0-1 Germany (Thomas Muller, 54)
6:12: Germany are pressing now, with Klose on the pitch USA's defence is struggling to adjust to the refreshed German attack.
6:10: What a chance for Klose! Schweinsteiger clips an inviting ball in from the left with the veteran striker free in the middle with DeMarcus Beasley gone AWOL. Klose is stooping to reach it however and can't directed it goal bound.
6:08: Ghana, who have been left in disarray today, need to compose themselves and find a way back into this game with Portugal. Gyan leads the charge by fizzing an effort towards the bottom left hand corner but it drifts just wide.
6:05: Terrific defending from Gonzalez! Schweinsteiger fires a half volley from the edge of the area that breaks to Boateng inside the right of the box. The defender stands an inviting ball up towards the back post with Mesut Ozil ready to convert the chance but Gonzalez charges in to make an excellent interception. He somehow wins the goal kick, too.
6:01: The rain has stopped in Recife and wer are just about to get back underway. Miroslav Klose is being introduced for Lukas Podolski, will this be the afternoon when the all-time World Cup top goal scorer title becomes his?
5:55: So at the half way stage Group F remains as it is. With USA and Germany drawing, Portugal's 1-0 lead over Ghana, courtesy of a John Boye own goal, will not be enough for them to qualify. Any doubts of the competitive nature of the game between the top two have been swiftly put to bed; it's been a bright, enthralling contest despite the goalless score line. There haven't been too many close calls to speak of yet, but the conditions and the amibition we have seen from both sides suggest there could be a few to come.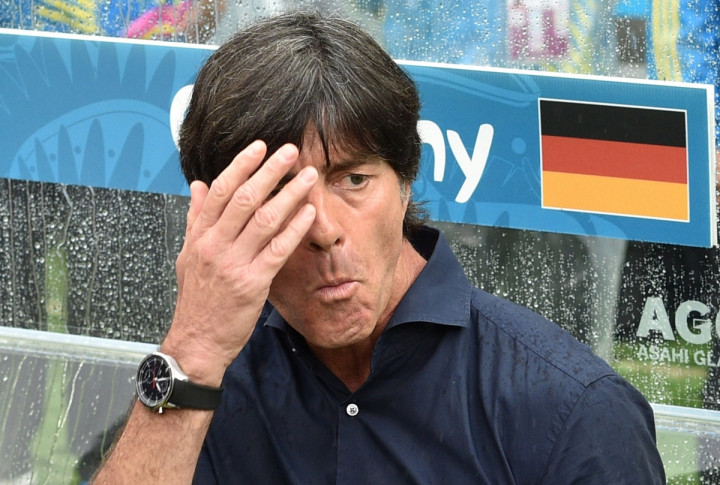 HALF TIME
USA 0-0 Germany
Portugal 1-0 Ghana
5:46: The referee blows the half whistle and Portuguese players are furious. From what a gather, they really wanted to take that throw in before the half was up.
5:45: A neat move from USA sees Jones slide a ball across goal from outside of the box where Bradley has found space. The Toronto midfielder however takes his eye off the ball however and lets the ball roll over his foot and makes a rash challenge on Muller in a vain attempt to recover the situation.
5:43: Atsu runs into the box to receive a short ball from the right wing and, under pressure from Bruno Alves, collapses. The referee isn;t interested however and waves play on.
5:42: USA win a corner and proceed to pile everyone into the box while Susi takes. It's a deep in-swinger that Bradley tries to get on the end of it but there is too much on it in the end.
5:41: Harrison Afful picks up a yelllow card for a challenge on Ronaldo.
5:40: Podolski stays on side and is fed down the inside left channel brilliantly. He looks up and tries to slide one across goal where Muller is lurking but a big shout from big Tim sees him come out and claim.
5:38: Bradley floats another ball over the top but this time it is Dempsey who is unable to take it under control. Germany immediately counter as Schweinsteiger leads the charge until he is felled by Gonzalez, who earns a yellow card for his trouble.
5:36: Beasley makes another good challenge but Ozil reads his sliding effort well and nicks the ball away from him and lets fly with a shot, but Howard gathers comfortably.
5:34: Bradley clips an inviting ball over the top with Jones bursting through in betwenen Hummels an Mertesacker. Such is the slick, wet surface however, the ball slides away from him and into the grateful arms of Neuer.
5:32: Ghana's disastrous day continues! Moutinho sprays the ball out to the left where Veloso has got forward. His cross isn't very good but it's driven into Boye who tries to knock it clear but instead sees it loop over his shoulder and into the top right hand corner.
Goal! Portugal 1-0 Ghana (own goal, 30)
5:28: Jermain Jones is down on the edge of the box after being blocked by the referee! The tenacious midfielder was too busy concentrating on the move building down the left that he missed the sturdy frame of the man in black and hit the deck. Fair challenge.
5:26: Both USA's Beasley and Germany's Boateng have shown little hesitation in getting forward this afternoon. This time it is the American who starts a move that results in Bradley finding room to left a shot off, but his effort isn't a particularly good one.
5:23: Portugal advance menacingly down the left flank and swing in a ball for Eder who has peeled off his marker in the box. Unfortunately the striker's header is a poor one that sails harmlessly wide of goal.
5:22: USA press forward, moving the ball will added precision and pace as they move into the final third. Jones is found out on the left flank and he cuts inside dangerously before letting fly with a dipping effort, somewhat similar to Musa's strike against Argentina yesterday. This one, however, sails wide, but not by far.
5:20: This time it's Beto with a wonderful save to deny Ghana! Gyan bursts in between both centre halves at pace. Beto is out quickly and makes himself big to block the striker's effort.
5:18: Wonderful chance for Ronaldo! A cross in from the right finds the captain whose powerful effort is thumped straight at Dauda, who makes an excellent reactionary save.
5:17: Gyan is picked out in the Portugal box but takes far too long to make up his mind and his quickly surrounded by a posse of defenders and the chance is gone.
5:15: It;s been an excellent opening to USA v Germany. Both sides would be happy with the draw but you wouldn't be able to tell from the way both sides have started. The slick surface is helping, as just illustrated just now by Gonzales who slides across the turf to make an excellently timed sliding challenge on Podolski in the box.
5:13: USA have the opportunity to break but Johnson is cynically clipped by Howedes, who earns a yellow card for his trouble. The United States had Jones breaking free ahead and were a bit miffed not to see the advantage played.
5:11: Moutinho wins a foul 25 yards out from goal following and no prizes for guessing who is standing over it. Ronaldo hammers it on target but Dauda gets firm hands behind it.
5:09: What a chance for Germany! They work a short corner into Kroos whose shot on target is swiftly charged down. the Bayern midfielder then opts for the more delicate approach, clipping an elegant ball into the box but Mertesacker and Howedes, both up from the original corner, get in each others way!
5:07: Germany probe neatly down the left flank before Ozil slips Podolski in down the inside channel. The Arsenal man fires the ball across goal with Muller looking but Howard bravely gathers.
5:05: Ronaldo hits the bar! Injured or not, the Portugal skipper skips down the right flank and curls an effort in from the right after spotting Dauda off his line. Did he mean it? Of course he did.
5:03: Germany stroke the balla round comfortably in the opening stages as Boateng finds space down the right before floating a ball into the middle. Muller goes for the spectacular scissor kick but can't get the right connection and the follow up effort is skied over the bar.
5:02: USA get us started in the rain in Recife.
5:01: Portugal get the ball rolling against Ghana but we are still waiting for kick off in our other game.
4:59: Quite a few empty seats around the stadium in Recife after the torrential rain that hammered down during the day.
4:57: The respective national anthems have been belted out and we are moments away from kick off.
LINE UPS
USA: Howard; Johnson, Gonzalez, Besler, Beasley; Beckerman, Jones; Zusi, Bradley, Davis; Dempsey
Germany: Neuer; Boateng, Mertesacker, Hummels, Höwedes; Lahm (C), Schweinsteiger; Özil, Kroos, Podolski; Müller
Portugal: Beto, Joao Pereira, Pepe, Bruno Alves, Veloso, Joao Moutinho, William Carvalho, Ruben Amorim, Nani, Ronaldo, Eder
Subs: Eduardo, Vieirinha, Ricardo Costa, Luis Neto, Rafa, Meireles, Varela
Ghana: Dauda, Afful, Boye, Mensah, Asamoah, Atsu, Rabiu, Agyemang-Badu, Andre Ayew, Waris, Gyan
Subs: Adams, Inkoom, Opare, Essien, Afriyie, Jordan Ayew, Adomah, Sumaila, Wakaso, Kwarasey


4:30: Germany, USA, Ghana and Portugal can all still advance from their group. Should Germany beat Jurgen Klinsmann's side the winner of Portugal v Ghana can thrust themselves into qualification for the next stage, provide they better the USA's goal difference. A point for the Americans will be enough to ensure they go through whatever happens.
4:12: Recife, where USA will meet Germany in just under an hour, has been battered by torrential rain today leading some to suggest the game may have to be called off. When you see some of the images captured around the city, you'll understand why.
Fifa confirmed at around 15:00pm (GMT) that the match will go ahead as planned.
4:08: Another story that has rocked the World Cup focuses on Ghana, who have sent home star players Sulley Muntari and Kevin Prince Boateng after a spectacular falling out with manager Kwasi Appiah and the Ghanian FA hours before their showdown with Portugal. Read the full story here.
4:05: It needed something big to distract us all from the build-up to what will be a thrilling conclusion to Group G, but Fifa have dropped a bombshell that has done exactly that. Luis Suarez has been banned from all football for four months and handed a nine match international ban after biting Giorgio Chiellini in an incident that shook the World Cup on Tuesday. He will miss the remainder of his country's campaign that continues against Colombia at the weekend and leaves his Liverpool future in real doubt. Read the full story here.
4:00: Tonight we bid farewell to the group stages of the World Cup. We've already been treated to the most open and goal-laden tournament in recent memory and thankfully we are unlikely to be short of drama in Group G where all four teams can still qualify, and all four can still go out. In rain-soaked Recife, USA and Germany will both go through if their match ends in draw. Portugal's last gasp winner against Jurgen Klinsmann's side last Sunday ensures they still have a slim chance of reaching the knock out stages, hopes that have been lifted by the meltdown that has today engulfed Ghana.
Sulley Muntari and Kevin Prince Boateng, arguably the Black Stars' two most influential players, have been suspended indefinitely and sent home after clashing with manager Kwesi Appiah and other Ghanaian officials. Details of what actually happened remain sketchy but the prevalent fact is Ghana must navigate their way out of this group without two key players. Cristiano Ronaldo, whose struggles with injury have marred his campaign in Brazil thus far, has one more chance to inspire.