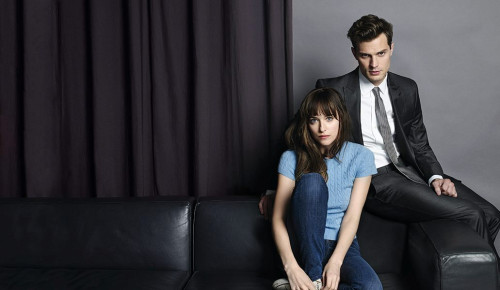 Dakota Johnson, who plays Anastasia Steele in the much-awaited film adaptation of Fifty Shades of Grey, recently opened up about her character and how she is approaching the steamy scenes in the film.
Johnson will be heating up the big screen alongside Jamie Dornan (who plays Christian Grey) in the film set to release in 2015. The 24-year-old daughter of Melanie Griffith and Don Johnson posed for a sultry shoot for Elle magazine's March issue and spoke about her role, according to CBS News.
"Reading the book, I found myself more interested in the ways they were breaking each other down emotionally than the sex scenes. I think there's a part of a woman that wants to be the thing that breaks a man down," she told the magazine.
Talking about her approach towards playing the naïve college student who falls prey to a BDSM-practicing billionaire, Christian Grey, she says: "I don't have any problem doing anything. The secret is I have no shame."
While fans eagerly await the release of the film, the author of the erotic saga recently teased fans on Twitter this week, of a possible Fifty Shades sequel.
The final installment of the Fifty Shades of Grey trilogy was released in 2012 and while several rumours followed indicating a fourth book, E L James, 50, has yet to comment on her official plans.
However, when asked by a fan about her intentions on possibly reprising the characters Christian Grey and Anastasia "Ana" Steele in print, James responded with the following response on her official Twitter account:
@OlgaAstra777 Never say never!

— E L James (@E_L_James) February 6, 2014
Filming is under way for Fifty Shades of Grey which is scheduled for a February 2015 theatrical release.