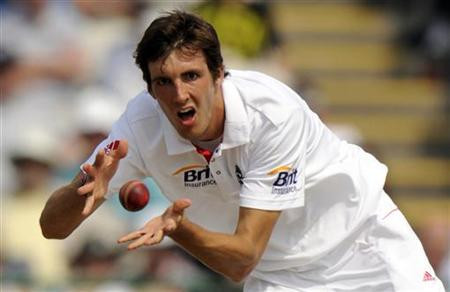 England's tour of Australia was thrown into deeper farce after Steven Finn became the third player to return home after the England and Wales Cricket Board confirmed the Middlesex seamer will work on "technical aspects of his game".
The 24 year old was the only member of England's Test squad not to have featured in the 5-0 Ashes series defeat and also missed the six-wicket one-day defeat to Australia in Melbourne and the 172-run victory over a Prime Minister's XI.
And according to coach Ashley Giles, Finn will leave the tour "for his own good".
"In the short term he needs a couple of weeks away," said Giles. "Steven is not selectable at the moment."
"Mentally there's no problem but it does wear you down," he added.
"Sometimes through your career you go through those ups and downs and his timing is out.
"That then can affect your confidence and certainly it is not coming out as quickly as he would like.
"I suppose he has been in this state for at least a couple of months and it hasn't worked. We feel now that it is best to take him out of it.
"Sometimes you do have to do that, you take guys back."
Giles added: "Steven is one of our most talented bowling assets who has played and will continue to play an important role for England.
"He has been working hard over the last couple of months on technical aspects of his bowling and Steven and the coaches all feel continuing this work out of the performance environment will be beneficial for him."
Meanwhile, Kevin Pietersen seemingly remains in England's short-term plans after being included in the provisional 30-man squad for the T20 World Cup in Bangladesh in March.
Confusion reigns over Pietersen's international future following a disappointed showing during the Ashes and following reports Andy Flower was ready to axe the 33 year old.
Pietersen - whose international career has been littered with controversy and uncertainty - has committed to helping England attempt to regain the Ashes in 2015 but his inclusion in the preliminary World Cup squad will only calm fears regarding his future temporarily.