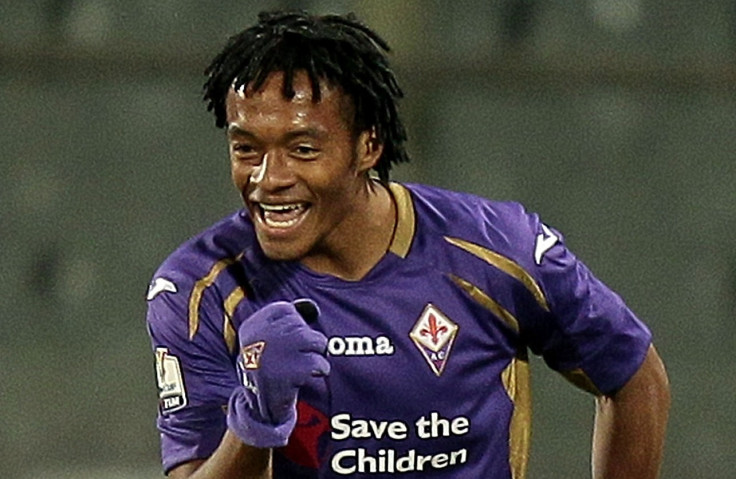 Fiorentina and Colombia winger Juan Cuadrado has hinted he will consider the rumours regarding his future amid reports regarding interest from Chelsea after the club's Serie A match with Roma.
Cuadrado has been linked with a £23m move to Stamford Bridge this week but Fiorentina manager Vincenzo Montella and Chelsea boss Jose Mourinho have both denied a deal is in the offing.
However, as reports regarding the 26-year-old's future and Chelsea's continue, Cuadrado has insisted he remains unaffected by the speculation ahead of the league clash with Roma, but will consider the conjecture after the game.
"I am at the coach's disposal but I don't know if I'll be picked yet," he told Viola Channel. "We need to prepare for this battle against a great team with a lot of talented players, then see what happens.
"We hope to play our style and prove we too are a great side, as we have the players to challenge them face-to-face and get three very important points for us."
Montella said earlier this week there was "no possibility" of the wideman leaving the club during the January transfer window, while Mourinho is adamant Chelsea are not pursuing Cuadrado as a replacement for Andre Schurrle or Mohamed Salah.
"There are no players earmarked [to replace Schurrle and Salah at Chelsea]," he said. "I have no idea [who will replace them] because I don't know if a deal is going to happen.
"If my club tells me we have a certain offer for a certain player that we think it is a good movement for us we need to be in the market. The reality is normally nothing should happen in the next two weeks."
Though the Necocli-born player has had spells at Udinese and Lecce before joining Fiorentina in 2012, he burst on to the scene with a string on sparkling displays during the 2014 World Cup during Colombia's route to the last eight.
He scored once during the tournament in Brazil against Japan from the penalty spot while he made four assists, the same amount as eventual World Cup winner Toni Kroos of Germany.