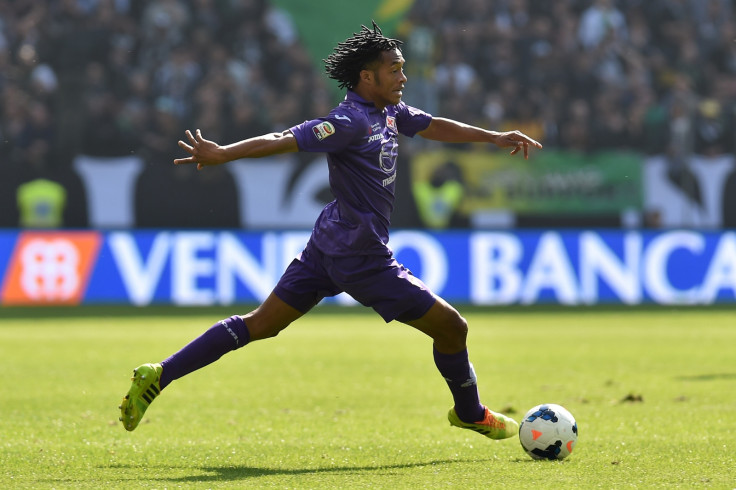 Fiorentina manager Vincenzo Montella has rubbished reports suggesting Chelsea are on the brink of signing Juan Cuadrado.
The 26-year-old winger emerged as a January transfer target for Jose Mourinho in recent days in a move that would surely spell the end of Mohamed Salah's brief spell at the club.
Reports this week have suggested Chelsea have already seen an opening bid of £20.6m rejected for the Colombian international but are now preparing an increased offer.
But Montella is unfazed by the growing speculation over the player's future.
"As far as I know there is no possibility for him to leave Fiorentina," Montella said following his side's 3-1 win over Atalanta in the Coppa Italia, a game in which Cuadrado scored from the penalty spot.
"He isn't really concerned by all this talk. Sometimes these situations are taken all out of proportion."
Cuadrado was heavily linked with moves to Manchester United and Barcelona following an excellent World Cup campaign in Brazil.
The winger appeared poised to leave La Viola at one stage but would later sign a new five-year contract in October.
However, that new deal reportedly came with the inclusion of a €35m release clause that is likely to have prompted Chelsea's current interest.
While Mourinho initially ruled out the possibility of changes to his first team squad, he recently admitted Salah's departure could alter those plans.
"He (Salah) can't leave. I have 20 players today," Mourinho said. "I don't think we are going to let Salah go on loan. If that happened we would have to spend money to bring someone else in, so I don't think he is going."
Roma are hoping to secure a loan deal for the 22-year-old Egyptian international but David Moyes' Real Sociedad have also emerged as an interested party.