Earlier this year Amazon launched the Fire TV set-top box to take on the likes of Apple TV, offering unique selling points like voice search, gaming and the ability to stream Netflix and Amazon Prime Instant Video from a single device.
At £79, the Fire TV was not prohibitively expensive, but with Google's Chromecast costing just £30 and offering many of the same services, Amazon decided that it needed to offer something else to take on Google's device.
And so today, we have the launch of the Fire TV Stick, which Amazon says offers all the features of its set-top box, but in the compact form of a dongle which plugs directly into your TV's HDMI socket.
But can the Fire TV Stick really challenge the Chromecast, which is currently the bestselling electronics device on Amazon? Let's compare the two.
---
Fire TV Stick vs Chromecast: Features
---
The Chromecast launched last year with a relatively bare-boned selection of features. You could "cast" content from a few apps from your phone as well as tabs from your Chrome browser.
But since its launch, hundreds of apps have added Chromecast support, while Google has added more features including the ability to put your photos on your TV as screensavers.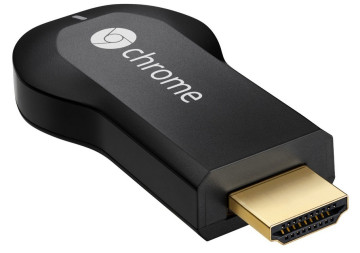 The brilliance of the Chromecast is its simplicity. Google created the platform, opened up the API and waited for app developers to integrate it into their software.
The Fire TV Stick, while looking very similar, is quite different. Instead of relying on developers to add support for it, it comes pre-loaded with the interface you get on the Fire TV set-top box including apps like Hulu, Spotify, YouTube and more.
The Fire TV also comes with a remote control, meaning you can use it without ever needing to touch your smartphone.
---
Fire TV Stick vs Chromecast: Hardware
---
The Chromecast is more than a year old and the hardware inside the dongle is decidedly dated – especially when you compare it to the Fire TV Stick.
The Chromecast has a single-core processor paired with 512MB of RAM and supports just one Wi-Fi band (2.4GHz). It has 2GB of flash storage.
The Fire TV Stick on the other hand features a dual-core processor with 1GB of RAM and supports both 5GHz and 2.4GHz Wi-Fi. It has 8GB of onboard storage.
---
Fire TV Stick vs Chromecast: Voice Search
---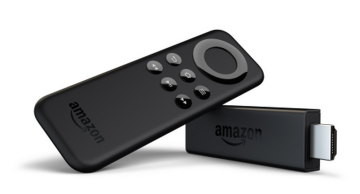 While Google has a strong presence in voice search, it has not been integrated with its streaming dongle.
Amazon's Fire TV introduced voice search on its remote control, and while the Fire TV Stick does not come with this remote, there are a couple of ways you can still use voice search with the dongle.
The first is to pay an additional $30 (£18.50) to buy the fancier remote control, while the other is to download the dedicated Fire TV app for Android (an iOS version in the works) which has a voice search feature.
---
Fire TV Stick vs Chromecast: Gaming
---
One of the biggest selling points of the Fire TV is its gaming credentials, and Amazon says the Fire TV Stick offers the same gaming chops.
Amazon says there is now over 200 titles available in its Fire TV gaming store and there is a separate gaming controller on sale costing £35.
The Chromecast in comparison offers little in the way of competition with no dedicated games. Although with the upcoming introduction of full-screen mirroring from Android devices, you will be able to play any Android game on your TV screen, using your smartphone or tablet as a controller.
---
Fire TV Stick vs Chromecast: Price and Release Date
---
The Fire TV Stick is currently only on pre-order in the US. It costs $39 (or $19 for Amazon Prime subscribers who order by Wednesday). The voice-search remote costs an additional $30, while the controller will set you back a further $40.
There is no UK pricing available so far, but based on the fact the $99 Fire TV cost £79 when finally launched in the UK, our guess is the Fire TV Stick will cost around £30 when it launches in the UK – though when that will be is anyone's guess.
The Chromecast is on sale in the UK costing £30 direct from Google, though it has been on sale for as little as £18 from certain retailers.
---
Chromecast 2.0?
---
Google has confirmed it is working on a second-generation Chromecast which is widely expected to feature more powerful hardware, as well as support for the 5GHz Wi-Fi frequency. It is unknown when Google will launch the new Chromecast, but as the original is almost 18 months old it is likely to be sooner rather than later.