Key Features:
HDMI input

Wireless media streaming

Android, iOS, Windows, Mac OSX and Chomre support

YouTube and Netflix support

Price as Reviewed: $35 (£21)
Google Chromecast Review
The premise of Chromecast is pretty simple. It allows you to wirelessly display content from your phone, tablet, laptop, or PC on your large-screen TV.
While most new televisions these days claim to be 'smart' the panoply of standards means that consumers are left baffled when trying to connect one device or another to their TV.
The solution has been the emergence of smart boxes which connect to your TV, among the most popular being Apple TV and Roku, but at $35 (£21) Google's solution is by far the cheapest option.
The Chromecast was launched in the US last year, and reports suggest Google will launch the smart dongle in the UK at the beginning of March.
I picked one up on a trip to the US earlier this year and have been using it ever since
---
Chromecast: How it works?
---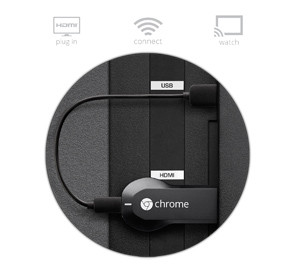 Chromecast is a similar technology to Apple's AirPlay, in that it wirelessly broadcasts content (video, photos, music etc) from your mobile device to your TV, but differs in that it works with pretty much all mobile devices and with pretty much any TV that has a HDMI port.
The Chromecast device itself looks like a large USB stick and slots neatly into a HDMI port on your TV. There is a USB slot on the opposite end into which you plug a supplied power cable.
You can power the device through a spare USB port on the TV (as seen in the image above), or using the supplied AC cable.
---
Chromecast: Set-up
---
Setting up the Chromecast is relatively simple.
First plug in the dongle and then navigate to the right channel on your TV where you will be directed to set-up your device.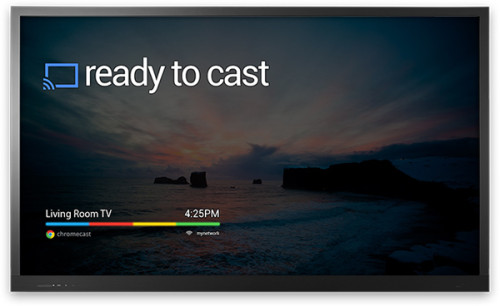 You can set up the Chromecast using your smartphone, tablet, laptop or PC. In this instance I downloaded the Chromecast app onto my Nexus 5 from Google's Play store - a similar app is available from Apple's App Store.
Once launched, the app scans for any Chromecasts and once it found mine, the TV screen prompted me to enter the password for my Wi-Fi network, and once the system finished configuring the Chromecast (which included downloading an update to the software) I was done.
Simple.
---
Chromecast: What devices does it work with?
---
Your Chromecast will allow you to stream content from:
Android smartphones and tablets (Android 2.3 or higher)

iPhones and iPads (iOS 6 or higher)

Laptops or desktops (Windows 7, Windows 8 and Mac OS X 10.7 or higher)

Chromebooks running Google's own Chrome OS.
---
Chromecast: What apps it works with?
---
As you see, the range of hardware which your Chromecast can work with is not limiting, but for now the software is.
Google launched Chromecast with a very limited set of supported apps and software.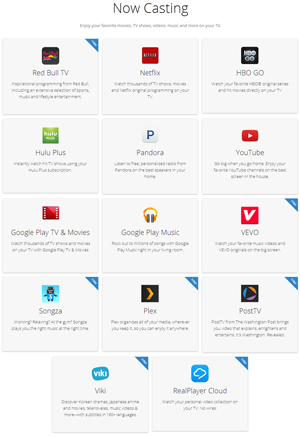 For smartphones and tablets the number of supported apps, even on Android, is limited. YouTube and Netflix are the most high profile ones for UK customers, along with Google's own Play-branded movie, TV and music apps.
A full list of apps can be found here, but the good news is that Google has just announced a public software development kit (SDK) for iOS, Android and Chrome to allow all developers integrate the Cast function directly into their apps. This should see the list of supported apps grow quickly in the coming months.
We also expect Google to announce a number of UK-focused apps when it finally puts the Chromecast officially on sale in on this side of the Atlantic.
The other way of getting content from your laptop onto your TV using Chromecast is to mirror the content of your Chrome browser.
Just install the Cast extension from the Chrome store and you will see the small Cast icon appear in the top right hand corner of your browser.
Clicking on it will allow you to broadcast the contents of the tab onto your TV. While it can be used for presentations etc, you can also use it to stream contents from BBC iPlayer for example by playing the content in full-screen mode on your computer.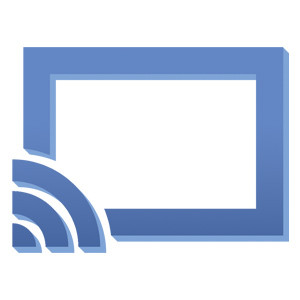 There was some degradation in quality moving from laptop to TV, but not enough to make it unusable. You can also use it to display your pictures from Dropbox, Flickr, Google+ etc.
You can't typically stream locally stored videos to your TV using Chromecast unfortunately, though there is a workaround.
It requires you to pay a fee to a service like Plex but the set-up is rather involved and it would be much better if Google just offered a desktop client to sovlve this problem.
---
Chromecast: Is it any good?
---
The ability to quickly share content from your laptop, tablet or smartphone to your TV is great. The system works wonderfully well when you are using one of the supported apps.
Tapping the Cast symbol to stream a film you've purchased from Google Play instantly displays the movie in HD quality on your TV. It also allows you to do other things on your phone without interrupting the stream – something not possible with Apple's AirPlay.

The tablet or smartphone become the remote control, allowing you to stop, pause, rewind or change the volume without having to pick up the remote.
It is perfect for sharing content with a group of friends and saves you the hassle of having to connect your smartphone or tablet to your TV (which could require the purchase of a new cable).
Convenience is the Chromecast's biggest selling-point. It will work with pretty much all your devices with very little hassle.
The downside is the current lack of app support – but Google has taken the first step to changing that with its SDK.
---
Chromecast: Value and Verdict
---
I still don't know how much Google is going to charge for the Chromecast in the UK, but considering the price in the US ($35), my best guess would be around £25.
Amazon UK was briefly selling Chromecasts to UK customers for £35 but these have now been removed, though you can still import Chromecasts from the US via eBay which will cost you around £60 including taxes and shipping.
If Google does launch the Chromecast at £25 (or indeed at £35) I would unreservedly recommend you to get one.
Yes, app support is limited but that will change soon, and when it does the Chromecast could become an indispensable addition to your home entertainment set up.
Score: 9/10 – A brilliantly simple product which will only get better and better.