Amazon has announced that its set-top box, the Fire TV, will go on sale in the UK from costing £79.
Amazon launched Fire TV in the US in April with a $99 price tag, box directly challenging Apple TV, Roku and Google's Chromecast dongle. The device will go on sale in the UK from 23 October but it available for pre-order now, and for the first five days the price of the Fire TV will drop to £49 - though this offer is only open to Prime members.
However Amazon's set-top box includes a number of unique features to help it stand out from the competition, including the ability to search using your voice and support for playing games using a proprietary controller.
Fire TV offers the unique combination of allowing users to stream Netflix and Amazon Instant Video (formerly LoveFilm Instant) on the same device. The set-top box also has access to content from apps like YouTube, Bloomberg TV and Hulu.
Fire TV also features ASAP, a recommendation engine which will automatically queue up content it believes you want to watch.
Gaming
The gaming aspect of the Fire TV is certainly an interesting one and could be a big selling point for those who want big-screen gaming but don't want to pay a lot for an Xbox or a PlayStation.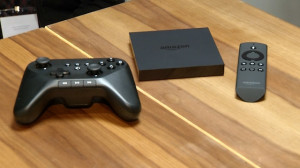 The library of games available for the Fire TV is limited, but includes some notable titles like Minecraft, Asphalt 8 and The Walking Dead which games cost on average just under £2 each.
Many of the game support the company's Fire Game Controller, which is sold separately for $40 (a UK price has yet to be announced.)
The Fire TV will enter an increasing crowded market where Apple and Google already have a significant foothold. Add to that Sky's Now TV box, and the huge number of smart TVs and games consoles which can access a lot of this content, and it is difficult to see where Amazon's Fire TV will fit in.
Add to that the fact that Google's Chromecast can now be bought for just £18 and the challenge becomes even bigger for Amazon.
However, for those already signed up to Amazon Prime and who don't have an easy way to access the company's video streaming service (which is included for the price), then the Fire TV could be an appealing option - especially considering you can't access it with Chromecast or Apple TV.
The Fire TV will also allow those who use Amazon's Cloud Player to stream there music library through their TV's sound system.