Firefly Upsee: Mother Invents Harness to Help Disabled Children Stand Upright and Walk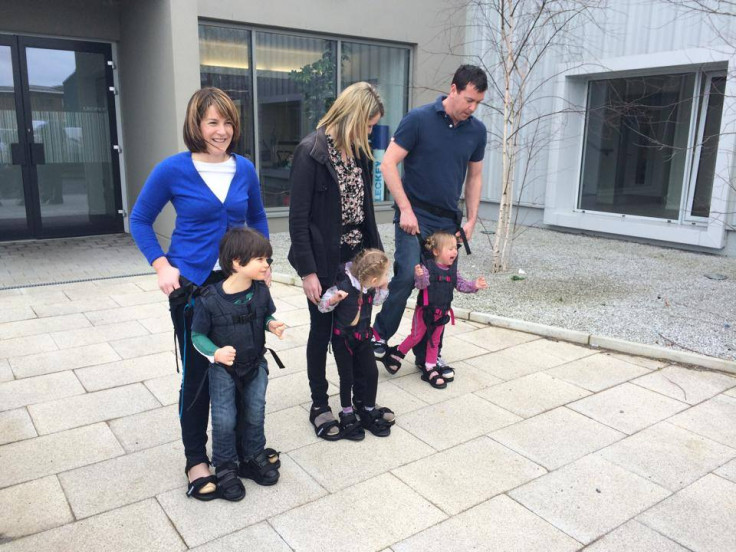 A mother has invented a walking support harness that enables the parents of children with motor disabilities to give them a chance to stand upright and walk for the first time in their lives.
Music therapist Debby Elnatan, from Israel came up with the idea to help her young son Rotem, who was born with cerebral palsy and is bound to a wheelchair.
Her design enables a parent and a child to take steps together simultaneously using specially-engineered sandals. The child stands upright, supported by the harness, which is attached to a belt on the parent's waist, with their hands free to play or carry out other tasks.
Elnatan went on a worldwide hunt to find the right company to make her harness, and eventually selected Leckey, a company based in Northern Ireland that manufactures the Firefly line of equipment to help improve the posture of children with special needs.
Leckey's team of engineers, therapists, textile experts and designers have been working on the support harness project since 2012 and following successful trials of the product with families in the UK, US and Canada, the Firefly Upsee harness has now been officially launched worldwide.
The Firefly Upsee will go on sale on 7 April and is expected to cost around $500 (£300).
"Our second child Rotem was born with cerebral palsy and he cried almost the entire first year, and one day, his physical therapists looked at us and said, 'your child doesn't know what his legs are'," Elnatan said in a video explaining how Upsee came about.
"I cried for about a week or two and then I started to walk him. It's very hard to walk a two-year-old because you're down on your hands and knees on the floor. I thought there had to be a better way."
Elnatan sawed wood to make shoes and tried different ways to connect the design until she was able to successfully walk together with Rotem, standing upright.
"My hope is it will be used all over the world to give our children a better childhood."
In addition to helping children learn to use their legs, the harness is helping families to come together so that all the family members can participate in social activities like playing with other children.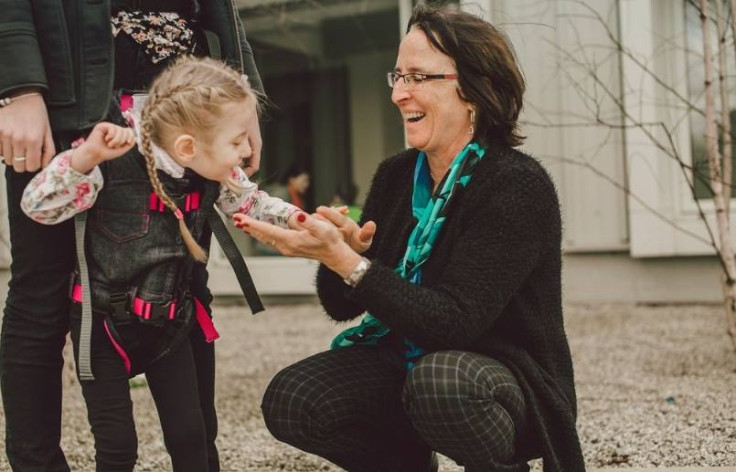 Firefly Upsee: Debby Elnatan meets Bethany at the launch of the Upsee harness
Firefly
"The Upsee has given us the opportunity to do things as a family that we would never have been able to do before and it means so much to us. Daniel was in the Upsee with his dad and he was able to kick the ball backwards and forwards with his brother Charlie," said Claire Smyth, one of the first parents to try out Upsee.
Her son Daniel has severe global developmental delay and is unable to walk or talk.
"Short-term, the Upsee improves special needs family participation and quality of life, while research suggests it has the potential to help with physical and emotional development in the longer term," Firefly's clinical research manager and occupational therapist, Clare Canale told The Independent.
"It has been humbling to see the progress and happiness the Upsee is creating; watching children to do simple things for the first time such as kicking a ball or playing with a sibling is wonderful for everyone involved, but especially the families."
Leckey is holding a live web discussion on its website on 1<sup>st, 2<sup>nd and 3<sup>rd April 2014 at 11am and 5.30pm GMT on all three days.
The live web discussion aims to bring together parents and therapists from around the world to discuss how disabled children can walk better.
© Copyright IBTimes 2023. All rights reserved.