Three elderly people died as their homes burned down on the island of Madeira as a wildfire spread into the capital, Funchal. The head of Madeira's regional government, Miguel Albuquerque, said the victims died in the early hours as the inferno swept into the coastal city in the dark, causing panic. He said two other people were seriously hurt, one person is missing and more than 300 people required medical treatment for smoke inhalation and minor burns.
The blaze forced the evacuation of about 1,000 residents and tourists. Dozens of houses and a five-star hotel burned down.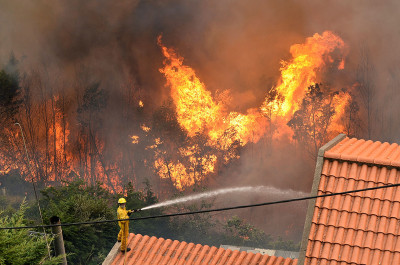 Locals used garden hosepipes and buckets of water in a desperate attempt to keep the flames at bay. Fire service officials said Madeira's steep hills and dense woodland were making it hard to reach the flames, which were fuelled by high winds. Eight firefighters required medical treatment after inhaling smoke.
The fires around Funchal are now under control, according to the head of Madeira's regional government, Miguel Albuquerque, and cooler temperatures forecast for Wednesday (10 August) are expected to help put it out.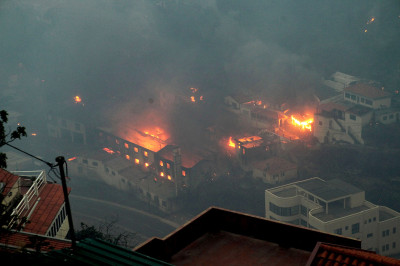 Elsewhere on the Portuguese mainland, wildfires have raged for several days. Fire officials said seven major blazes were out of control. The National Civil Protection service said just over 4,000 firefighters supported by 26 water-dumping planes and 1,262 vehicles were attending 149 blazes of varying sizes across the country.
Some of the worst-hit areas were in northern Portugal, where pine and eucalyptus forests are tinder-dry after a long spell without significant rain. In the area around Viseu, a wildfire forced the closure of a major highway. In nearby Agueda, roads were closed and power lines were downed by wildfires. Lisbon was hazy with a smell of smoke caused by wildfires in the surrounding region.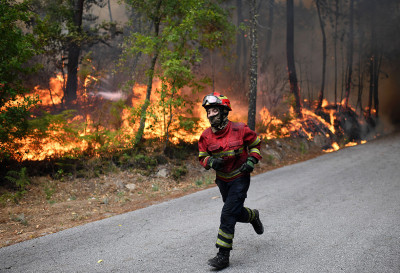 Fire chiefs said some of their firefighters were exhausted after trying to put out blazes non-stop since Saturday (6 August), the hottest day of the year so far when temperatures reached 44 degrees Celsius (111 Fahrenheit).
Update: A fourth person was killed in the central Santarem region of mainland Portugal. One person is still missing in Madeira. Police have said that some fires were lit by arsonists and they arrested suspects. Firefighters are also battling several blazes whipped up by high winds near Marseilles in southern France.