First Generation Apple TV users are reportedly complaining of connectivity problems with iTunes, despite having a working internet connection, according to a recent post flooded with complaints on Apple's support discussion forums.
According to one such forum user, georgevargas, here is the problem description:
Accessing the Internet works. The Trailers option flickers off when selected but if I am quick enough I can access it. The trailers will stutter, pause and lag. No access to the iTunes Store at all for movies, tv shows, or podcast. Youtube works without a problem. I unpluged the AppleTv twice, and restared it with the remote once. All is not well.

As of last night I had full access to the iTunes Store. Since this morning I was getting an Itunes Store Not Available message, and after unplugging the AppleTv the iTunes Store access completly disappeared except for movie trailers.
According to the forum thread, the problem seems to have started on 17 April and persisted across all first-generation Apple TVs, while folks at MacRumors have also confirmed the issue on their first-generation Apple TV.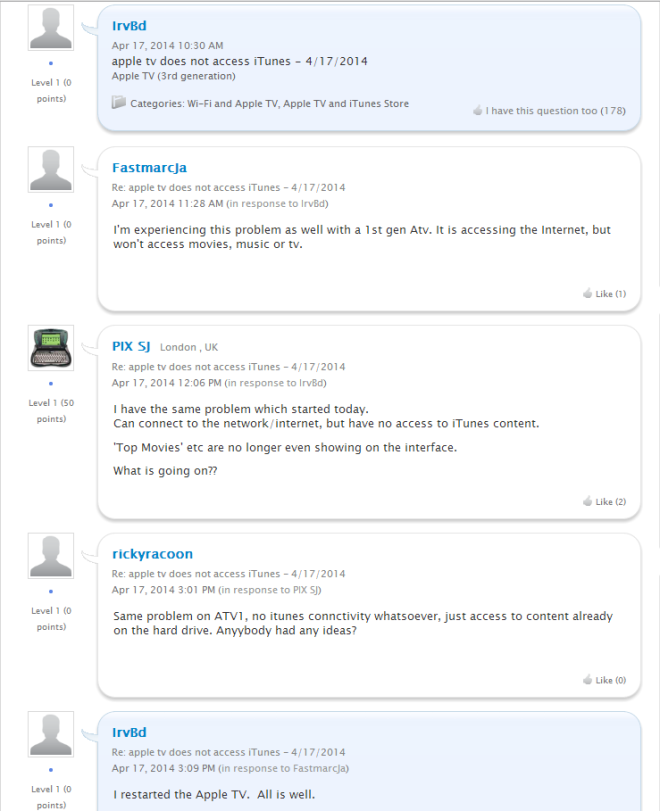 Several affected users have tried running diagnostics including rebooting and restoring the device to factory settings with limited success. It has not helped in resolving the issue as items like Top Movies, Genres etc. are no longer accessible through the interface.
Besides, some users have reportedly complaining that Movies, TV shows, Internet Radio and other features including Trailers have stopped functioning altogether.
The iTunes inaccessibility or connectivity issue has reportedly cropped up around the same time when several iOS 6 users reported inability with making FaceTime calls.
Consequently, speculation is rife on the forum thread that Apple may have stopped supporting iTunes for first-generation Apple TVs and hence resulting in these disruptions.
On the contrary, another theory hints at the recent Heartbleed SSL bug that could have caused the disruption with the two services: iTunes and FaceTime.
Apple is yet to comment on the root cause of this issue, though the company has already acknowledged the problem and revealed its plans of working on a fix, in response to a user query.
Several users have reportedly attributed the disruptions to internal communication upgrades from Apple related to the Heartbleed security issue.
However, Apple has denied any possibility of Heartbleed bug resulting in the disruption of its key services without actually naming them.