Fresh rumours of reinstating the traditional Start Menu on Microsoft's popular Windows Desktop operating system is gaining momentum as confidential information related to Windows leaks online via a popular Russian pirate group, WZOR.
WZOR holds a consistent track record for leaking information about upcoming Windows updates with precision.
According to WinBeta (Google Translation), the latest leak hints at Microsoft's plans to develop cloud based operating system as part of the next Windows 8 Update also referred to as Windows 8.2 or Windows 8.1 Update 2. The update is expected to be released sometime later in September this year.
Though earlier rumours suggested that the highly-anticipated Start menu restoration would happen with Windows 9 release, WZOR claims that the change will happen with the forthcoming Windows 8.2 update.
Furthermore, the Start menu UI tweak is widely speculated to be available on all touch and non-touchscreen devices as part of the next-generation Metro interface that is likely to debut with Windows 9 release.
The tipster further hints that the Windows 9 update would be available as a free update, while Microsoft is yet to comment on the leaked information.
Microsoft is reportedly working on a prototype of Windows Desktop operating system with its focus on Windows Cloud, which will be a free download while additional functionality would require a subscription and an internet connection.
Windows Cloud would still be operational offline, but with limited features just like Windows Starter edition, a budget version from Microsoft.
Windows 8.2 or Windows 9 is said to mirror a cloud-centric OS along the lines of Chrome OS with a much refined keyboard and mouse control unlike the original Windows 8 version.
As depicted in the screenshot below, the new Start Menu interface is said to incorporate modern tiled UI, with a combination of contemporary and traditional elements to create the visual appearance that appeals to everyone.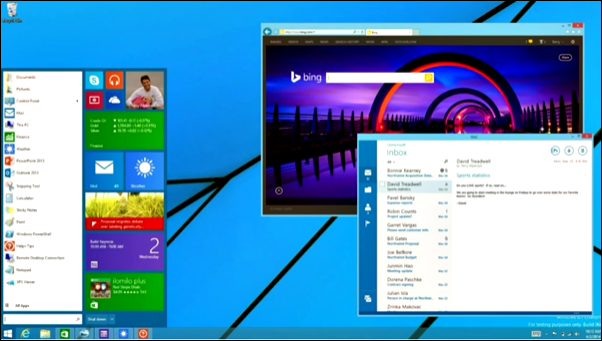 As the leaked information about upcoming Windows update is scarce at the moment, it should be taken with a pinch of salt.
Not to mention, the former Microsoft employee and Windows 8 leaker, Alex Kibkalo, has been recently arrested and punished with a 3 month prison sentence, according to a recent report by WinBeta. In addition, the accused is charged with a penalty amounting to $22,500 for reinstitution to Microsoft in a court of law.
Kibkalo has been accused of leaking Windows 8 information and releasing Microsoft Activation Server Software Development Kit to the leakers that could be used to reverse engineer and crack the Activation process bypassing Windows servers.
In addition, Kibkalo had allegedly provided the leaker access to virtual machines with pre-release builds of Windows 8 along with download links to Windows 8 RT.