A piece of prehistoric rock art believed to be over 4,000 years old has been discovered by chance in the Brecon Beacons by a national park geologist.
The sizable slab of rock was lying flat on the ground when Alan Bowring came across it at the end of last year.
It is thought the rock, which is covered with markings of various shapes and sizes, comes from the Bronze Age and likely served as way marker for farmers across the national park.
Experts believe the rock, measuring 1.45m long and 50cm wide, once stood upright.
While similar rocks are found in other parts of Britain, this is the first to be discovered in the Brecon Beacons, making it an extremely rare find and, as a result, its location is being kept secret.
Of the find, Bowring told the BBC: "I often find myself working and walking in remote locations, and encountering hidden features in the landscape of south and mid Wales that few others will have seen.
"But this chance discovery, made whilst looking for clues to the site's exciting geological history, appears to be significant in our understanding of human cultural history in the region."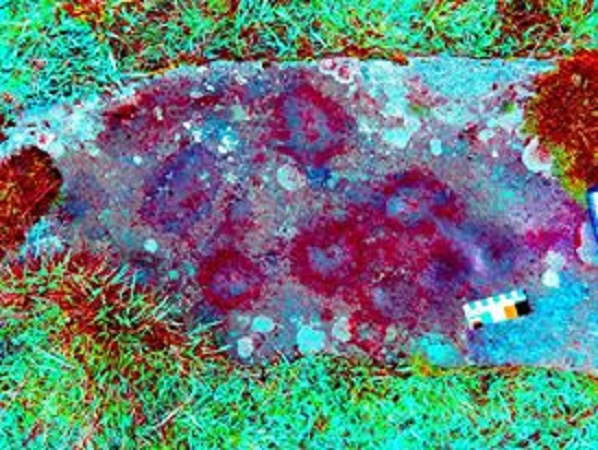 George Nash, a specialist in prehistoric and contemporary from Bristol University, confirmed the rock was the first prehistoric rock engraved panel ever to be found in the Brecon Beacons.
He said that based on the engravings and the shape of the stone, it probably came from a period between 2500 BC and 1500 BC.
"We might have been able to predict a discovery of this kind considering the large amount of prehistoric ritual sites in the Brecon Beacons but this is the first evidence of prehistoric rock art to be ever recorded [in the Beacons]," he said.
"There are no other later prehistoric standing stones within this part of Wales that are cup marked, making this one rather unique."
Joe Daggett, countryside manager for the National Trust in Brecon, told Wales Online: "This is a very exciting and special find. The confidence in its origins is now clear and it fits with the Bronze Age archaeology we have previously recorded in this area.
"We are really keen to get the right protection for this artefact and with National Park Authority support have been liaising with Cadw to start the process."