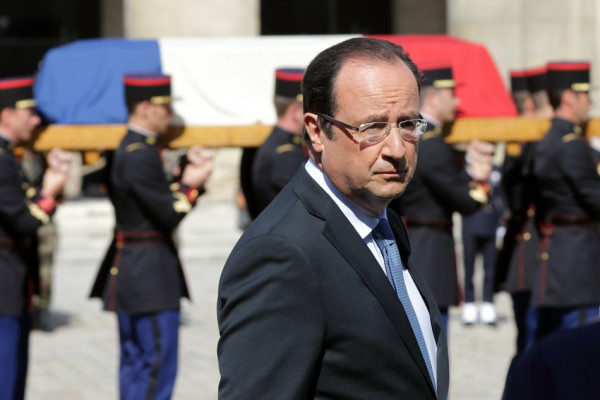 Fitch Ratings has lowered France's long-term foreign and local currency issuer default ratings from AAA to AA+, citing uncertain economic outlook and the need for structural reform. The outlook on the rating remains stable.
The news is a blow to President Francois Hollande, who is struggling to control public finances to recover economic growth.
"Risks to the agency's fiscal projections lie mainly to the downside, owing to the uncertain growth outlook and the ongoing eurozone crisis, even assuming no wavering in commitment to fiscal consolidation," Fitch said in a statement, adding, "A debt ratio that is higher for longer reduces the fiscal space to absorb further adverse shocks."
Fitch now expects France's general government gross debt (GGGD) to peak higher at 96% of gross domestic product (GDP) in 2014. The agency added it may take time for France to reduce its public debt, which is expected to come down to 92% of GDP in 2017. Earlier forecasts were of the GGGD to peak at 94% and decline rapidly to below 90% by 2017.
Fitch noted France's economic output and forecast became weaker and its unemployment jumped to a 15-year high of 10.9% in May. It expects "the French economy to recover less quickly then official projections, owing to headwinds from subdued external demand, weaker competitiveness, high unemployment and fiscal consolidation".
In addition, structural challenges including "gradually declining competitiveness, weak profitability and rigidities in the labour, goods and services markets" impacts France's medium term outlook.
The agency expects the economy to contract in 2013 before growing by 0.7% in 2014.
Other major rating agencies - Standard & Poor's and Moody's - stripped the eurozone's second-largest economy's of its top rating last year. Standard & Poor's rates France at AA+ and Moody's rates it Aa1. The agencies have a negative outlook on the economy, suggesting another possible rating cut.
The downgrade comes as a setback for Hollande, who is already facing criticism over his failure to pull the country out of economic slump.
In response to Fitch's downgrade, Finance Minister Pierre Moscovici said the government was committed to cutting public deficit and restoring jobs and growth. He added the stable outlook on the credit rating reflects France's efforts to reform its labour market and pension system and measures to reduce banking sector's risk exposure.