FlexiShareTrade helps investors keep track of their shares and provides financial news and access to fun features such as a Twitter feed for day traders.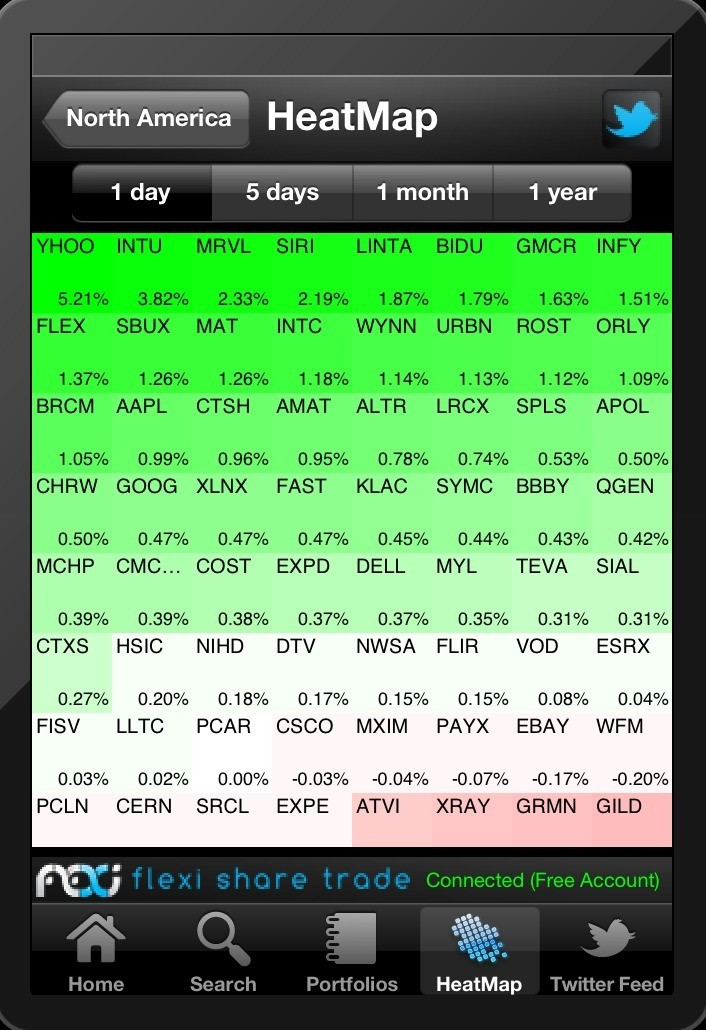 In a nutshell: An app to help retail investors stay up-to-date about their personal stock portfolio. FlexiShareTrade contains news and analysis from around the world, in a customisable environment that you can access on the iPhone or on the internet.
Why we like it: It's very easy to use. Financial information can be complicated but a mix of news, Twitter chatter and maps of share price movers mean users can quickly see what's going on.
Heat maps provide a visual representation of how shares are currently performing. Shades of green mark shares that are on the up, while those with a red tinge are falling. You'll need a paid-for version of the app to view a heatmap of your own portfolio or of individual industries such as Energy or Retail.
Whole indexes - for instance, the FTSE 100 or the Dow Jones Industrial - can also be viewed as a chart or added to your portfolio for easy access. Rotate the screen to the landscape format while you are viewing a company and detailed charts automatically pop up.
Embedded Twitter is a fun option, especially the ability to look at the feed of day traders. Their take on the JP Morgan losses and the Facebook Nasdaq launch offered some good financial insights.
Customisation options include the ability to trigger an alert when a share has a price or percentage change, or to be alerted when a news article is written about a particular company.
The free Standard Package includes live prices on a contended basis for London Stock Exchange (LSE) shares, plus 15-minute delayed access to pricing information for the NASDAQ, NYSE and AMEX. The Premium version costs £9.95 plus VAT a month and gives dedicated real time prices for LSE plus access to stories from the Dow Jones News Service.
Meanwhile, the Platinum subscription costs £19.95 plus VAT a month and includes live level 2 market order book price information for the LSE plus advanced technical charting.
One niggle was that our news search did not find results for Facebook's shares, which was odd considering the glut of coverage of the launch today. We can forgive the FlexiShareTrade app for not having any pricing information for Facebook,though - given that the social networking company's IPO broke the Nasdaq.
Download Link: