The heaviest rainfall in 80 years has caused massive flooding in the Atacama region of northern Chile and devastating landslides in Peru. The death toll in Chile currently stands at seven, with 19 others unaccounted for as the military rushed to rescue stranded villagers.
Rivers have burst their banks, flooding towns, making roads impassable and forcing miners in Chile, the world's top copper exporter, to suspend operations.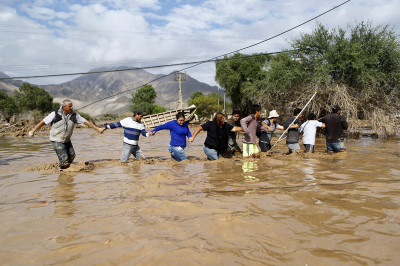 The small coastal city of Chanaral was hardest hit by the floods and many residents are trying to cope with the loss of their homes and belongings. "Sadly we lost everything, everything, there is nothing to recover. So now we have to wait and see what there is, although you can see how little there is to rescue. To wait for the mud to go down and to be able to see what remains [of his house]," said one resident.
The city of Copiapo, home to 160,000 people is also partly cut off, with airports in both Copiapo and Antofagasta further to the north closed to commercial air traffic..
The unusual weather phenomenon was caused by a cold front hitting the Andes. Spurred by high temperatures, it produced strong rains at the high altitudes instead of snow, which swept down to valleys and towns in the foothills.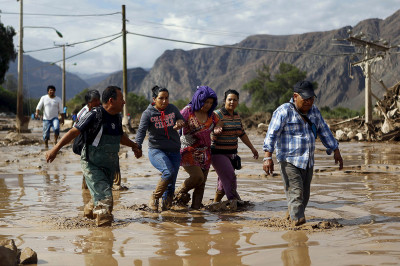 The torrential downpours have also caused mudslides in east Peru, killing at least eight people and injuring 25 others. The country's president Ollanta Humala declared a state of emergency in an area affected by deadly mudslides east of Lima.
Heavy machinery is being used to remove mud and boulders from destroyed homes in the the district of Lurigancho Chosica as rescue teams search for survivors. Six people remain missing.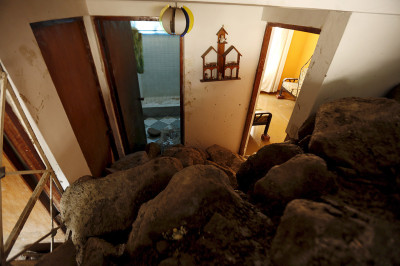 The Director of the weather unit at Peru's Service of Meteorology and Hydrology, Grinia Avalos, said sea temperatures have increased above normal. "During the last few weeks, the sea temperature has increased by approximately six degrees. This has caused air temperature to increase by four degrees above normal," Avalos said. These weather patterns have generated rain in the region.