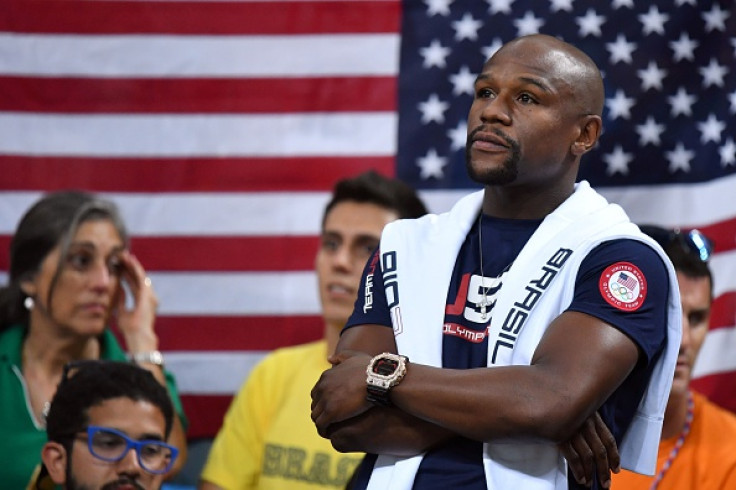 Boxing legend Floyd Mayweather Jr has labeled comparisons with Conor McGregor as "disrespectful" following the Irishman's historic win over Eddie Alvarez at UFC 205 on Saturday (12 November), which saw him become the first fighter in Ultimate Fighting Championship to hold two titles simultaneously.
The five-division world champion, who has a 49-0 win/loss record including 26 KO's, made it clear that he will not entertain comparisons with McGregor, after a reporter referred to him as the "Mayweather of MMA". The American boxer, who has previously stated his intention to fight McGregor, compared the UFC featherweight and lightweight champion to an "ant" while labeling himself an "elephant".
Mayweather Jr popularly known as Money also questioned the UFC superstar's monetary achievements during his career. The 39-year-old boxer was named the highest paid athlete by Forbes magazine in three of the last four years between 2012-15. McGregor has announced that he will take a break from UFC to spend time with his family following his win over Alvarez, but it is likely to respond to Mayweather's comments sooner rather than later.
"If you say he's the Floyd Mayweather of MMA, then I'm trying to find out. Has he ever made $300million in one night? $100m in one night? $70m in one night?" Mayweather told TMZ, as quoted by the Mirror.
"I'm a legend, a living legend; to the sport of boxing I gave years and years of hard work; there was blood, sweat and tears. Conor McGregor can go out there and do what he do, but never compare Conor McGregor to me, it's a total disrespect," the five-division world champion explained.
"Once again, I'm an elephant. Elephants don't beef with ants, an elephant is so large it doesn't even see ants," he averred.