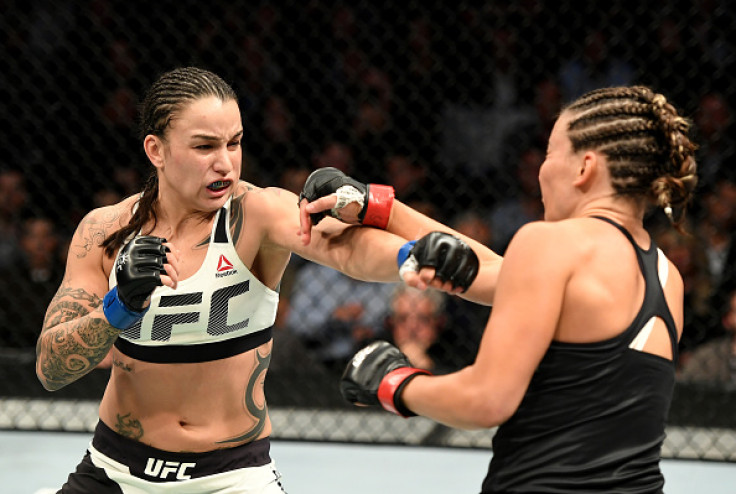 Ultimate Fighting Championship (UFC) fighter Raquel Pennington has revealed that she does not agree with Miesha Tate retiring from the sport of Mixed Martial Arts (MMA) with a loss. The former bantamweight champion announced her retirement from the sport after losing to Pennington at the UFC 205 event at Madison Square Garden in New York on 12 November.
Pennington who was coached by Cupcake at the Ultimate Fighter 18 event three years ago had nothing but praise for her ex-coach, however she did criticize Tate's decision to step away from the sport post a loss.
"If she's going to go out with retirement, I wouldn't necessarily agree with the fact of going out with a loss. But Miesha has nothing to keep her head down about. She has every reason to keep her head high. Everyone says how Ronda Rousey is the face of women's MMA, but I believe that Miesha belongs up there, too. She's done some wonderful things, she's put on some phenomenal performances. This card, it's a huge opportunity, making history. If this is the card that she wanted to finish on, then all my respect", said Pennington, as quoted by SBNation.
The highlight of Tate's career was winning the women's bantamweight title earlier this year at the UFC 196 event where she beat Holly Holm in the final round via submission. The American's reign was a short one with Tate losing her belt to Amanda Nunes just three months later at UFC 200 via a rear-naked submission choke in the first round.
The 30-year-old who made her professional debut in 2007 has 6-3 win loss record in the UFC and revealed that she would like to become a commentator or analyst on the sport of MMA post her retirement.