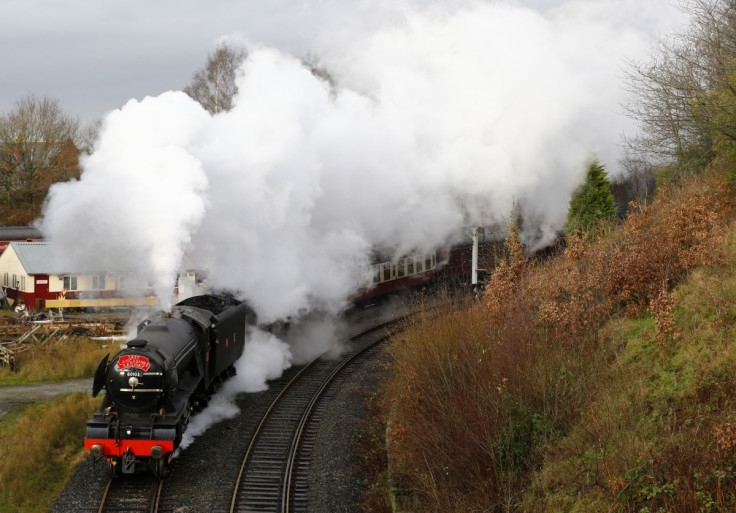 It has taken 10 years and more than £4m ($6m) to restore but one of the world's most famous locomotives, the Flying Scotsman, has steamed along the tracks for the first time in more than a decade. The engine has been restored for York's National Railway Museum (NRM).
"From the dead it becomes living and breathing again," said the NRM's head curator Andrew McLean.
The engine, which in 1934 earned a place in the record books as the first steam locomotive to pull a train at more than 100mph, has started low speed tests along the East Lancashire Railway.
Powering out of the workshop in Bury where the final specialist restoration work was undertaken by steam and diesel engineering company Riley & Son, it travelled a short distance to the small Lancastrian town's Bolton Road station on 8 January.
"These are the first stages of bringing it back to the main line and, despite being self-confessed men of iron, we're really quite emotional to see it move under its own steam at last after years of hard work," Riley & Son co-director Colin Green, told Sky News.
Designed by Sir Nigel Gresley, the engine was built at the Doncaster works of the London and North Eastern Railway in 1923, at a cost of £7,944, the equivalent of £403,296 in today's money.
By the time it broke the world record, it was already internationally famous after it hauled the first non-stop service from London to Edinburgh. The locomotive was retired after 40 years of service in 1963, having covered more than two million miles.
After being bought and restored by businessman Alan Pegler in 1963, the engine toured the US and Australia. The Scotsman was bought for the nation in 2004 using £415,000 in public donations, a £365,000 gift from Sir Richard Branson and a £1.8m grant from the National Heritage Memorial Fund.
Open days are being held at the heritage line over the next two weekends ahead of a mainline test from Manchester to Carlisle over the Ribblehead viaduct on 23 January.
It will then return to the Bury workshop where it was restored to be transformed into its British Rail Green livery ready for its journey from London's King's Cross to York in February. Public services will begin in later that month, alongside an exhibition at the museum.
NRM director Paul Kirkman said: "Along with all our generous supporters for this complex project to bring a 1920s-built cultural icon back to life, we have all been looking forward to the day when Flying Scotsman is once again running on Britain's tracks."