A treatment for an extremely rare disease that causes muscle to turn to bone is a step closer as scientists discover a key mechanism that drives the disorder. The team say their finding could lead to a new treatment, with their antibody therapy stunting bone growth in mice.
Fibrodysplasia ossificans progressiva (FOP) is very rare, with only around 800 cases in the world. People with FOP are gradually debilitated and immobilised as the soft tissue in their bodies slowly turns to bone. There is no cure and any attempts to remove the extra bone through surgery just results with more bone growth. The life expectancy for people with FOP is 40.
Publishing their findings in Science Translational Medicine, scientists from Regeneron Pharmaceuticals Inc were following on from previous research (by a team at the University of Pennsylvania) that showed the disease is caused by mutations in the ACVR1 gene.
The ACVR1 gene provides instructions to Bone Morphogenetic Proteins (BMPs) – a set of proteins that help regulate cell behaviour. This protein is found in many tissues – including skeletal muscle and cartilage. It normally leads to the gradual replacement of cartilage by bone (ossification), which is a normal process from birth to young adulthood. In FOP sufferers, a gene mutation in the ACVR1 means the receptor is constantly turned on, causing the overgrowth of bone and cartilage.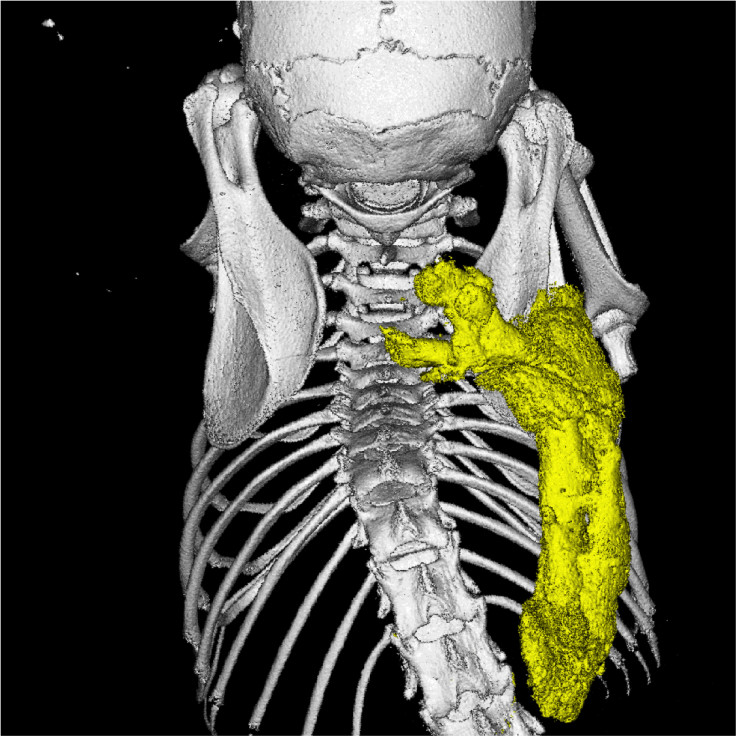 BMPs are a set of ligands. Scientists from Regeneron have now found another ligand, called Activin-A, in combination with the ACVR1 protein, normally turns off signalling by the BMPs – so it is believed to play a role in regulating the volume of bone growth. They also found that in the presence of the ACVR1 mutation, it is Activin-A that turns on the BMP signalling and drives the abnormal bone growth.
Lead author Sarah Hatsell and colleagues designed a model of FOP, from which they could control the expression of the ACVR1 mutation in mice. Their findings showed that when implanted in mice, collage sponges soaked with the Activin-A turned into bone. Through this discovery they developed an Activin-A specific human antibody that stopped bone formation in mice for up to six weeks.
Activin-A is often secreted by the immune system following injury and inflammation, which could help explain why bone growth in FOP patients is often triggered by swelling or inflammation of tissue (such as after an operation). As a result, they think Activin-A is a missing link between inflammation and bone formation, and thus could be used as a promising therapy for the disorder.
A Regeneron spokesperson told IBTimes UK: "The discovery of the ACVR1 gene was a major step forward for FOP research, but as with any genetic disease, this fundamental finding can open the door to many more questions about how exactly the mutation triggers disease. What we found is that Activin A is necessary and sufficient for driving heterotopic ossification in our mouse model of FOP. This discovery represents a significant step forward in understanding the molecular pathophysiology of FOP and indicating a potential avenue for developing a therapy."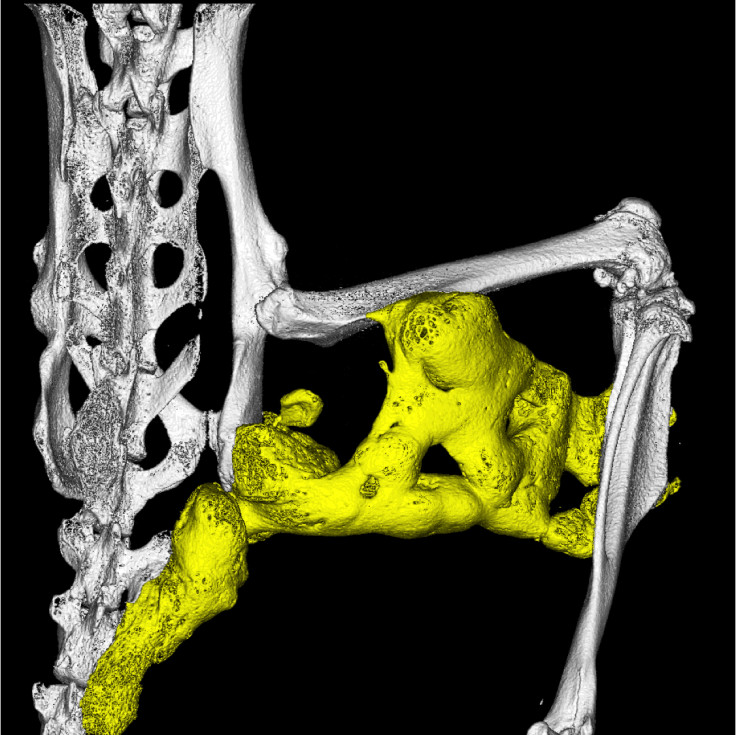 They said that while it is difficult to say exactly how the findings will translate to humans, their mouse models are extremely accurate and model human genetic disorders like FOP very well. Along with this, the FOP community is very involved, which helps their research: "This is a small but very engaged community, led by great advocacy groups such as International FOP Association who are highly communicative about research findings and detailing the ways patients can get involved with clinical research, themselves. It's great to see such a unified commitment to making progress against the disease from patients, families, academia and industry."
Currently, the team has selected and validated a therapeutic antibody candidate as it can selectively block Activin-A – but preclinical testing is still ongoing. They said they hope to move into human testing "when appropriate", but said they are hopeful for the future: "We certainly hope [we will find a cure], and think this and future discoveries about the pathophysiology of disease may provide a clearer path forward."
Betsy Bogard, global research development director for the IFOPA, said in a statement: "We are excited and grateful to have this new fundamental insight into FOP. Regeneron's extraordinarily research findings bring new hope to the families who struggle with this devastating disease on a daily basis."