Specifications:
Ford Galaxy 2.0 TDCi PowerShift
Max Power: 160bhp
Torque: 251lb ft
Max Speed: 124mph
0-62mph: 10.4 seconds
Combined MPG: 49.6
Insurance Group: 23E
Price as reviewed: £36,145 (starting from £25,670)
People carriers get a hard time. Known as the practical choice for when you need a way of transporting several children, luggage and a dog, they're not the car you buy because they excite you, or because you want to make a statement. They are the beige of cars, the ones which blend into the background and which are little more than tools of transportation.
Arguably - at least in London - the Ford Galaxy gets an even harder time, as it's the vehicle of choice for Addison Lee, the capital's largest private taxi company. Walk along any London street at any time of day and you'll never be more than a few second away from spotting one of their black Galaxies ferrying businessmen to and from Heathrow.
So, if I'm honest, it was with a degree of disappointment that I agreed for Ford to provide me with a Galaxy for a road trip from south west London to the Isle of Skye, 650 miles away off the west coast of Scotland. I'd originally asked for the all-new Mondeo, but as every motoring journalist in the UK had the same idea, I was offered a seven-seat Galaxy 2.0 TDCi PowerShift in Panther Black with the top-end Titanium X trim level and just about every optional extra.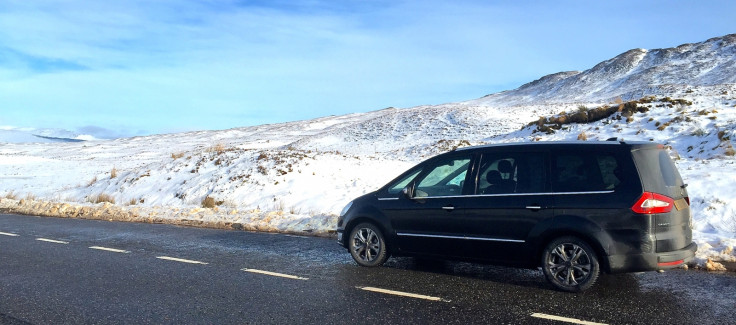 In its current form, the Ford Galaxy isn't a particularly new car - a replacement is expected later this year - so it doesn't have the excellent Sync information/entertainment system of newer Fords, but that really was the only indication that this isn't a new model.
Over the course of five days the Galaxy covered just under 1,600 miles of motorway, dual carriageway, A-road, B-road, and the smallest Scottish roads imaginable. It sat comfortably in the outside lane for hours at a time - cruise control and automatic gearbox making this an absolute doddle - and it took us across some of the most remote and beautiful landscapes in the UK.
We split the group across two cars for the journey there and back, but once on Skye we popped up the two seats in the boot (leather, full-size and with proper 3-point seatbelts) and took all seven of us in the Ford; even then, there was still space in the boot for a couple of rucksacks and our walking boots.
Although a large car, it doesn't take much time to adjust, and parking sensors all around combined with a rear-view camera meant getting into tight spaces was straightforward enough. Motorway driving could hardly have been easier, and the optional (£625) Driver Assistance Pack includes a warning for when you stray from your lane without indicating; there's also a small orange light in each mirror which lights up when there is a vehicle in your blind spot. Automatic lights meant constantly flicking the high-beam on and off was taken care of - handy when it's 3am and you're carving your way through unlit Highland roads.
The Galaxy proved to be a comfortable, light and airy place to be, even for the 14 hours it took to get to Skye. Acres of glass - including along the whole length of the roof - made the interior feel more spacious than it already was, and there's loads of storage for some serious road trip snacking, including airplane-style overhead bins between the glass roof panels.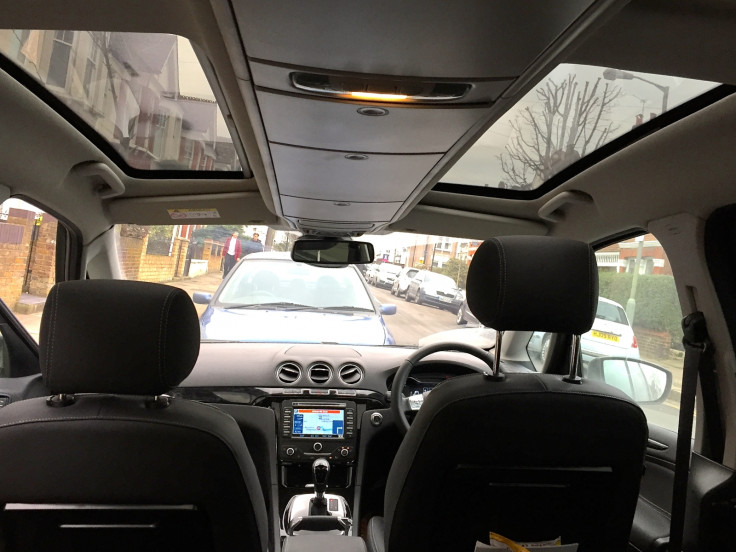 Heated (and cooled) front seats were an absolute godsend when we'd been out scaling snowy mountains all morning, but getting hot air to the two rearmost passengers wasn't always possible, despite cranking up the three-zone climate control. That, the aforementioned dated touchscreen and sat nav system, and the automatic gearbox sometimes being slow to respond when overtaking, are my only real complaints with the Galaxy.
The 160 horsepower, two litre diesel engine produces 251ft lb of torque (340 newton metres in new money), which meant it had no problem dragging seven adults up steep Highland inclines, and if asked it'll do 0-62mph (100km/h) in 10.4 seconds.
On that note, the Galaxy may look like a humble minicab, but show it a flowing stretch of Skye tarmac and the car reminds you just how much attention Ford pays to driving pleasure. Despite running on deeply treaded snow tyres (just in case...), the car felt sharp, alert, capable, and maintained its composure over poorly cambered roads.
On one evening in particular, it put the biggest smile on my face when it got us across Skye to watch a magnificent sunset, beating the sat-nav's prediction by a full 15 minutes, and not once giving me the impression I was trying to hustle a bus around the Nurburgring. It felt like a much smaller, lighter car, and for a people carrier there is really no higher praise than that.
Judging the car's economy on a road trip like this isn't easy. On the motorway I've no doubt it would match Ford's claims of 49.6 miles per gallon, but the roads of Scotland, and Skye especially, are challenging. Over the entire 1,583 miles the car returned an average of 37.6mpg.
A large seven-seat people carrier won't be the first choice for many, but for when you've got a half-dozen passengers to transport in comfort, they make absolute sense.
Twelve hours after leaving our Skye cottage, I unloaded the Galaxy, gave it a quick wash, arranged collection for the next day - and felt a little bit sad to let it go. The car had done absolutely everything I'd asked of it without once batting an eyelid, and the stigma attached to owning a people carrier never once rose its head.
Most cars have the easy job of getting a couple of people from A to B, with space for the weekly shop and occasional suitcase. People carriers have so much more to do, and I have the utmost respect for the Galaxy's ability to answer every single question we had for it.
It's time to drop your people carrier preconceptions, because when you need one, nothing else will do the job quite as well.
Ford Galaxy 2.0 TDCi Titanium X scores:
Practicality: 9/10 - Seating for seven with loads of storage space
Performance: 8/10 - Torque-y diesel meant weight of extra passengers was barely noticed
Ride and handling: 9/10 - Sharp, precise and composed, it feels like a much smaller car
Safety: 8/10 - Seven airbags and all the kit you'd expect
Quality: 8/10 - Everything feels well-made and sturdy, with no cheap plastics
Overall: 8/10 - The go-to choice for anyone wanting a people carrier, and the best thing is how it doesn't feel like one.
The Good:
Bright, spacious cabin with proper seating for seven
Incredibly easy to drive
Plenty of torque
Sharp handling make it feel like a much smaller car
The Bad:
Touch screen and sat-nav are dated
Rear cabin heating sometimes an issue
Gearbox occasionally sluggish to respond
Expensive if you get greedy with the options list