Ford reveals electric bike project to drive megacities of the future with MoDe:Me and MoDe:Pro
Ford has unveiled two prototype folding electric bikes which will help people and traffic move better around the megacities of the future.
The bikes will feature sensors to alert riders of overtaking vehicles, provide tactile feedback though the handlebars to tell riders which way to turn, and will adjust the electric pedal assistance depending on your heart rate.
The motor company's electric bike experiment forms part of the company's vision of how people will move and travel in the future. Called the Smart Mobility Plan, Ford is attempting to use innovation in connectivity and autonomous vehicles to solve problems which are envisioned as more megacities (cities of 10 million people and more) are created.
Barb Samardzich, chief operating officer for Ford in Europe unveiled the two prototype electric bikes at Mobile World Congress in Barcelona on Monday, 2 March, saying the two models on show had been chosen from over 100 designs submitted by Ford staff from around the world.
The project, called Handle on Mobility, will see the two bikes - MoDe:Me and MoDe:Pro - which are equipped with a 200-watt motor and a 9-amp-hour battery that provides electric pedal assist for speeds of up to 25 km/h.
The two bikes are designed for different types of journeys:
MoDe:Me - built with the help of bicycle manufacturer Dahon – is intended for urban commuters to keep moving in congested city traffic. It folds and stows easily, allowing commuters to park on the city outskirts, take the e-bike onto public transport and travel to the centre, then ride the ebike to their destination.
MoDe:Pro - built by a Ford team, it is intended for urban commercial use such as by couriers, electricians, and goods and delivery services. It is designed to stow safely into commercial vehicles such as Transit Connect, which can act as carrier and support vehicle, and be combined with more than one ebike.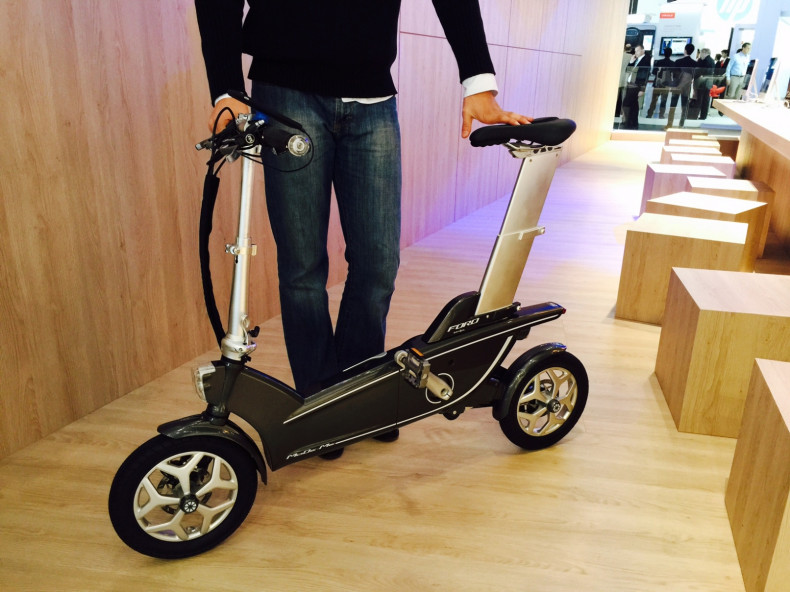 Smarter transportation systems
Samardzich said at the launch: "Changing the way we think, collaborate and behave is essential to ensuring freedom of movement of both people and economies. The Ford Smart Mobility plan supports our commitment to innovation and is aimed specifically at developing smarter transportation systems that take the worry and anxiety out of journey planning and improve the quality of life in busy cities."
The bikes will work in collaboration with a new app call MoDe:Link that only works with the iPhone 6 initially and will offer navigation and tactile feedback to the rider.
A rear-facing ultrasonic sensor will alert riders to when a car is overtaking them by making the handles vibrate. The bikes will also adjust how much assistance it gives riders based on their heart rate and will come with a No Sweat mode if you are travelling to a meeting and want to avoid unsightly sweat-patches.
Turn signals will be triggered automatically for safety and the app will be able to identify bike-friendly roads, hazards and alerts, and will be able to "sense, and communicate with other vehicles."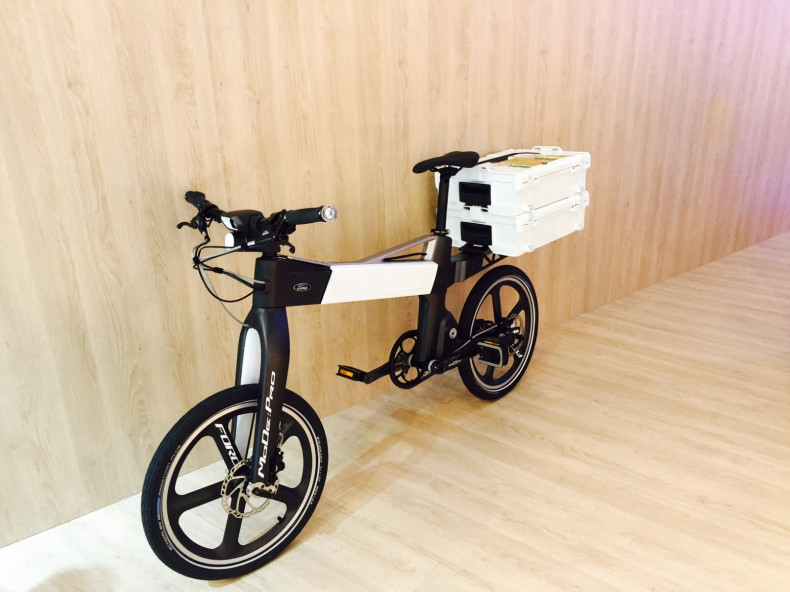 In January 2015, the company announced 25 Smart Mobility experiments in countries around the world, including four projects in London alone.
As well as its electric bikes, Ford (like pretty much every other car manufacturer in the world) is investing a lot of time and resources into driverless vehicles. The company already offers several automated features in its current range of cars, including self-parking and city stop, a feature which automatically stops your car if it looks like you are gong to crash while driving at slow speeds in the built up areas.
Ford says that it is still very much a car and truck company, but the motor industry is at a very important inflection point at the moment, as technology plays a more and more important part in how the future of driving will work. So much so that technology companies such as Google and Apple are moving into the market which is set to change radically in the next 10 years.
The company announced earlier this year that it is working on a fully autonomous Ford Fusion Hybrid research vehicle and that it is already undergoing road testing. The car makes use of Ford's semi-autonomous technology as well as four LiDAR sensors to generate a real-time 3D map of the surrounding environment.
In January 2015, Ford CEO Mark Fields told Forbes that his company wanted to leverage the power of the technology now available as well as cloud computing and big data to make the way people move much better.
"We're asking ourselves how we use innovation to allow Ford to help tackle some of these large societal issues around congestion and transportation. And that is why we're thinking of ourselves as not only a car and truck company, which is very important and we're not going to lose the focus on that, but also as a mobility company. We see these issues and we want to be part of the solution."