The first fully-electric bus to use "flash charging" has completed a successful pilot scheme in Geneva, Switzerland, ahead of a full roll-out of the system.
The TOSA bus system (Trolleybus Optimisation Système Alimentation) uses an ultra-rapid rechargeable battery that is able to charge in 15 seconds at bus stops along the route - the time it takes for passengers to board and disembark.
The articulated buses, which are capable of carrying up to 133 passengers, use a robotic arm system to briefly connect the bus to the charging station at the bus stop.
The innovative charging method reduces the need for overhead power lines and minimises the infrastructure and operational costs of electric public transport.
Technology for the system was developed by ABB, a robotics, power and automation technology company, together with the Swiss technology institute École polytechnique fédérale de Lausanne (EPFL).
"My TOSA project is an engineering tool that helps us to offer the most competitive solution to the market," said Olivier Auge, global project manager at ABB.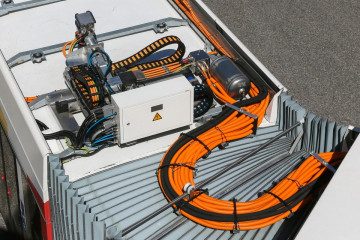 "The future is clearly to go for electrification of mass-public transportation systems and we will need to have engineers (to make this possible) in the few coming years."
In order to successfully test the transport model, EPFL researchers had to take into account 56 variables to determine the most efficient method of implementation. These included the optimum positioning of the charge stations, electricity rates and the life-expectancy of batteries.
The TOSA system is expected to be implemented on a permanent basis in Geneva, with an airport bus service expected sometime in 2017.